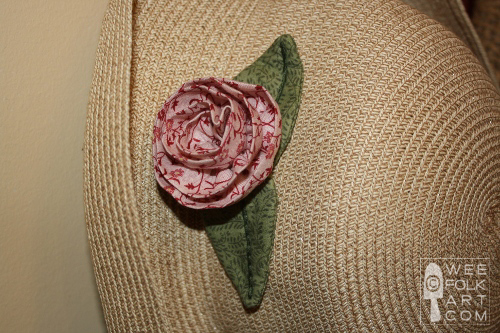 It always amazes me how very different the same design can look in different colors or using different materials. We are going to share 2 different flowers, both using the same pattern, but because of the differences in materials, one out of cotton calico and on out of wool felt, different techniques are used for assembling them.
The first flower we are sharing is the Rolled Calico Flower. This is a simple flower to throw together, (really, truly, it is!) and can be used for all sorts of embellishments. Sew it directly on a garment, at the waistband or collar. Add a bar pin and you have a brooch. Sew it onto a barrette for a totally lovely look. I'm sure you can come up with many different uses for them. And because this one is made out of cotton fabric, it can be washed, so even your work-a-day clothes can don a bit of bling!
Directions for the Rolled Calico Flower can be found HERE or in our FREE Open Patterns. We will be adding the directions for the Rolled Felt Flower in a couple of days. If you have some ideas of ways to use the rolled flowers, please share! In the meantime… enjoy!