Rip and Tear Napkins are a fast and easy handmade craft for even beginning crafts. No sewing involved… simply rip and tear!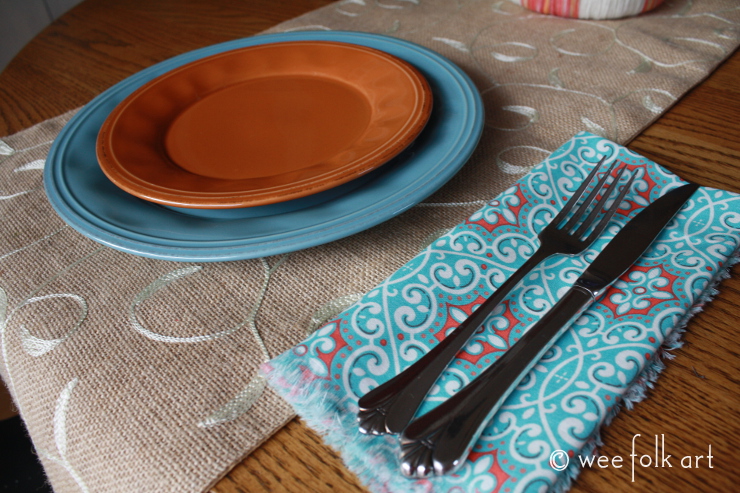 EDIT: I first shared my Rip and Tear Napkins in July 19, 2009. If you would like to see all of the Rip and Tear Napkins in my cupboard, you can see them HERE.
I love cloth napkins. I could never bring myself to use paper. First, they don't work well, and second, waste paper? I think not! Over the years I've bought and made many different kinds of napkins. Recently, however, I've started making what I refer to as "rip and tear" napkins. Simply find a high quality 100% woven cotton fabric you love, measure, and tear!
For a practical, no sew, no glue project, rip yourself some new napkins! In the easy peasy category, these napkins are quick to make, and quick to launder. Basically, you need 1/2 yard of 44″ wide fabric for 2 napkins. So, just decide on how many napkins you want and buy 1/2 yard for every 2. VERY IMPORTANT: no matter how many napkins you plan to make, always add 1/8 yard (4.5 inches) to the amount of fabric you need. Seldom are fabrics cut true to grain, and you will need some extra fabric for your first and last tears.
NOTE: Unless you bought fabric that is dyed through and through or has individually dyed threads as found in plaids, there will be a right and wrong side to these napkins. I find this to acceptable for everyday use. If you prefer you can sew two pieces together instead of unraveling the edges but it will require twice as much fabric, and they take longer to dry.
Materials for Twelve (12) 18″ x 18″ Rip and Tear Napkins
3 1/8 yards 44/45″ woven fabric. Note: Usually fabric deemed "quilting" fabric works well. Do not use fabric that is too thin. They tend to wrinkle easily. You do not want fabric that frays too quickly. Look at the cut edge of the fabric on the bolt. If the edges are already fraying on bolt, they will not make good napkins because they will continue to fray after you fringe your napkins.
Directions for Rip and Tear Napkins
HOW TO RIP FABRIC: To rip fabric make a cut with scissors about 1″ into fabric following one of the threads.  Firmly hold the fabric on either side of the cut and rip the fabric all the way through the other side.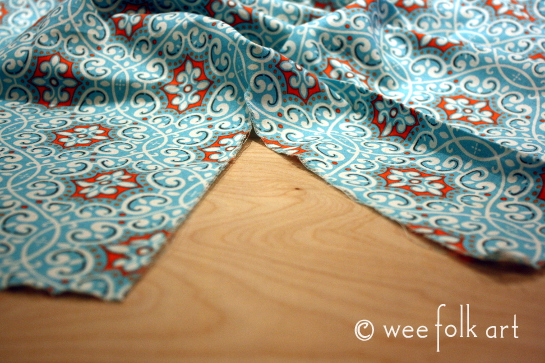 HOW TO CUT AND RIP FABRIC: Using this diagram of a piece of fabric as a guide, follow the directions found below.
A: 1st rip: Cut and rip approximately 2″ from one cut end (non selvage side) of the fabric.
B: 2nd rip: Cut and rip 1″ from selvage on either side of the fabric. (You will rip off the entire selvage on one side.)
C: 3rd rip: Measure 18″ from the selvage side that you just ripped off. Cut and rip the entire length of the fabric. Set aside.
D: 4th rip: Measure 18″ from the new edge you just created. Cut and rip the entire length of the fabric.  You will have a long piece of fabric left over. Add it to your fabric stash for a later project.
E, F and all remaining rips: You will now have 2 long strips. For each strip, begin measuring 18″ from your first rip (Rip A) Cut and rip every 18″ giving you 18″ x 18″ squares. Do this for both long strips of fabric.
HOW TO CREATE THE FRINGE: Beginning at a corner, unravel a side, by removing 1 or 2 threads at a time. Unravel threads until you create a fringe that is about 1/2″ wide.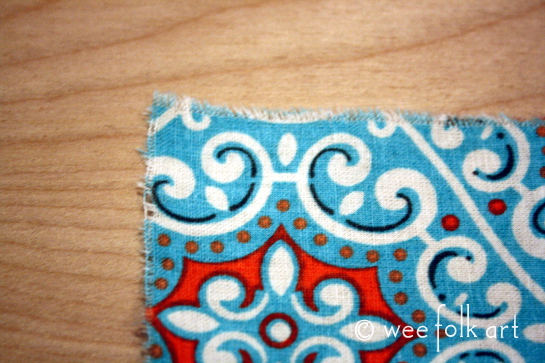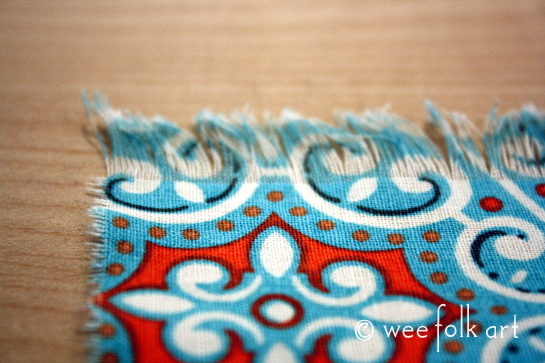 Unravel all 4 sides on all of your napkins.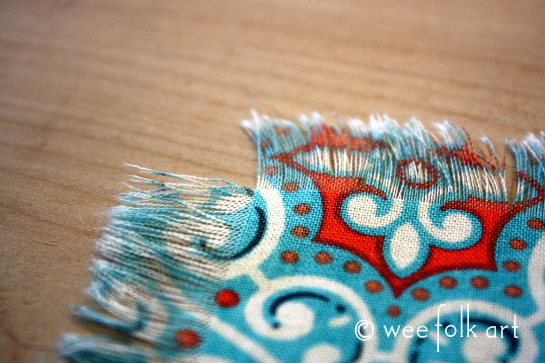 On woven fabrics, often the warp (lengthwise threads) and the weft(cross grain threads) are not perpendicular to each other (right angles) like they should be. To see if your fabric is, fold one of your napkins in half. Make sure your fold lies flat. If your corners do not match up, then the grain line is off and you will need to adjust it.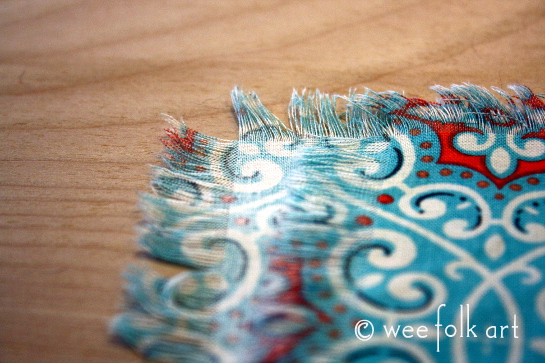 To adjust the grain line, grab a short corner and its diagonal corner. Tug on the two diagonal corners. Refold the fabric and see if the corners now match. If not, repeat the tugging until they do. Usually, after you've adjusted the warp and weft once you will not need to do it again.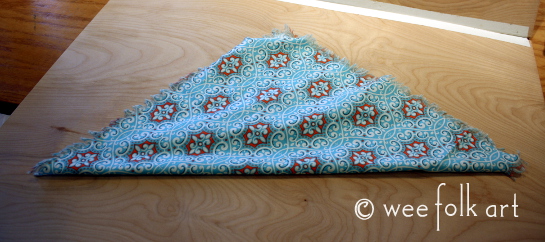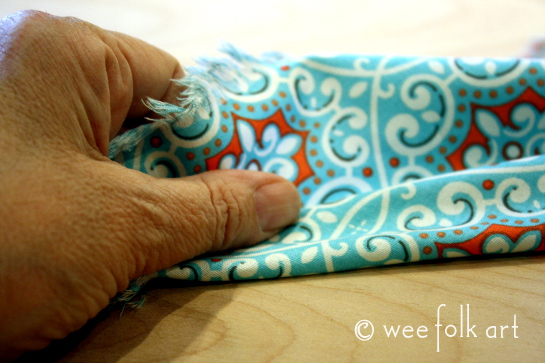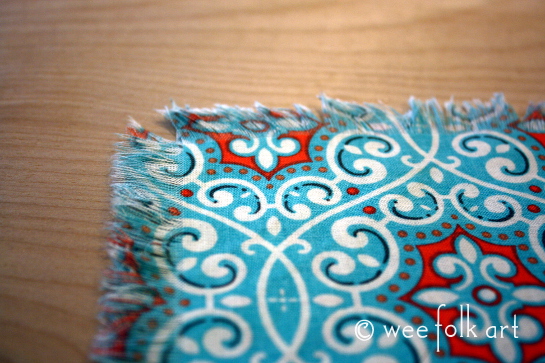 Your napkins are now done and ready to use!
HOW TO WASH YOUR NAPKINS: You may find after your first or second time you launder the napkins that a few more threads come off or that the grain is slightly askew. Remove the dangling threads and simply follow the steps for straightening the grain as explained above for the first time or two they are washed, and then they should stop shifting. Also, most of today's woven cotton fabrics require no ironing if a little attention is given when laundering. Wash your napkins in the usual manner, however, before throwing them in the dryer, vigorously shake them out, giving them a good "fluffing". If an edge is turned under, stretch the fabric between your fingers until the fabric lies straight. Do not over crowd the dryer and fold the napkins as soon as they are done drying. They should not require ironing.