My Nana's favorite Christmas cookie has always been Russian Teacakes. When my mom went to visit my Nana last week, she had to make sure to have a double batch of Russian Teacakes to take with her. Also know around here as "Snowballs," some of you may be familiar with this Russian Teacake Recipe, since we used these tasty treats in our
Winter Wonderland unit
. Today when I was organizing our Christmas cookie recipes here on Wee Folk Art, I realized that although it is in our unit, we have never shared this recipe directly online. I am fixing that over sight today. Here is our family's Russian Teacake Recipe!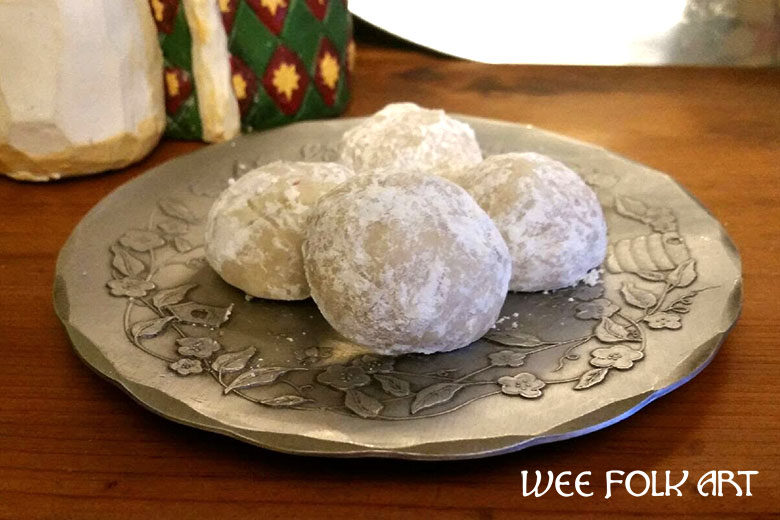 Russian Teacake Recipe
This recipe makes approximately 4 dozen cookies.
Russian Teacake Recipe Ingredients
1 c. butter
1 t. vanilla
2 1/4 c. flour
3/4 c. finely chopped nuts
1/2 c. confectioners sugar
1/4 t. salt
Russian Teacake Recipe Instructions
Mix butter, sugar and vanilla thoroughly. Stir flour and salt together; blend in. Mix in nuts.
Chill dough.
Roll dough in 1 inch balls.
Note: Over the years I have found that it is actually easier to roll the dough into balls before chilling. Then I chill the whole cookie sheet of dough balls. If you chill the dough then roll, you have to warm the dough up a bit in your hands first and it is fairly crumbly to work with.
Place the cookie balls on ungreased baking sheet. The cookies do not spread and you can place them fairly close together.
Bake 10-12 minutes in a 400 degree oven or until set but not brown.
Let the cookies sit for a few minutes to cool slightly, but while they are still warm, roll the Russian teacakes in confectioner's sugar and set on a cooling rack.
Allow the Russian teacakes to cool completely.
Roll them in confectioner's sugar again. They will now look like sugary, snowballs.
Store in an air tight container so that they do not dry out. They will get crumbly if they are dry.