After I put away all the Christmas decorations, what I miss the most are the twinkle lights. January is still a very dark month so I enjoy having a variety of colorful lanterns around the house. This Ombre Rainbow Tissue Paper Lantern is a great kids craft that also looks beautiful in your home. You can reuse any smooth sided jar as the base for this candle holder project making it a great recycled craft.
Ombre Rainbow Tissue Paper Lantern Materials:
Smooth side jar or candle holder (I used a spaghetti sauce jar)
Colorful tissue paper cute into small squares
Ombre Rainbow Tissue Paper Lantern Directions:
Begin by covering your work surface since this is a messy craft. We used a sheet of wax paper to protect our table.
If you want to create the Ombre Rainbow design, you will want to pre-sort your tissue paper into color piles for easier use. For a truly ombre effect you will want to make sure you have several shades of each color.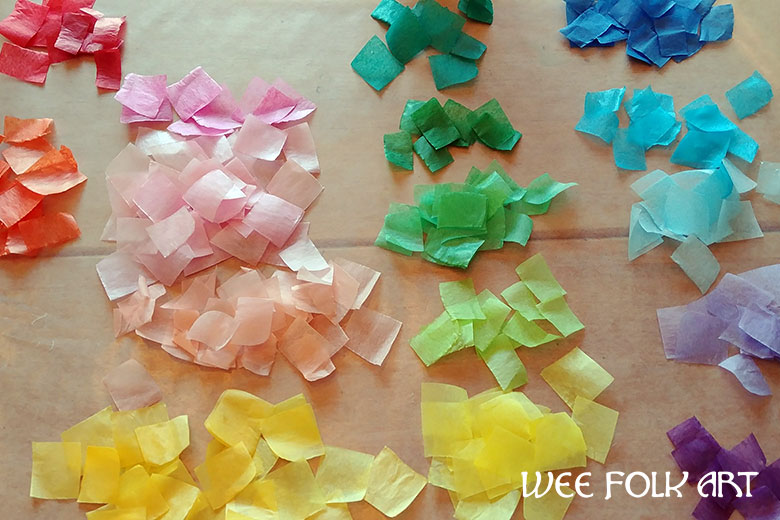 Use your sponge brush to apply an even coat of Modpodge to one side of your jar. BTW, I chose to use a matte finish Modpodge for this project. There was a little glue left on my jar from where I removed the sauce label. I didn't worry about it much since it was going to be completely covered.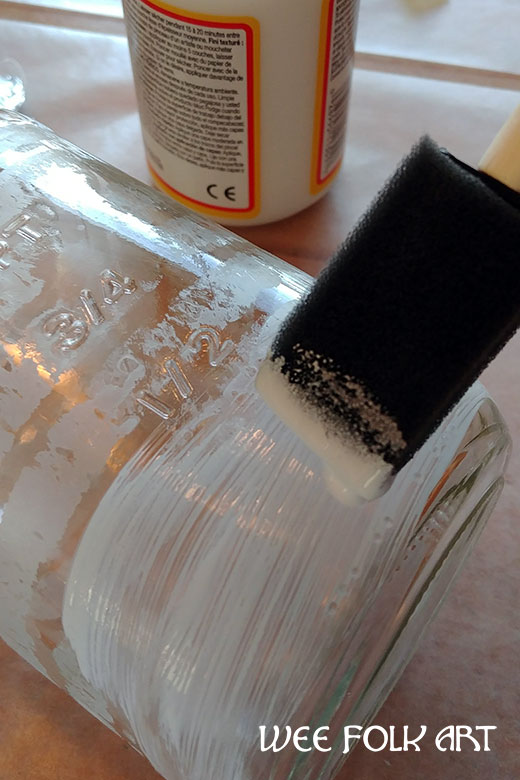 Starting around the bottom, add a single row of tissue paper. Slightly overlap the edges of the tissue paper squares. Carefully apply a thin coat of Modpodge over the tissue paper. Do not tear or bunch the tissue paper.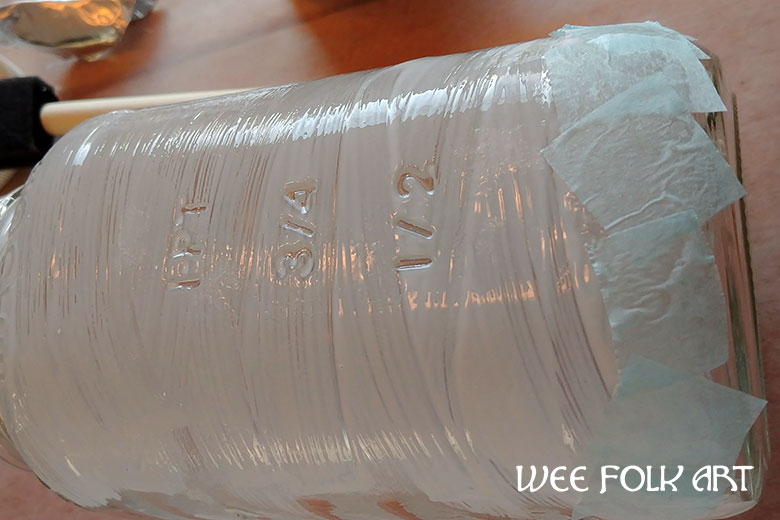 Apply the next color row, overlapping the first row slightly. Again add a light coat of Modpodge before moving onto the next row.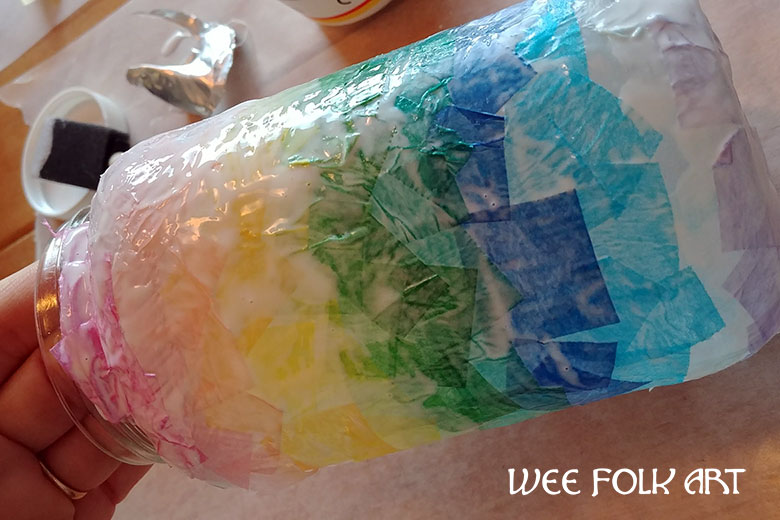 Keep adding one row of color at a time until you reach the top.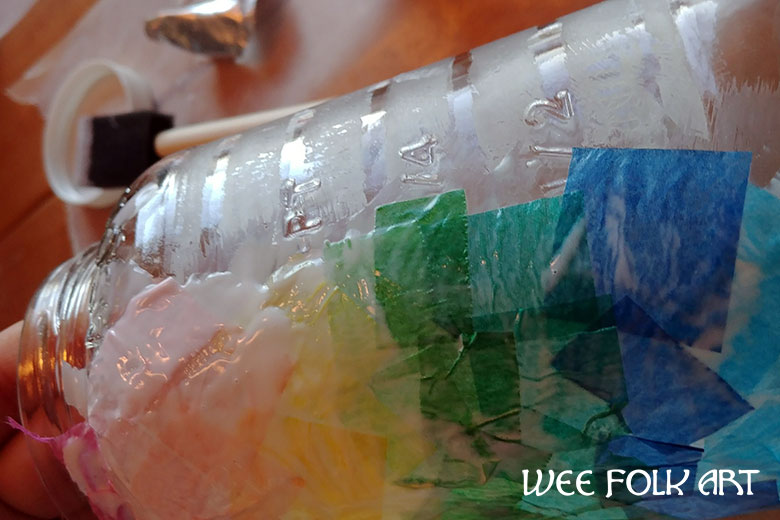 Turn your jar around and begin the next side. Match the color rows as you work your way up the jar again. When all the sides are done, let it dry to the touch. You can use a hairdryer to spend up the drying process. Tack down any loose edges and then apply a smooth coat of Modpodge over the whole jar in even strokes.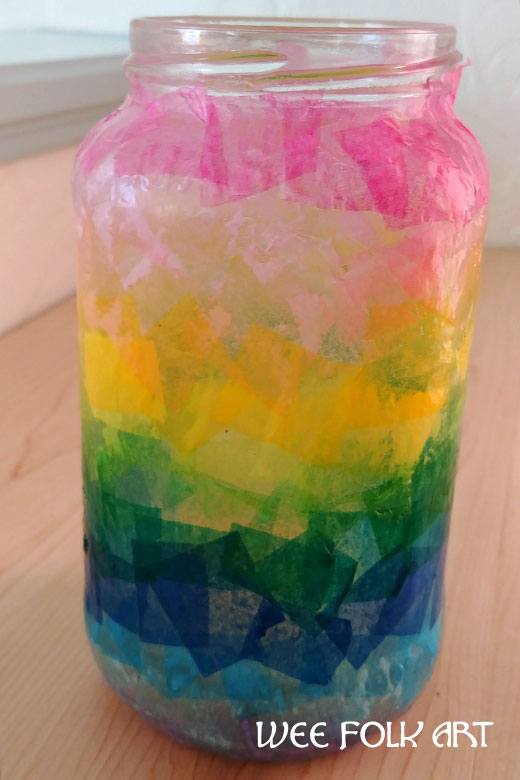 When your Ombre Rainbow Tissue Paper Lantern is completely dry, add a candle. I like to use battery candles for safety reasons.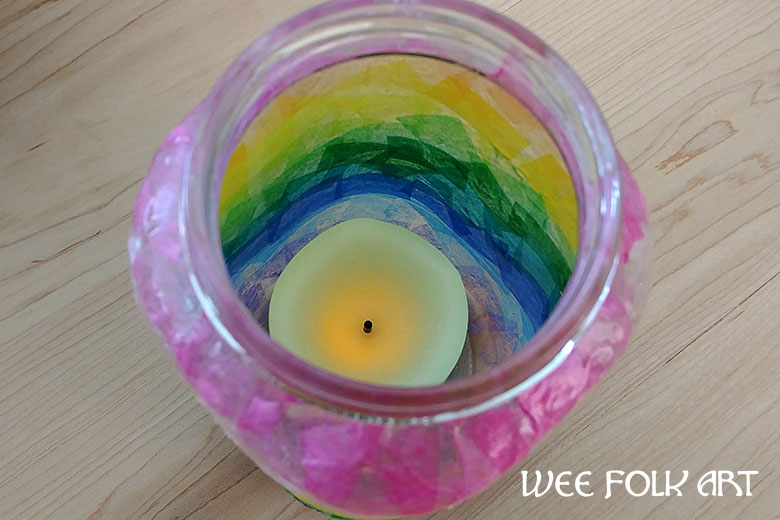 Your Ombre Rainbow Tissue Paper Lantern will add a whimsical, magical light to your home.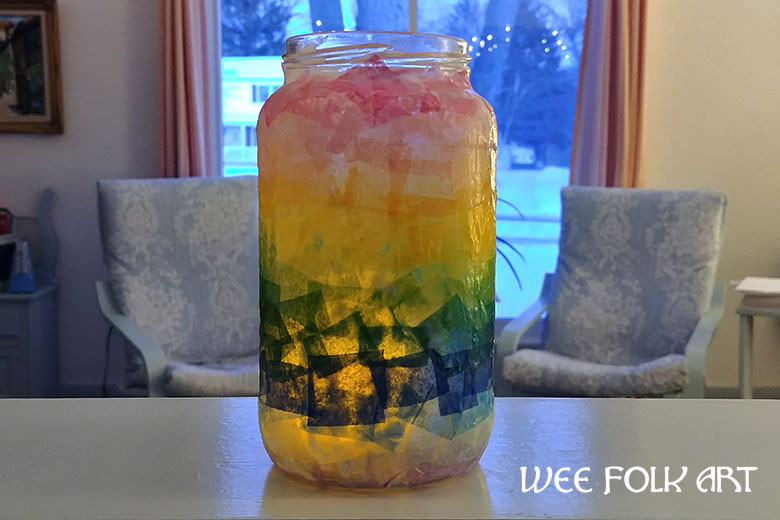 It also looks great paired with the Watercolor Folded Paper Star Lantern.