Here are my girls modeling their new knit dance bun covers that I made following this Snowflake Snood Knitting Pattern.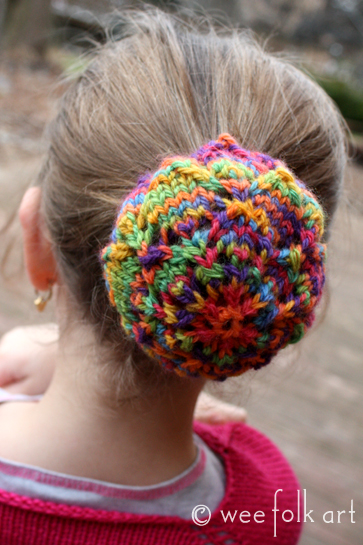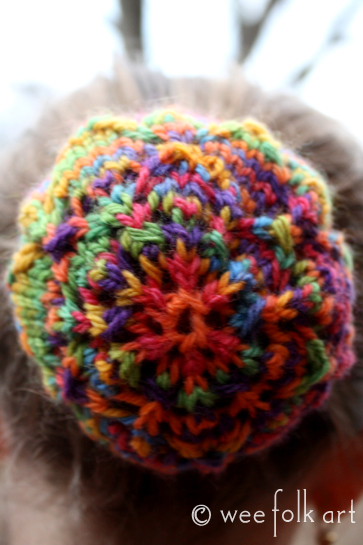 Snowflake Snood Knitting Pattern & Dance Bun Covers
Having a couple little dancers to knit for is a knitters dream. There are so many adorable and fast accessories to knit. I found this great snood/bun cover pattern (Snowflake Snood Knitting Pattern) and have made up several of them now. This is a quick project that I can complete in one evening while sitting in the waiting room of the dance studio. I hesitate to call it easy… knitting lace in the round takes a certain level of concentration… so I label this project as a higher level intermediate.
Above, Fairy is modeling my first attempt at this Snowflake Snood Knitting Pattern. She has super thick, wavy hair that falls mid-way down her back. It is a lot of hair to deal with. We always tell her she has Hermione hair. I made her a size medium in a dk weight yarn, using size 7 DPNs. I would say it is a tad big… or at least there is plenty of room for it to stretch more.
Below, Pixie is modeling my latest snowflake snood. She has thin, silky soft, pin-straight hair that falls almost to her waist. Even though it is longer than Fairy's hair, it twists up into a tiny bun. I made her a small in sock weight yarn on size 5 needles. The sock weight yarn really show-cases the lace pattern.
I plan to make a couple more with some sparkly yarn.
Note: it has been several years since I have made these dance bun covers and it seems that the original Snowflake Snood Knitting Pattern is no longer available online. The designer no longer has a website. I did some digging and found an alternative link to the Snowflake Snood Knitting Pattern here that has been restored through a website recovery program.