Hehe, the Little Treasures Rainbow Pouch Felted Knitting Pattern is one of those projects that didn't turn out exactly as I had planned… but totally has it's own charm about it. Of course the trolls add just the right factor of whimsy. There is just something about that hair with the fuzzy pouch…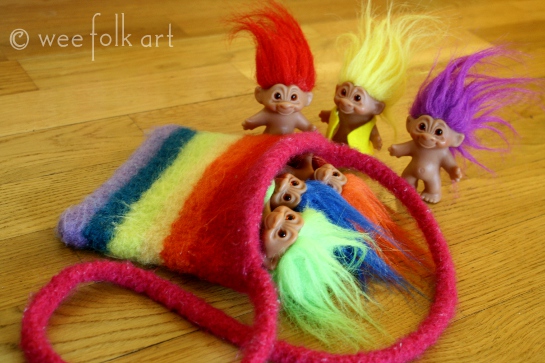 I knitted up this purse project as a demo for a pattern I am planning for my knitting class, put it in the washer to felt and was then besides myself with giggles when it came out. BOY did it felt! Well it wasn't going to work for an adult or even a tween purse… but it was magically transformed into the perfect little treasure pouch. Pixie quickly found the perfect use for it. Unfortunately I forgot to snap a pre-felted photo.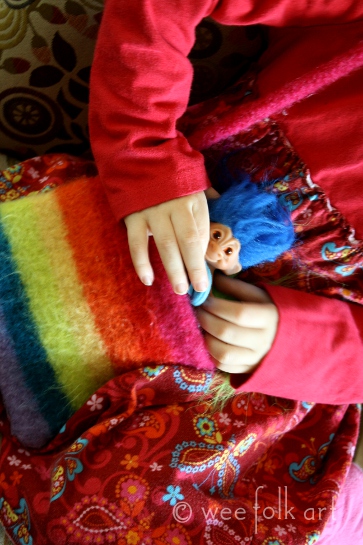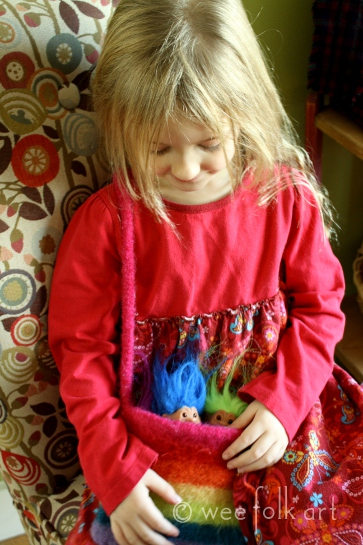 Rainbow Pouch Felted Knitting Pattern Materials
size 10.5 needles
7 colors 100% wool worsted weight yarn (I used scrapes of several different brands, Knit Picks Wool of the Andes works well)
Gauge = 3.75 sts per inch
Rainbow Pouch Felted Knitting Pattern Directions
CO 35 (work in stockinette stitch).
Work color A for 10 rows.
Work colors B, C, D, E, F for 8 rows each.
Work color G for 20 rows.
Work colors F, E, D, C, B for 8 rows each.
Work color A for 10 rows.
Bind off.
You should now have a long rectangle.
Fold over two rows on the top and bottom edges. Using the tail yarn, tack them down so that they are attached on the wrong side and that color A only appears 8 rows long on the right side. This will give the opening a slightly firmer edge.
Fold the rectangle in half in the middle of color G and sew up the sides.
Pick up 5 stitches on the top edge, near one of the side seams and knit an I-cord (or work in st st) for 40" (you don't actually need to work in an i-cord… because the st st curls… it will felt as an i-cord in the wash).
Bind off and attach the strap to other side.
Felt in the washing machine/dryer.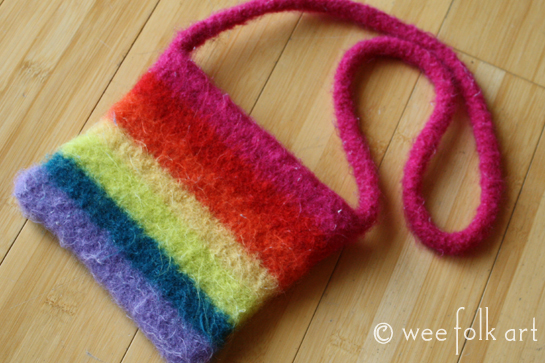 Finished, sewn up but non-felted dimensions = approx 9" wide x 11" long.
Felted it ended up approx 6.5" wide  x 5.5" long with a 30" strap.
Add your own little treasures.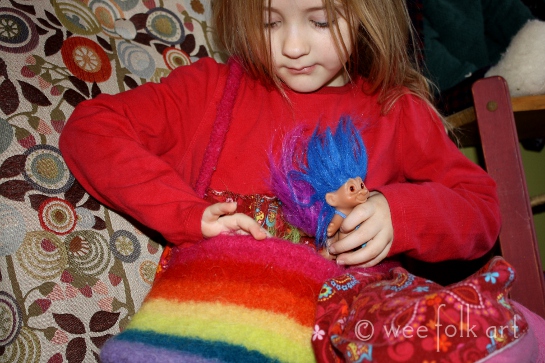 BTW – Those of you who have been following along with my knitting lessons will find some new lessons posted again after the holidays. We will learn a new way of casting on, some basic increase and decrease stitches for minor shaping, we will also learn about felting and how to dye our own yarn.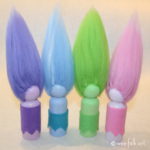 If you are interested, you can even make your own peg trolls!