CONTEST IS NOW CLOSED. The winners will be announced tomorrow morning. Please check back.
My girls loves these flowers… they won't leave them alone. Gammy always makes them a special felt flower for their dance recital every year and they have already put in their color requests for June. Fairy wants a baby blue and Pixie wants a cotton candy.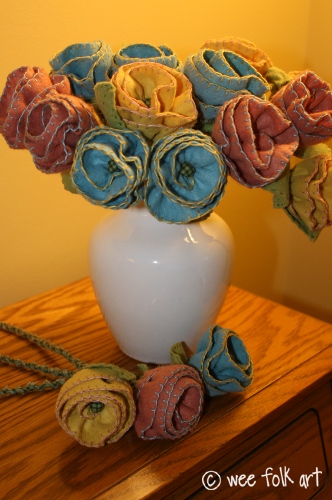 Wee Folk Art, together with Prairie Point Junction's Wool Felt Central, has a wonderful give away, just in time for your Spring gift giving and decorating!
Our dear friend, Julie, owner of Prairie Point Junction, is giving away 2 FREE kits so you can make your own Spring Bouquet… enough materials to make 18 flowers!
Each kit includes:
1/3 yard EACH of 3 colors of felt (You pick the colors)
12″ X 18″ Pea Soup for Leaves
8 skeins of floss to match the selected felts (2 skeins of each color)
1/2 yard of green calico for stems
Note: You will need to provide 12″ pipe cleaners and large holed beads
To enter, simply visit Prairie Point Junction's Wool Felt Central, and check out all the dreamy colors. Pick 3 colors you would like to use to make your bouquet. (We used baby blue, pink grapefruit and mellow yellow for the flowers but pick out colors that make you smile 🙂 Then come back here, give a big thank you to Julie, and tell us what 3 colors you would like if you win. Hey, even if you don't think you want to make this bouquet, who wouldn't want more felt to add to their stash?
The contest begins today, Wednesday, April 6, and runs until Sunday, April 10 at 9:00 p.m. EST. Two winners will be drawn at random and their names will be announced and an email will be sent to them. Winners have 1 week to contact us at weefolkart@yahoo.com with their snail address or a new winner will be selected.
So, head on over to Wool Felt Central and start planning! We want to give a heartfelt thank you to Julie for once again giving our readers a chance to win a wonderful kit.
And remember, the directions for making your own Spring Bouquet can be found HERE. Good luck one and all!