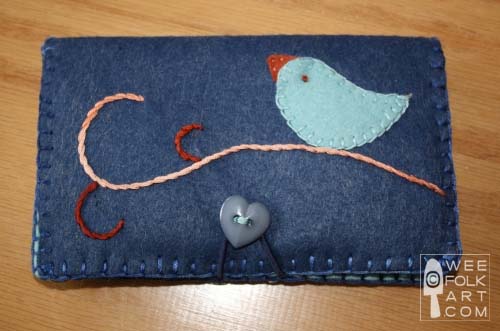 This Tea Wallet Pattern combines our Perky Note Card Holder with the smallest birdie from our Stacked Birdies Block with minor adjustments.
In addition to the materials required for the Perky Note Card Holder you will also need a piece of 5 1/2″ X 7″ fusible interfacing to give the wallet more structure. And if you would like to use the birdie template as I have, click here to download the Tea Wallet Placement Pattern.
Follow the basic directions from the Perky Note Card Holder, with a few minor changes. After Step 2 line up the inside pockets on the inside Wallet piece of felt. I held my pieces in place with packaging tape. Then mark the center line on the pockets with a vanishing marker and sew a running stitch on the center line on the pockets. This will give you four individual pockets when your wallet is complete.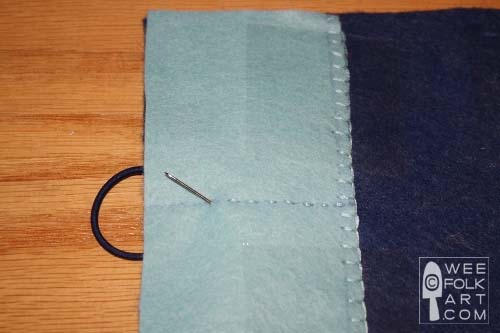 While completing Step 8 sandwich the inside and outside pieces together with the fusible interfacing in the middle. Be sure to keep interfacing centered so that you have a 1/4″ border around the interfacing (this will make your blanket stitch much easier). Press with a warm iron just enough to get it to stick.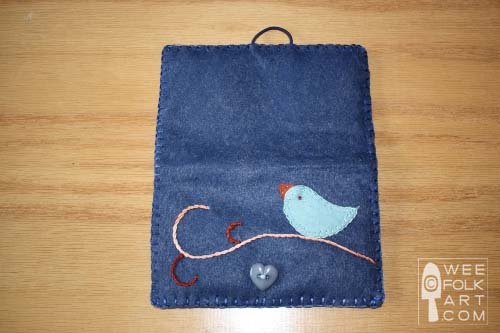 Instead of adding the 3×5 cards in Step 10, add four of your favorite individually wrapped tea bags. Now you can carry your favorite teas with you.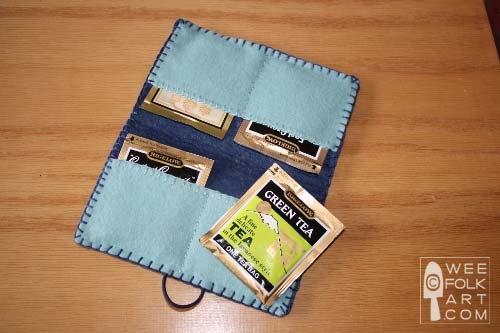 (PS – this is my stitching not my mother's… sigh someday maybe my stitches will be as even as hers. LOL!)
Note about patterns: We are sharing patterns we have designed and made for our own children, families and friends. Every effort is made to share information in a clear and accurate manner. We offer preemptive apologies for any mistakes that may be made. Please let us know via comments or emails if you stumble upon a mistake or if you encounter directions that leave you scratching your head! We will rectify the situation as soon as humanly possible!
https://www.weefolkart.com
Copyright © Wee Folk Art 2008 – 2009. All rights reserved.
All photos, text and patterns are copyright protected. You may not copy, reproduce or redistribute any material found on WeeFolkArt.com without written permission. Wee Folk Art retains all rights.