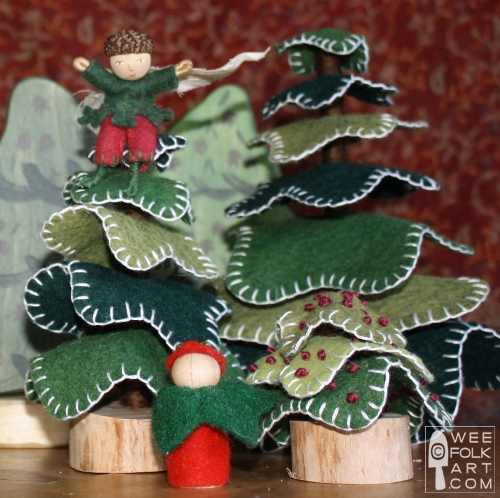 Long, long ago… in an enchanted forest far, far away…
Last year I posted directions for making the wooden peg gnomes. They were standing in front of some felt evergreens I had just thrown together. I didn't bother writing up the directions at the time… I wasn't featuring the trees… they were just a backdrop for the gnomes. Welllll…..as it turns out, those felt evergreens have been requested time and time again since that time. I PROMISED readers that I would write up directions before this holiday season. Well, here we are, and I still haven't written up instructions. After a rather heartfelt request yesterday, the felt forest has moved up to the top of my To-Do list. So, some time over the weekend, I'll get instructions together for making your own felt evergreens. But for those of you that are just waiting for the directions, I thought I could at least give you a materials list so you can get things together for the project.
I made 3 different sizes: tall, medium and a bush.
1/4″ dowel rod: (6″ tall, 4 1/2″ medium, and 2 1/2″ bush.)
base: approximately 1 1/2″ sliced branch, 3/4″ tall NOTE: If you do not have branches available, you can cut bases out of wood. You could also make them out of clay OR I was even thinking you could use Tinker Toys. They have different sized sticks and the round wooden connectors could work as a base.
wool felt – I used 3 different colors of green for each tree
floss – white (snow) cranberry (berries)
brown yarn – for wrapping trunk
crafting glue
tools for cutting branches and dowel rods. Drill for drilling a hole in the base.
optional – fusible web – I cut my boughs out of 1 piece of felt. If you would like the boughs to stick out farther, plan on cutting 2 pieces of felt. You might want to iron them together with a layer of fusible web between them to make them a little stiffer.
Okay… there's the supply list… and a promise… barring some unplanned event… I'll have directions up for the Felt Forest by Monday. And for those of you the NEED to get them done FAST… collect your materials now and you'll be good to go 🙂