I have this basket with little scraps of fabric in it. Every so often I get in the mood in the evening to sew rather than knit. When that happens, I pull out my scrap basket and start cutting out hexagons. I have this quilt I've been working on on and off for years. It is a hand pieced hexagon quilt. Hexagon quilts are not really conducive to machine piecing. Each piece needs to be hand cut rather than strip cut, and because of the constant turning, folding, and relatively short stitch rows, it isn't a fast quilt to make, no matter how you stitch it.
So every so often I pull out my hexagon quilt and add a few more hexagon flowers. It will be a quilt that is years in the making, but I'm in no hurry. My hand pieced hexagon quilt is lovely looking, and extremely satisfying to work on, and truly an all about the process project.
I am hand-piecing my quilt very old school, think Little House on Prairie, with what I now believe is a Y-seam technique. I didn't have any directions when I started my quilt and just fiddled with the piecing until I got it to work well for me. It is only later that I discovered the correct term for my piecing, and honestly I'm probably not doing it by the text book, but hey it works.
There is also another, more modern way, to work with hexagons where you wrap you fabric around hexagon paper, cardboard, or plastic templates and then whip stitch the pieces together. If you would prefer to work in that manner, there are some good tutorials online including one at Instructables and one at Jay Bird Quilts.
Hand Pieced Hexagon Quilt Materials
Scraps of Fabric
Hexagon Pattern Piece Printed on Cardstock
Pencil/Disappearing Ink Pen
Sharp scissors
Needle and Thread
Hand Pieced Hexagon Quilt Directions
Making the hexagon flowers

To begin your hand pieced hexagon quilt you will need a bunch of hexagons. Cut out a variety of hexagons from scraps of fabric. Because we are not paper piecing, trace the hexagon exactly with the edge of the template. You do not need to add a 1/4 inch around it. Super sharp scissors will help a ton.
For each hexagon flower you will need 6 petal hexagons and one contrasting center hexagon. You can use any size hexagon that you like. Mine are about 3 inches across from flat side to flat side when cut. You will lose a 1/2 inch to the 1/4 seam allowances.
To help with seam alignments, mark every corner on the backside at 1/4 down, 1/4 inside. If you are using the template pattern provided above, poke a small hole on each dot. I did this with a tapestry needle. Then line it up on your hexagon and use a disappearing marker to create the dots.
Place one petal piece onto the center hexagon, right sides together. Pin as needed. I like to work with the center hexagon on the top so that I don't have to tie of my thread after every petal. Using a 1/4 inch seam allowance, hand stitch one side starting 1/4 from the edge, stopping 1/4 from the opposite edge. If you marked the dots, stitch from one dot across to the opposite dot. I use a running stitch across the piece but always end with a back-stitch to help lock in the seam.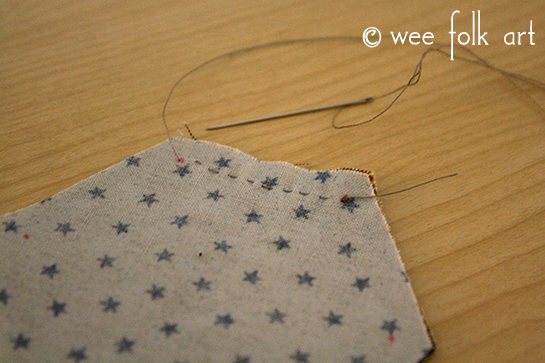 Fold the petal you just added out of the way and turn the center hexagon 60 degrees. Line up the next petal right sides together. Again stitch across from dot to dot. Be careful not to catch the petal already attached. End with a back-stitch.
Continue in this manner all the way around the center hexagon so that all 6 petals are attached. Tie off your thread.
Carefully align the sides of two of the petals, right sides together. It is helpful to fold the center hexagon so that the seams of the side petals are aligned. Pin as needed.
Using a 1/4 inch seam allowance, hand stitch the joining sides starting 1/4 from the edge and stopping 1/4 from the opposite edge. End with a back-stitch and tie off your thread.
Repeat 5 more times until all petals edges are joined.
Finger press the seams flat. You now have your first hand pieced hexagon quilt flower.
Note: You should never sew into a completed seam. It is important to always begin and end 1/4 inch from all edges.
Joining the Hexagon Flowers
You can of course plan out your whole quilt and join your hexagon flowers in a specific pattern. I on the other hand, am just randomly joining the flowers every so often. The top of one hexagon should be aligned with an side edge of another. The flowers will aligned with 3 edges of the next flower. Or if you would prefer, you could add in some divider hexagons where you have one solid hexagon in the middle of every three flowers.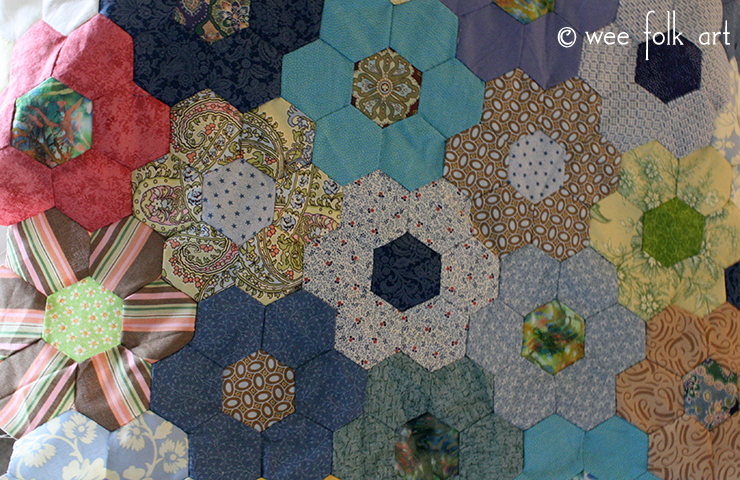 I do not have directions on how to make a full sized quilt. I will have to figure out the borders, backing, and etc when I get to them. If you have some suggests for working with hexagons please share them in the comments.