EDIT: The giveaway is now closed. A winner will be selected and announced tomorrow 🙂
Everyone has heard me talk about the love of my life, Tim. (The other day when I apologized to him for creating so much work for him… with programming for WFA and all the projects he does around the house for me, he looked at me and said, "It's nothing, sweetie, you are my hobby!" I ask you, who wouldn't love him?) Anyway… February 28, 2011 marked the 9th anniversary of when we meet. It was also the day Tim and I finally got married. After all the years we have spent together, it seemed a little silly to make a big to-do about it. So, Tim and I, along with my brother, Kipp, and his wife, Jennifer, went to an interesting little chapel, and got married.
Although the wedding was about as low keyed as you could get, we wanted to commemorate the day. After discovering Daria's Etsy shop, Art of Felting, in January, I contacted her. Daria lives in Rehovot, Israel . Here is the email I sent her…
I was so delighted yesterday when I discovered your site. My readers seemed quite taken, too 🙂 I have a question about a custom order. I am going to be married soon… the 2nd marriage for both of us. We are in our 50s, so not babes 🙂 We do want something to commemorate the day since it will be very subdued. (We've already been together for 9 years.) When I saw your wool paintings, I thought this would be perfect! I love your new piece with the poppies, but I would like something bigger… more like the 13″ x 17″. I'm kind of thinking about a woodsy scene with poppies, and maybe a Mother Earth gets married kind of theme 🙂 Let me know if this is possible.
And here was her reply…
It was a real pleasure to receive your input. The work I put into my creations gives me joy, but it is even more pleasurable to hear good words from others. I truly enjoyed your Wee Folk Art plus and think you are very talented. Your wonderful idea and the matter inspire me to start working on the project right now. I would be glad cooperating with you.
We were delighted when we received it last month. It is beautiful. Daria titled this peace "Mother Earth Gets Married". Perfect, right? A lovely reminder of how blessed we feel. As it turned out, my mom wanted to get it for us for a wedding gift… thank you mom. As soon as we decide what we want, we will have it framed.
Now… for some exciting news… When Daria shipped us our tapestry, she included a lovely little framed piece to share with our readers. Fantastic, right? The tapestry measures 5 1/4″ x 3 1/4″, framed 7 1/4″ x 5 1/4″. It is absolutely lovely!

Daria also sent photos of the fairy tapestry in process! I had asked Daria if she worked from a sketch. This is what she told me:
In Waldorf art is no place for a sketch or a previous plan. It's like to give birth. This is by some means an opposition to photography. The target is not to show nature, but to discover what is conceived in. That's why the right mood is necessary, which can be achieved through good music or other inspiring things. When I succeed get into right mood I start. First I place different wool pieces on the felt. Then I let the drawing leading my hands. The next step is to define details and only then the turn of a great finish comes. Billions strokes of needle.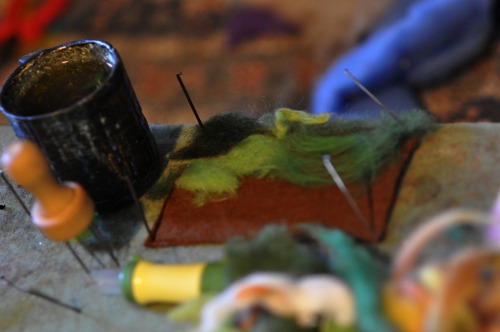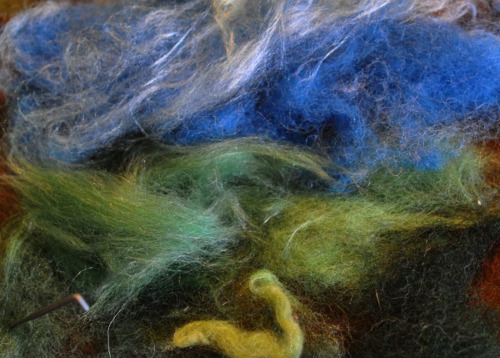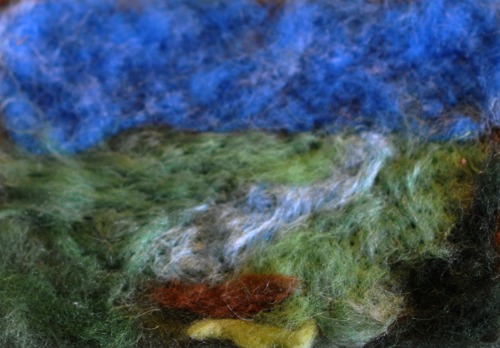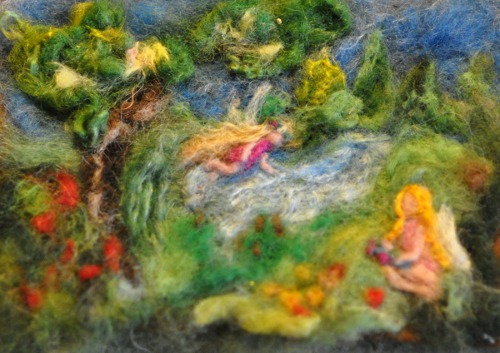 If you would like a chance to win this sweet little Waldorf inspired needle felted wool painting, simply pay Daria's Etsy shop, The Art of Felting, a visit, look at all her lovely things, (taking a drool cloth is highly advisable!) then come back here and leave a comment telling us what your favorite creation is. The giveaway will run from today, Wednesday, April 20, to Easter Sunday, April 24, at 9:00 p.m. EST. A winner will be drawn at random. So, head over to Art of Felting, pick a favorite, come back and tell us about it, then cross your fingers.
Thanks so much, Daria. It will be hard to give up this lovely little tapestry… but I will 🙂