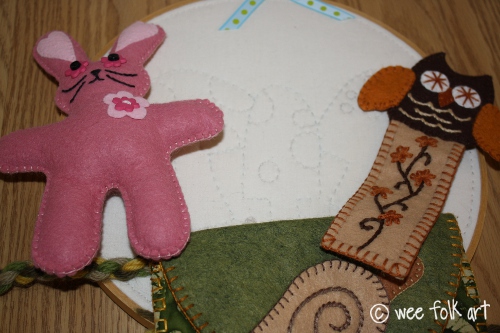 First off, we would like to thank everyone for your kind words and understanding. Obviously, we love WFA, but hearing that you do too means the world to us! And we really aren't taking a "vacation" from WFA but slowing down. Some weeks it may hardly be noticeable, but other weeks we may be obviously absent. This is a lesson for us to learn… mostly me 🙂 For example, yesterday we sat around the dining room table with the wee ones, and we gave each other manicures. As a show of solidarity, we all painted our nails alternating shades of spring green and lavender. Silly, pretty and springish. It took all of my self control not to run off and grab the camera as sounds of merriment filled the room. Relax, I told myself, and just be here in the moment. That's what I personally need to do more, it be in the moment and stop weighting the "blog worthiness" of everything we do 🙂
So, on to the give away. We have a basket of projects that for the most part are duplicates of our projects we made. We rummage through this basket when we need a last minute gift. This time, we went through it to get 4 projects to share with our readers. They are…
Treasure Pouch


A Walking Bunny Finger Puppet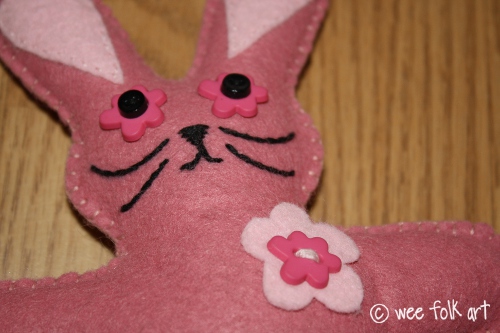 Candlewick Mushrooms Wallhanging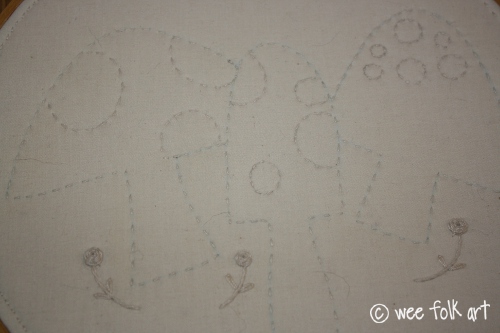 Owl Book Mark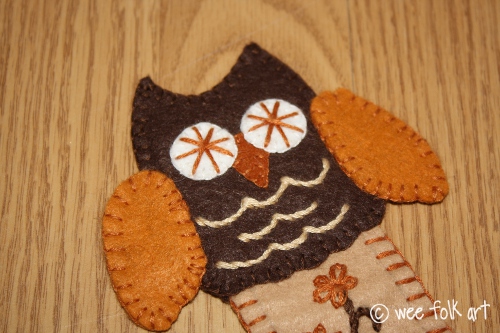 The 4 winners, drawn at random, are…
Lisa L. on Wed, 04/13/2011 – 17:32.
I love your website! You have helped me a great deal in finding ideas for my storytelling in the kindergarten classes. I am a speech pathologist in the public schools, I'm a Waldorf parent and have worked in Waldorf schools in a variety of capacities. I'm doing the Caps for Sale story with the puppets/tree in May. Working on the painting/creation of the man and hats over my spring vacation this next week! Can't wait to perform it! I made a bunch of the leprechauns to do my story of "Lucky Patrick" during the week of St. Patrick's Day! They were a hit! I still have one in my classroom on the bookcase. Thank you for all your inspiration!
Sally Stanley on Wed, 04/13/2011 – 18:25.
I want you know how much I have enjoyed your blog since discovering it last year. I know it is very time consuming so enjoy your time off! Relax, have fun, and take care of yourself. I will miss your daily blog posts but enjoy looking back at your old ones!! Thanks again for sharing all your wonderful ideas with us!!!
Anushka on Sun, 04/17/2011 – 06:37.
i totally understand a step back from the blog and the exact idea of enjoying your cup of tea on the deck without the computer! your blog is somewhat new to me, so i have yet a lot to explore. i am grateful to hear that you are still keeping the blog because i just filled a basket on amazon for the harvest time curriculum as i embark on homeschooling my four year old son with it. i also liked you on facebook and would love a grab bag! thank you for everything you do!
SewLindaAnn on Thu, 04/14/2011 – 17:53.
I think it's always important to step back and see what's going on in your life, it's the only way to maintain "balance" or a good lack thereof.. I "liked" you on Facebook. And, yes, of course I would love something really made by Wee Folk Art. I'm a grown woman and I love your mushrooms, crafts and all you do.
Congratulations. Please email your snail mail address to us at weefolkart@yahoo.com. We will get your surprise gift shipped to you lickety split! As always, winners have 1 week to send us their address or a new winner will be selected.
If you didn't win… we are sorry 🙁 BUT, we have another wonderful giveaway this Wednesday, so make sure you enter. Remember… SOMEONE has to win!