Whether you feel like you need a few more gnomes in your life or you know someone else that does, make sure you stop by our Cafe Press shop and check out our line of Wee Folk Art Products!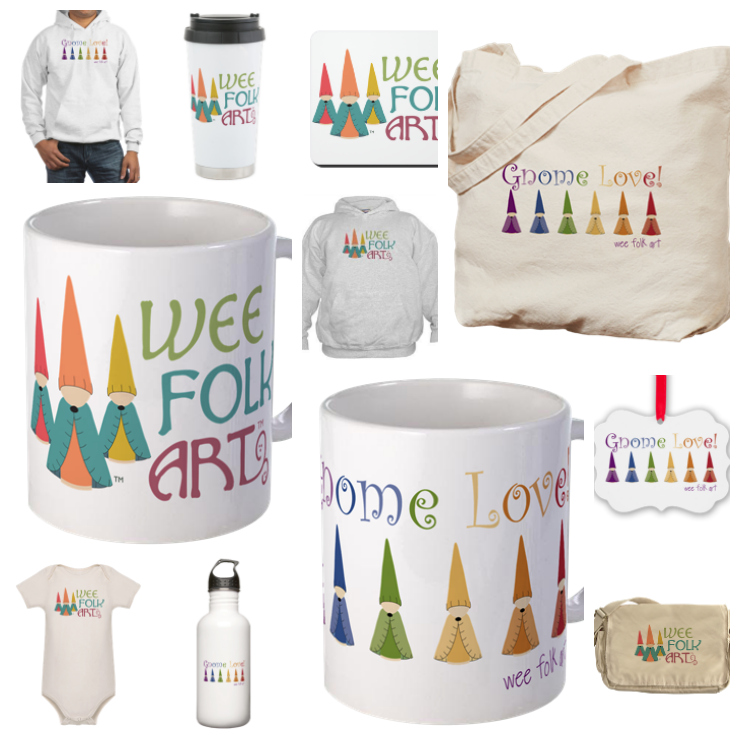 This weekend when I was out and about in town I ran into someone carrying a Wee Folk Art Messenger Bag. This happens occasionally. Either I will see someone with one of our Wee Folk Art Products in person or when someone shares a photo there will be a mug or water bottle in the background. Okay… Wee Folk Art may only be a small fish… or even a tiny fish… in a big sea BUT it does tickle Michelle and I when we run into someone in the real world that is a follower of Wee Folk Art and shares with us their love of the site. We get that 15 seconds of rock star fame 😉 It's fun!
Anyway… if you've never been there and don't know we have a Cafe Press Shop, you might want to take a peek at our Wee Folk Art Products. Michelle has created 2 different designs. First, our Gnome Love, which is a rainbow line of our traditional gnomes with the words "Gnome Love" above their heads. There is also our Logo Wear, which is our circle of 3 gnomes with Wee Folk Art written next to them. If you love gnomes imagine having one of these cups in your hand when you have your first cup of joe in the morning! Puts a smile on my face with each and every sip!
We get a small percentage of the sales, not enough to retire on 😉 but we love having an assortment of the Wee Folk Art Products that we use and thought some of you, especially those of you that are unfamiliar with the site, might want to check it out. There is something for everyone in the family, and besides being cute, it's a way to share gnome love!
So bop on by Cafe Press. You can find the products with the Gnome Love design HERE and the Logo Wear HERE. Make sure to share with other gnome loving friends 🙂 BTW… not too early to think Christmas! Lots of great stocking stuffer ideas here!