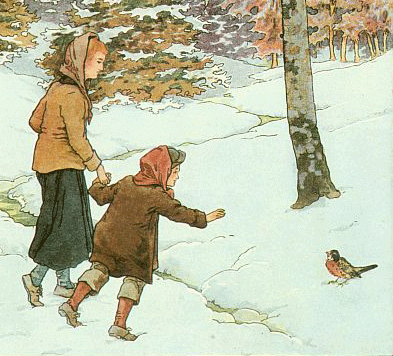 The Little Robin Grieves – Nursery Rhyme

The little robin grieves
When the snow is on the ground,
For the trees have no leaves,
And no berries can be found.

The air is cold, the worms are hid;
For robin here what can be done?
Let's throw around some crumbs of bread,
And then he'll live till snow is gone.

The other day I came upon a stack of large flip charts. Do they even use those any more? Anyway… opening them brought on a ton of delightful memories.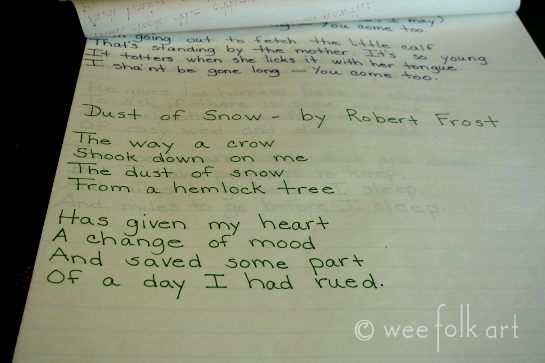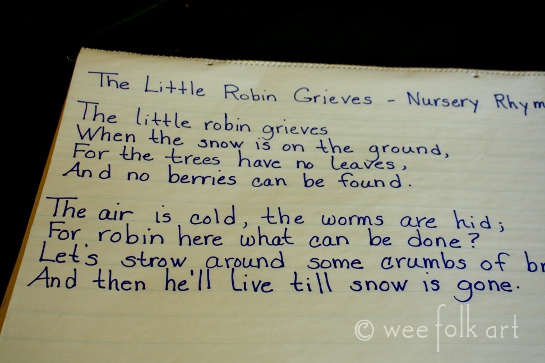 I didn't homeschool my children. To be honest, at the time, I only knew of 1 family that homeschooled, and the thought never even crossed by mind. Instead, I surrounded our children with enrichment learning, and I think my family would all agree, that some of their best learning, certainly the most enjoyable and memorable, occurred within the family. One of the things I always did, was to print poems on flip charts, which were displayed in our family room, which I then surrounded with picture books and resource books on the topic. We kept a poem up until everyone had a chance to mostly memorize it… at least become intimately familiar with it… and we had enjoyed crafts and outings that corresponded with it.

I thought it would be fun to share some of the poems that the wee ones haven't learned yet. The nursery rhyme, The Little Robin Grieves, has long been one of our favorites. I think I like the poem so much because it speaks of the seasons and encourages us to help these lovely creatures 🙂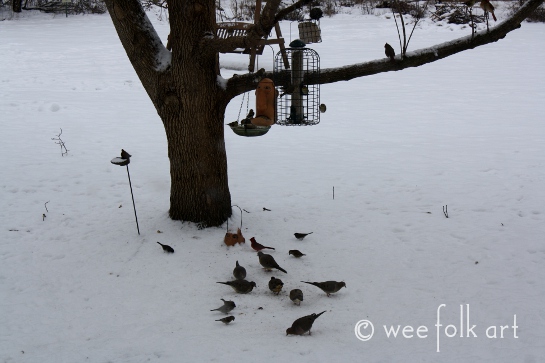 Although we haven't gotten any noteworthy snow yet, the above picture was taken last year, our feathered friends still appreciate the food and heated water we provide for them.
Above is this year's winter picture, sans snow or sun!!!
If you've never looked at Michelle's Winter Wonderland Curriculum, you are in for a treat. Although it is geared to preschool/kindergarten, many of the activities will be enjoyable for children of all ages and it has a list of some wonderful winter books. One of the crafts we will be doing this week is to make the ever popular pinecone feeders. The tutorial is available in the Winter Wonderland Curriculum. We will doing other activities, which we will be sharing, too.

BTW… we have many books on winter, birds and animals in winter, but I just read a review on the book, A Bird in Winter by Hélène Kérillis and Stéphane Gire , and thought it would be perfect. It was inspired by Pieter Breugel's painting, Hunters in the Snow, and is about an eight year old peasant girl named Mayken who finds an injured bird in the snow. She nurses the bird back to health. Not only is the book's water colors suppose to be lovely, but I'm hoping it demonstrates the joy in helping all creatures, great and small 🙂

Hunters in the Snow by Pieter Bruegel the Elder (1565)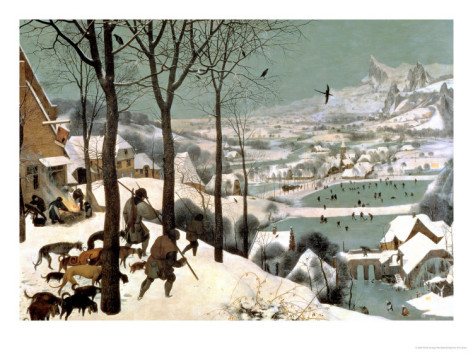 The book is due in on Tuesday. I'll do a review on it them 🙂 And, fingers crossed… Let it Snow, Let it Snow, Let it Snow!