Learn how to make these wool roving needle felted acorns today. They are fun to make and a cute way to bring nature indoors. We have turned our needle felted acorns into a rainbow of acorn ornaments. Using colorful wool roving and found acorn caps makes these a sweet nature craft.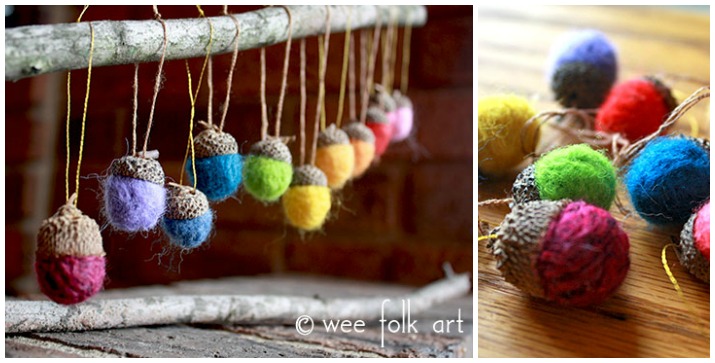 Holiday Decorating with Nature Crafts
We are happily gearing up for the holiday season around here, and yes, we do know that Thanksgiving is this month's highlight. I have several friends and family members who like to point out this fact daily and bemoan that the stores shift into Santa's workshop with the Halloween candy still on sale. But we will be sharing Christmas crafts this month because as all crafters know, you have to start your Christmas crafting long before December if you want to get it all done.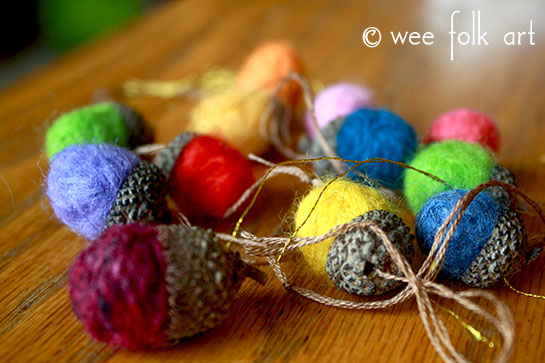 As for Thanksgiving, I host Thanksgiving every year. It is my holiday to prep, plan, and decorate. Often I pull out my Christmas decorations a week or so before Thanksgiving so that my house is festive for Thanksgiving. I do understand that it is probably too early to set up my Christmas tree before Thanksgiving but it is what I have.
I've often thought about making/buying more specifically Thanksgiving-ish decor but I have to say, I'm just not a fan. Turkeys just don't do it for me and I find it some what bizarre to highlight the main course with characterized images of it in pilgrim attire. Even the colors of golds and oranges that I adored in September and October, while our trees outside were dressed in the same, no longer appeal to me in November. There are no leaves left on the trees and most mornings the ground and roof tops are sparkling white with frost. It is also dark, so dark, this time of the year. Many of our days are heavy with cloudy skies and I feel like we are in a perpetual state of dusk. I want my twinkle lights and candles!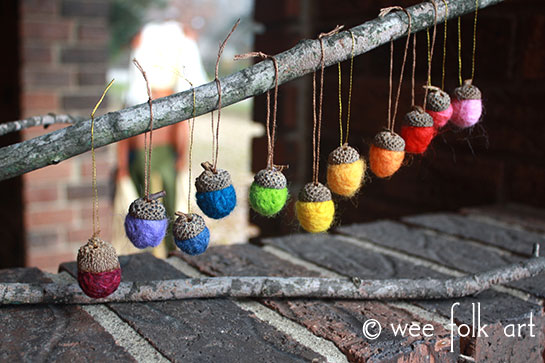 Needle Felted Acorns Thanksgiving Center Piece
What does all of this have to do with the needle felted wool acorns at the top of the page? Well, I'm trying for different table setting this year. I'm taking my sweet yarn tree as inspiration for my Thanksgiving table. I want that look and feel without putting up the tree quite yet. Rainbow colors bridge the seasons and acorns suggest autumn. Using these new Needle Felted Wool Acorn Ornaments I think I have found my new center piece for our Thanksgiving table. 🙂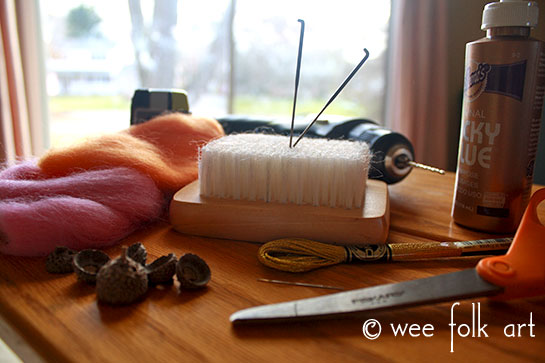 Wool Needle Felted Acorns Materials:
Wool Roving or Yarn
Needle Felting Needles and Mat
Acorn Caps
Craft Glue
Scissors
Thread (and needle)
Drill
Wool Needle Felted Acorns Ornament Directions: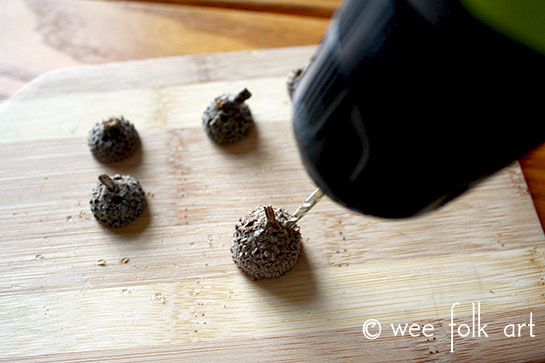 Carefully drill two small holes in the top of your acorn caps.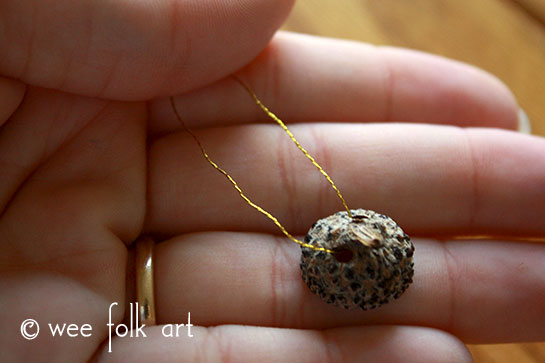 Thread string, yarn, or embroidery floss through the holes. You can use a needle if you have trouble feeding the thread through the holes. Make a loop and tie off the thread. Do this for all of your acorn caps and set them aside.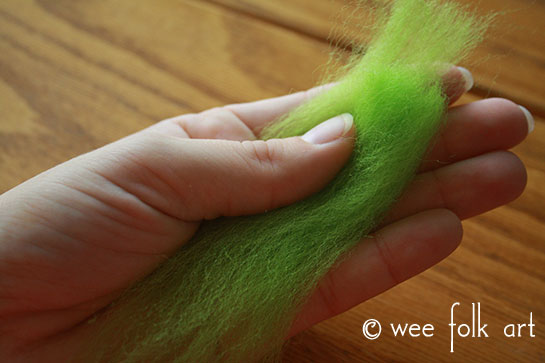 Take a bit of wool roving. I found that a piece about the diameter of my finger and the length of my palm worked well for my acorn caps. You will have to play with the amount to find what fit your caps well.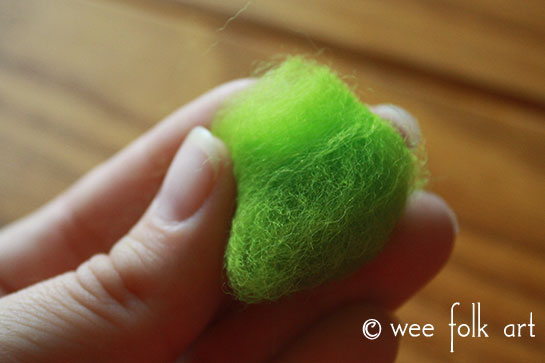 Wrap the roving up into a ball shape. You can roll it around in your palms a bit to get it started.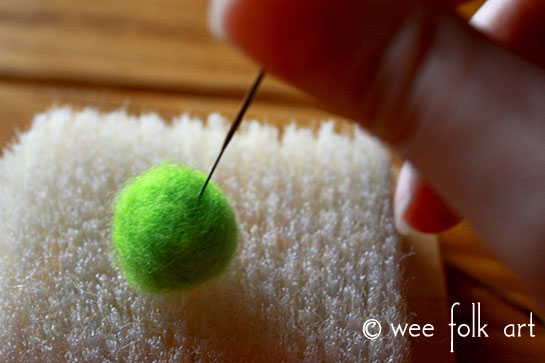 Needle felt the roving in a round or oblong shaped ball. When it is tightly felted, fit it to one of your acorn caps.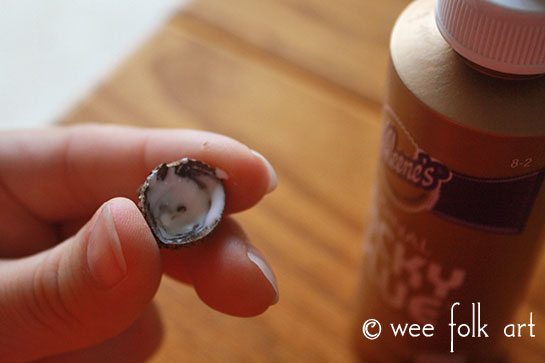 Apply craft glue to the inside of your acorn cap.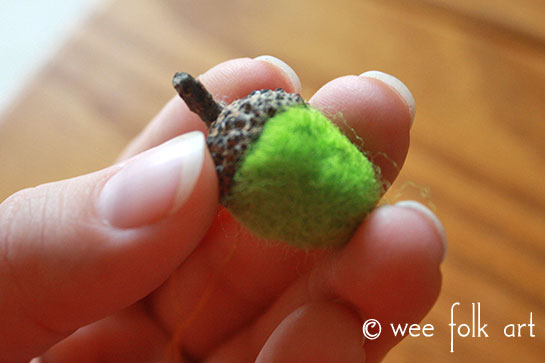 Fit the wool roving ball into the cap and hold tightly for a few seconds. Set it aside until it dries. Now make a bunch more in different colors.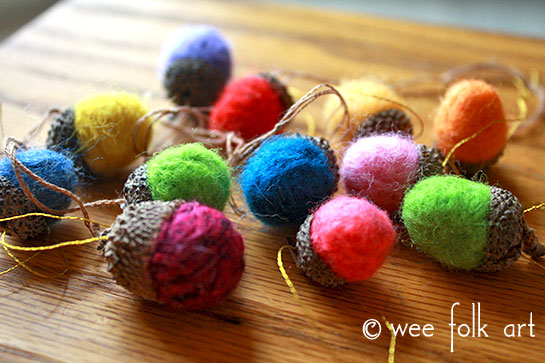 Using Wool Yarn to Make Needle Felted Acorns
If you don't have a wide variety of wool roving colors, not to worry. You can use scraps of wool yarn from your stash, just be sure it is feltable yarn not super-wash. About half of my needle felted wool acorns were made from yarn scraps not roving. Cut your yarn into 6-8 inch strips. Un-ply your yarn or in other words untwist the yarn strands. If you have a wool brush or comb use it to loosen up the wool fibers (an old hair brush or doll brush would work too). Use these loosen fibers as you would the wool roving. It may be a bit more difficult to roll it into that initial ball, but once you start needle felting it, it should be just fine.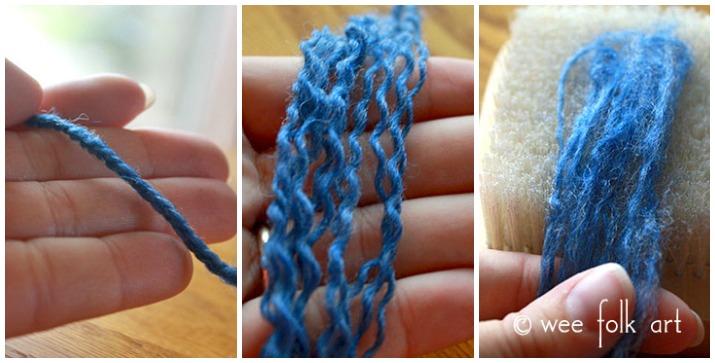 Once you have a stash of Needle Felted Wool Acorn Ornaments, create a branch to hang them from. You can use several small branches in a vase or I found one branch with three small branches that sat up nicely across the middle of my table. I hung my Needle Felted Wool Acorn Ornaments in a spectrum of color across one branch. Bonus: these Needle Felted Wool Acorn Ornaments can go on my little yarn tree when the time comes to switch to Christmas decor.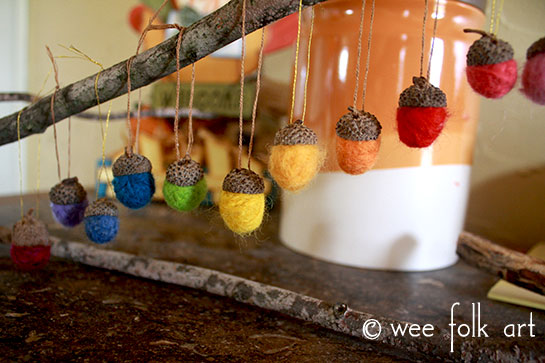 Do you have any creative ways of decorating for Thanksgiving that doesn't include Turkeys or Christmas trees? Please share some ideas. I would love to see/hear how others decorate this time of the year!