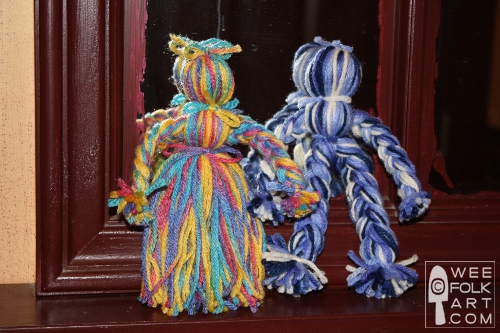 Over the Holidays our house was a constant hub of activity. Beginning with that life affirming first cup of morning coffee shared with fellow pajama wearers, to the wee hours of the night, snuggled on the couch watching a barrage of Christmas movies, the house buzzed. Michelle and her family were around for most of it… departing for home only for a good night sleep. Although the children handled the long days and chaos quite well, every once in a while 3 year old Pixie needed to find the lap of a nurturing adult, where she chilled and regrouped before rejoining the other children.
A couple of nights after Christmas, Pixie climbed onto my lap. I was sitting in our family room, happily nestled between my computer desk and felt table, chatting away. As she sat, she was fingering one of the many ubiquitous skeins of yarn that can be found hither and yon in our house. Without giving it much thought, I asked her to show me her yarn. I picked up the lid of an embroidery floss container, and began wrapping the yarn around and around as I talked. She was fascinated. Then, over the next 10 minutes, I tied here, braided there, and clipped loops until, wah lah, a multi-colored yarn doll came to life. She was enthralled! I can't tell you how many boy and girl yarn dolls I made over the next few days. Pixie began hitting my stash in the attic closet to bring me different yarns with the anticipation of yet another new dolly friend.
Yarn dolls were one of the first crafts I remember making as a child. There is something so awe inspiring to take a simple skein of yarn, and in minutes, create a doll that takes on a life of its own. If you've never crafted yarn dolls, you are in for a real treat. Young crafters will quickly join you, and before you know it, your house will be over run by yarn dolls! The directions for the Yarn Dolls can be found HERE or with our FREE Patterns. Enjoy!