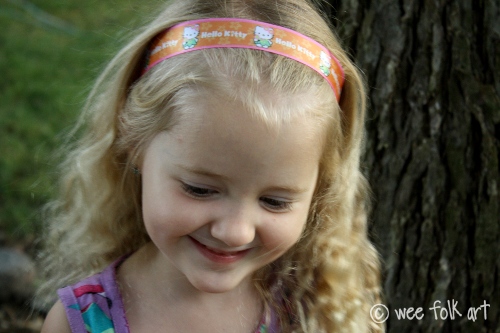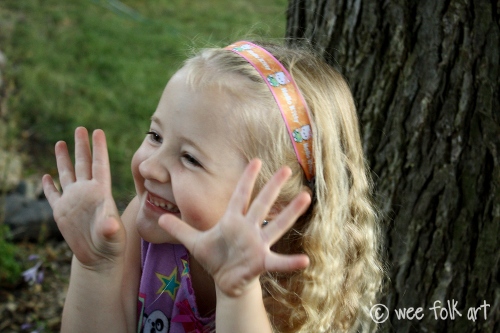 I don't make everything I own. I buy stuff at stores… really I do. But you have to remember I began crafting early. I knitted my first cable knit cardigan sweater, including button holes, at the age of 8, thanks to Grandma Pearl and her faith and patience with me. Because of this background, and an overly zealous attitude of "I could do that", I have a tendency to approach all purchases by first asking… "Can I make that?" Seldom do I follow it up with the logical and possibly more appropriate question of "Should I make it?"
But  I learned very early on, that not everyone shares my "Can do" attitude. Case in point… when I was in high school I went shopping with my mom for a formal dress she needed for a holiday party. Although my mom could sew, and did quite well making curtains, quilts and some clothing for me, I must admit she was a more gifted shopper than crafter… an equally impressive ability I might add… one that I'm lacking to this day! Anyway… on this particular outing, she found the perfect dress. It was a long sleeved, black bodice dress, embellished with wide ribbon. The attached skirt was a long, creamy satin, gathered at the waist, and cinched with a wide belt. She looked lovely in it.
However, I took a look at the price tag, and the simple lines of the dress, did a quick bit of mental math and said, "Oh, Mom. You could make that for a third of the price."
I don't know why she agreed with me that day. Perhaps she felt like I had thrown down a gauntlet, and that she had to protect her integrity by proving she was capable of replicating the gown. Or maybe she had spotted some expensive shoes that would be affordable if she saved money on the dress. Whatever the reason was, we left the clothing store and headed to the fabric shop. Sure enough, we found a pattern for a dress almost identical to one she had tried on. Within a half an hour, we had loaded our cart with fabric and ribbon that would create a knock off for the other dress, and I was right, it cost about a third of the finished gown.
When I went off to school the next day, Mom was already at the dining room table laying out the pattern. It appeared to be a straight forward pattern, and I was sure as I was walking home from the bus stop, that my Mom would be done with the dress, and she'd justly thank me for encouraging her to make her own dress. That's not exactly what I found. As I was walking up the driveway, I saw something fly out of a second story window. On closer inspection, I discovered her partially completed dress lying on a snowbank.
I won't share the ensuing "conversation"… let's just say it didn't include very many words of gratitude! After liberal usage of a seam ripper, we worked together to finish the dress. It did look every bit as lovely as the dress in the store, and it did cost substantially less, but my mother felt no joy when slipping into it for her party. Because, sewn on the dress, as surely as the ribbon, was frustration and tension. I can't say I remember my mom ever wearing that dress again. Perhaps she did. But I can tell you this, I NEVER again suggested she make something that she could buy!
But that hasn't stopped me. The other day I was at Target with Michelle and the wee ones. I was replenishing my stock of cloth covered ponytail holders. I'm convinced our whimsy of gnomes absconds with them, because they seem to disappear almost as quickly as I buy them. Anyway… while picking up several packs, I noticed these adorable headbands. Simple headbands, made with ribbon and elastic. I gathered up 3 or 4 of them, and was ready to toss them in my cart, when I looked at the price… $7.00 a piece!
"You have got to be kidding," I said. "I can make these for a fraction of the cost."
So, I put them back, made a mental note to add ribbon headbands to my "to do" list and continued on. I thought about them again today. I went upstairs and hit my ribbon stash. I then grabbed some 1/4″ elastic, and in less time than it took you to read this blog, I had made 4 ribbon headbands. I jumped in the car and made it over to Michelle's (a 5 minute drive) right before the kids were going to bed. After the chaos died down, I was able to try the headbands on the girls. I realized that I needed to make them slightly larger for Fairy, but they fit Pixie perfectly. She picked out the Hello Kitty Headband to model for me. Totally adorable, right?
These truly are one of the fastest and easiest crafts you will ever make, and they literally cost pennies if you buy your ribbon in the dollar bin like I do. These would make great stocking stuffers or party favors. Put together 6 different ones for your child to give as a birthday gift. Or, if you are involved in any type of craft fair this holiday season, these will make wonderful, affordable items, that will surely be snatched up quickly!
Materials:
ribbon – (I used 3/4″ ribbon)
elastic – (I used 1/4″ elastic)
Note: You can use any width ribbon. If you use a wider ribbon, you will probably want to use a wider elastic.
Determining sizes for cutting:
Measure the size of the head where the headband will lie.
Cut the ribbon 4″ smaller than the head measurement.
Cut the elastic 4″.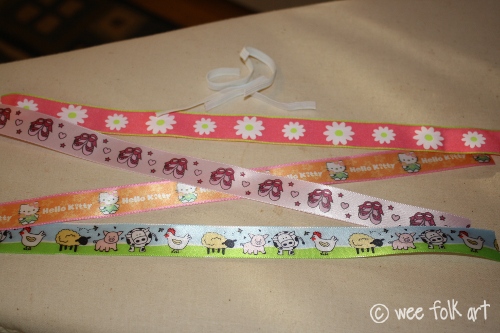 Lay one end of the elastic on the right side of the ribbon even with an end.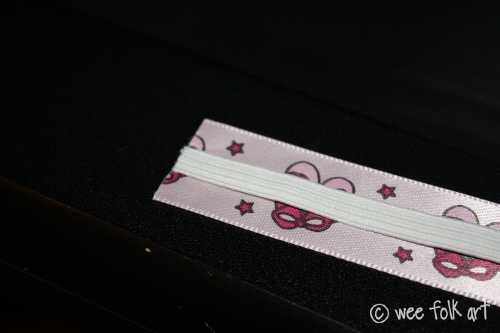 Fold one corner of the ribbon over the elastic on a slight angle.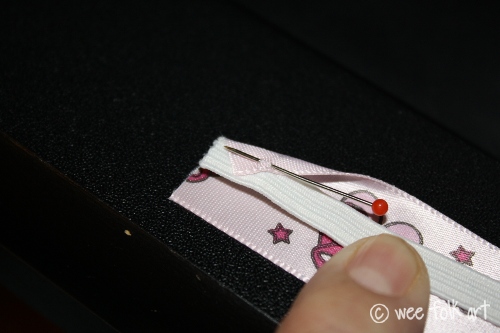 Fold the other side of the ribbon over the elastic on a slight angle. Pin in place.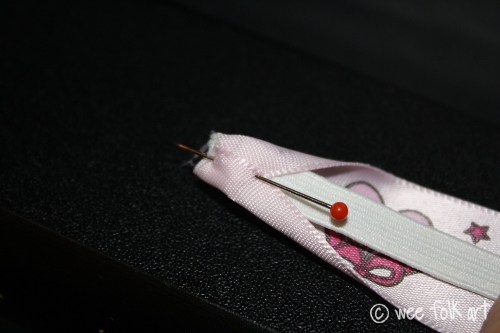 Sew in place 1/4″ from end. Sew other side in the same manner.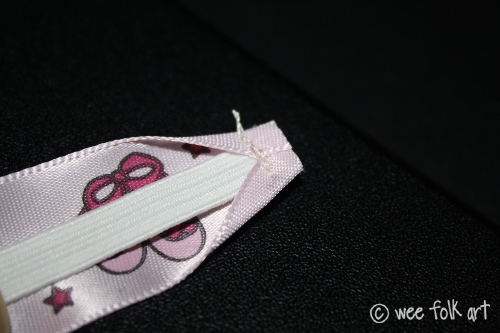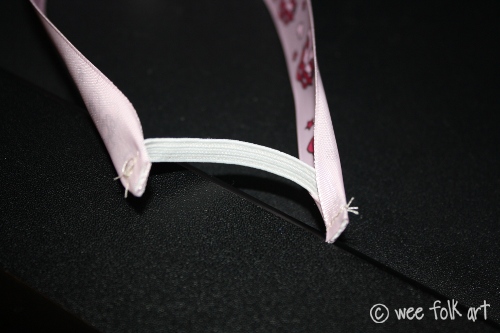 Turn the seams right side out and wah-lah… 5 minutes, right?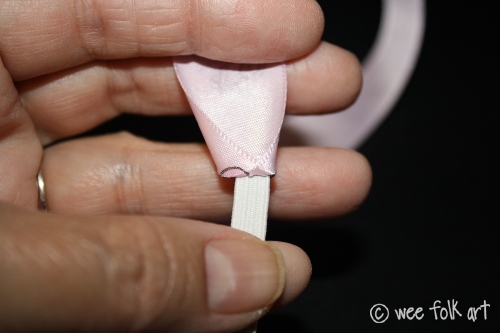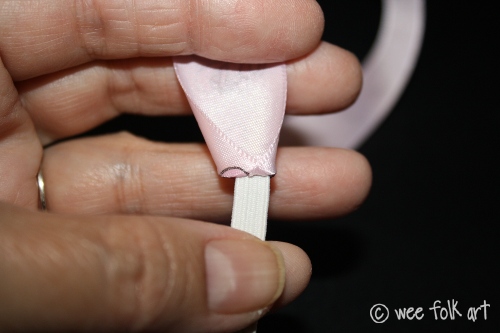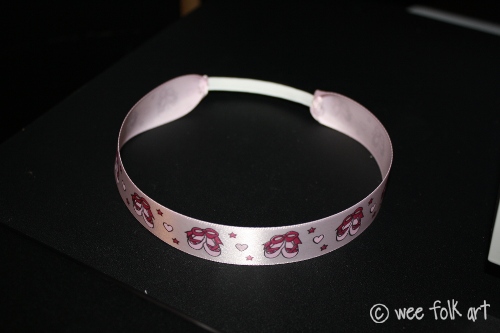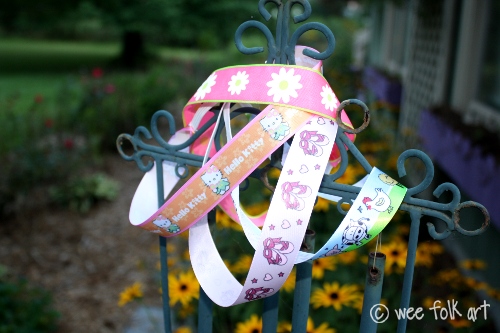 https://www.weefolkart.com
Copyright © Wee Folk Art 2008 – 2010. All rights reserved.
All photos, text and patterns are copyright protected. You may not copy, reproduce or redistribute any material found on WeeFolkArt.com without written permission. Wee Folk Art retains all rights.