Today we are sharing our family's Angel Wings Recipe, otherwise known as Chrusciki.
Christmas is a time for not only making memories but for remembering. Certainly, when we look back on Christmases past, we are sure to conjure up some memories of food. In just about every conceivable celebration, you will find food. Not surprising… food sustains life. Since eating is necessary, even on special days, we tend to include food, often special foods, in our celebrations.
Every Christmas I bring pictures of Grandma Pearl, Bushia and my Mom into the kitchen. (Read Grandmas in the Kitchen.) Although my grandmas have long since passed, memories of them are strong at the holidays. Many of the foods that I make are foods that they, and my mom, made at the holidays. Making "their" foods helps me keep them rooted in our celebration and their spirits fill me with warmth and joy.
Conversely, I have few memories of my Dad in the kitchen. I suppose he must have cooked SOMETHING from time to time; perhaps throwing together a sandwich or opening a can of soup when my mother was sick, but I just can't visualize it. My strongest memory of him in the kitchen, was at Christmas, when he and my Mom would make Chrusciki (Polish), better known as Angel Wings. Angel wings are a delicate pastry, covered in powdered sugar, that explode in your mouth. The pastry is "tied" before deep frying, making them look like wings… well, sort of!
My Father's involvement with Chrusciki began early in his life. Best I can tell, my father always worked. He was a child during the Depression, and began a paper route in elementary school. By the time he was in high school, he worked at a corner Polish bakery. He would get up in the wee hours of the morning, and go work before going to school. One of his jobs was to make Chrusciki. He learned to roll the elastic dough unbelievably thin, resulting in an unbelievably delicate cookie. When he and Mom made these cookies, he always had the job of rolling out the dough and cutting them into PERFECTLY uniformed sizes. (He was an engineer… need I say more?) They were my very favorite Christmas cookie!
While making these cookies, I think back to those days of my childhood. My Father is still alive, but Alzheimer's has long since claimed the Father I knew. The memories that flood my thoughts while making Angel Wings are of a Father full of vitality and purpose. I think of my Daddy; his goodnight kisses, playing with us on the front lawn in the summer, helping me with homework, and walking me down the aisle when I married. I am delighted that I associate Angel Wings with him, because now, as I look at the frail man before me, I would like to think that he is surrounded by angels.
All night, all day, angels watching over me, my Lord.
All night, all day, angels watching over me.
Sun is a-setting in the West; angels watching over me, my Lord.
Sleep my child, take your rest; angels watching over me.
All night, all day, angels watching over me, my Lord.
All night, all day, angels watching over me.
ANGEL WINGS Recipe :: CHRUSCIKI
ANGEL WINGS Recipe Ingredients:
12 egg yolks (well beaten)
4 T. sour cream
Flour (enough until dough is stiff enough to roll, should be elastic like – start with 3 3/4 cups)
Powder sugar
ANGEL WINGS Recipe Directions:
Mix all ingredients except powdered sugar.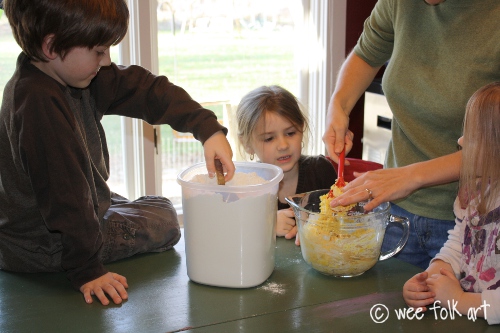 Roll dough real thin.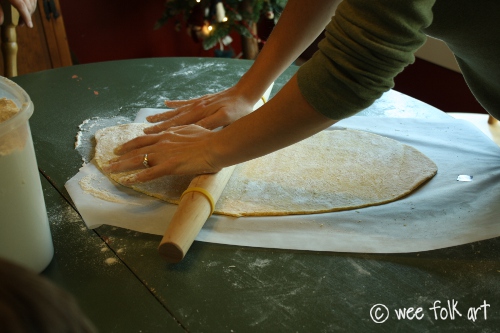 Cut in 6 x 2 inch strips. (Save the scraps and deep fry with the wings. They are just as yummy!)
Cut small slit in center and tie into bows.
Deep fry in very hot shortening on each side, turning when light golden.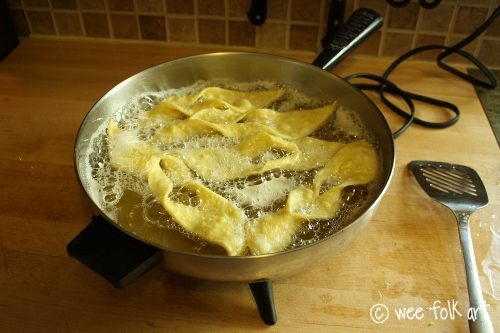 Drain on paper towel and generously sprinkle with powder sugar.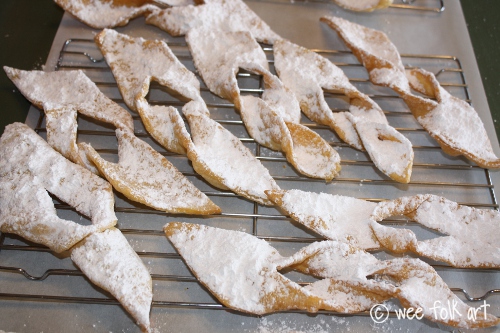 The cookies taste the best if allowed to "age" for a day or two, but feel free to eat all the scraps now… YUM!