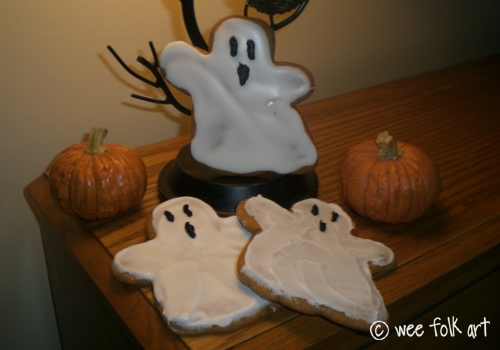 Tonight is our 20th Annual Pumpkin Carving Party. I can't believe it has been 2 decades since our started this! It always makes me feel a little nostalgic… understandably. It also makes me obsessively check the weather forecast beginning a week before the party. And, like most years here in the Midwest, the end of October usually has rain in the forecast. Today, it looks like showers are "spotty", so keep your fingers crossed for us that we can squeeze in our outside activities between the showers. But not to worry, even when we cram everyone into the house and garage, we still have a good time. I'll share photos tomorrow of the festivities. In the meantime, here is a blog I first published on One Generation to Another on 23 October 2007. It will give you a little peek at the party. Wish we could invite you all!
(Recipe for the Gingerbread Ghosts can be found HERE!)
I am a seeker of all things traditional. I'm not talking about traditional furniture or even traditional values, although I certainly embrace them, but rather the establishment of family traditions. I'm always looking for events that can be named. Let's face it, once you name something you feel a sense of ownership. If you're a parent you totally get this. There is something magical that happens when you cross over from referring to your child, whether in utero or that red faced shar-pei look alike snuggled in your arms, as "the baby" and start calling it Rose or Byron. They become real and yours. It's the same reason our trees have names, along with all the nooks and crannies in our yard. By calling an area "The Vancouver Garden" (long story there) or the cement bench under the Linden tree "The Serenity Garden" they become bona fide destinations.
And so it was, 17 years ago, that our family hosted The First Annual McCombs' Pumpkin Carving Party. The minute you slap the name "Annual" onto something, you've not only created a new tradition, but a family commitment that secures ownership and demands responsibility. Although the size and shape of the party has changed over the years, ranging from 135 guests (soccer teams upped that one!) to 18 attendees (a very challenging family time) we've never missed a single year. The Annual Pumpkin Carving Party turned into one of our family's most treasured traditions, not only because we love the fall, and this certainly helps celebrate the season, but it also marks the beginning of "The Holidays". (As a bit of an aside…at some point my children had a Holiday Intervention with me and I was (I can't put this in any milder terms) FORBIDDEN to listen to Christmas carols until after Halloween!) So, as you can well image, while preparing for the Annual Pumpkin Carving Party, I also begin assembling my imposing collection of Christmas CDs! (Oh, how I long for Dean Martin!)
But back to the Pumpkin Carving Party…As I said, there have been a few changes over the years. For one thing it is no longer called The McCombs Annual Pumpkin Carving Party but rather The McCombs/Wise/Bonney Annual Pumpkin Carving Party. As the family grows and new surnames emerge, we may have to give it an abridged name so it fits on an invitation! Small price to pay for the addition of so many new and wonderful family members! Plus, and I'm not sure why I get a big kick out of this, our invitations have evolved. You'll often hear me say that I have to be dragged kicking and screaming into change, however, I love the technological changes that have occurred over the past two decades, and our invitations are a testament to the advancement. We began by purchasing Halloween Party invitations, moved on to creating our own on Personal Publisher, then we began sending out invites in the form of emails. Our most recent requests were sent out via Evite which allows us to create our own invitation, do a mass mailing, and encourages invitees to RSVP on line. Isn't technology ever so clever?!
I've just realized I'm coming to the end of this blog and haven't specifically talked about the party itself (must work on compulsive meandering). Okay, imagine if you will that you were invited to our party. You arrive at 6 ish…given there isn't some silly Big Ten football game going into overtime…along with your costumed wee ones, a dish to pass, pumpkins and carving tools. You are greeted by the aroma of hot mulled cider simmering in a large crock pot and Celtic music playing in the background. As you make your way to the food table to set down your side dish, you realize that about 6 other people also had the inimitable idea of preparing baked beans. (Each year there is ALWAYS one food that everyone decides to make! Must be some kind of cosmic force or something) Anyway, you skirt around until you find one of the hosts or hostesses. They tell you that there are games in the basement set up for children, that a bonfire is blazing in the backyard, and that there is Hot Damn or Apple Barrel Schnapps available if you wish to enhance your hot cider. You make your way to the simmering cider and pour yourself a toasty warm glass of liquid ambrosia as you contemplate the enhancement possibilities. Soon, children are running around, connecting up with a myriad of other short, costumed attendees, and you find a cozy little group to chat with. Around 6:30 you make up a plate for your child then grab a hotdog, 3 different scoops of baked beans and some slimy green concoction that an obviously misguided cook prepared. (You'll be pleasantly surprised in moments when you realize it actually tastes good!) Desserts abound and you start on your second glass of grog! Everyone then moves outside to carve pumpkins and you are surrounded by giggles and "yucks" as pumpkin innards mound on table tops and children's clothes. After the dastardly task of carving pumpkins is complete, they are lined up, lit, and a perfect photo op presents itself.

If the children haven't made their way through all the games, they are off and running. There is also a pinata to be demolished and a straw bale fort to climb on. At this point families with young children usually collect up their things and load their entirely spent children into the car. Those sans children usually settle in around the bonfire or indoors, and the party can linger into the wee hours.
Admittedly, clean up is a bit taxing. (Pumpkin innards almost instantaneously adhere to anything they touch) But with everyone pitching in (okay, truly wishful thinking…seems the family is much more committed to setting up for the party than clean-up duty!) the effort is definitely worth it. So, until next year, the tradition is secure and the family has one more cherished memory to store!
I have found it immensely helpful to keep a journal of party details, especially if you plan to turn the festivity into an annual event. Recording the supplies you bought and helpful aids (like a couple of 3 holed outlet adapters to handle crock pots and electric baking dishes) will make planning next year's party much easier. Of course, there will always be "tweakage" as you make slight adjustments to accommodate the expected number of guests and variant activities, but in general, documenting the event is invaluable and helps to immortalize the night!