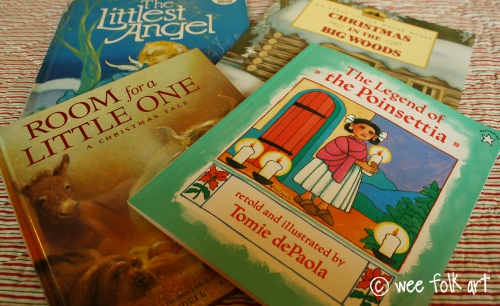 This Sunday is the first Sunday of Advent. This is a very special time for our family as we prepare for Christmas. I have put together Advent Activities to do with the wee ones and happily will be sharing our activities with you. In case you would like to join us with all or part of our activities, I'm giving a quick overview here, so you can collect books and materials in advance. I don't have all the details hammered out, but in general, there will be a book each week, an applique block, a kid craft, a recipe and possibly an extended craft. I've also included a rudimentary supply list to get you started. Whether you join us for all the activities or just some, we hope your family has a joyous and meaningful Advent!
WEEK 1 – Gift Giving From the Heart
The book: The Littlest Angel
The craft: Wool Roving Angels
The recipe: Angel wings
The applique: An angel
WEEK 2 – Symbols of Christmas
The book: The Legend of the Poinsettia
The craft: Weaving a small blanket (scrap yarns for a 3″ x 5″ blanket)
The recipe: Sopapillas
The applique: A poinsettia
WEEK 3 – Celebrating With Family
The book: Christmas in the Big Woods
The craft: A Gingerbread House
The recipe: Pancake men
The applique: a log cabin
WEEK 4 – Birth of Jesus
The book: Room for A Little One
The craft: Nativity with Mary, Joseph and Baby Jesus (using 2 large people bodies and 1 boy peg with assorted fabric scraps)
The recipe: Coffee cake birthday cake for Baby Jesus
The applique: Nativity
Lot's more detail and lot's more fun as we help the wee ones prepare to celebrate the birth of Jesus.