Here is our completed Stroll on the Beach Applique Collection. Every time I made one it became my favorite. I like the simplicity of the starfish and sand dollar, but I also love the detailed stitching found on the scallop shell and the conch shell. What's your favorite?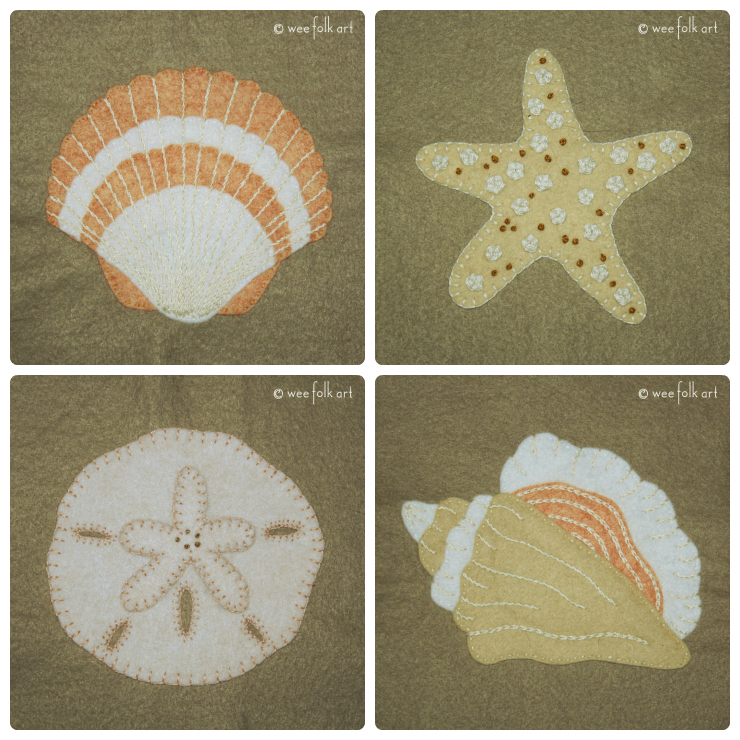 I find this very hard to believe, and perhaps even harder to admit, but I had never seen an ocean until I was almost 22 years old! Living in the Midwest, our vacations seemed to center around one of the hundreds of lakes in the area or visiting regional historic sites. And let's face it… our Great Lakes ARE rather great! So, in my senior year of college, when I became engaged to a lovely man, and we headed south on spring break to meet his parents that lived in Miami, I was very excited to finally see an ocean! My parents joined us and we drove for 21 straight hours and hit the coast at 8 o'clock in the morning. And there, in all its glory, was the Awesome Atlantic Ocean. I proceeded to roll up my jeans to my knees and went running into the water. Almost immediately I felt a searing pain that began on my foot and traveled up my leg. My fiance knew what happened before I did. In my first seconds in the ocean, I had managed to be stung by a jellyfish!
I spent the next few days hobbling around and managed to get a severe sunburn that made it nearly impossible to sleep! As it turned out, his parents were lovely people, and I still managed to enjoy the visit, albeit I was rather leery of the beach. Fortunately, I don't hold grudges and I do give people… and oceans… a second chance! My next experience with the beach was much more delightful, with me being a bit wiser from my first experience. I soon was enchanted by the smells and waves, endless beaches and incredible sunrises and sunsets. Of course, collecting shells, or more honestly, looking for shells, has always been a favorite past time.
I was delighted when one of our readers asked me to design a sand dollar and starfish applique for her. After I made them, seems I couldn't stop and I also designed the scallop and conch shells. This has become one of personal favorite applique collections. I hope you have enjoyed them too and find many places to use them!
---
Stroll on the Beach Applique Collection
To see all of our FREE appliques, visit our Applique Gallery HERE.
The Stroll on the Beach Scallop Shell Applique can be found HERE.
The Stroll on the Beach Starfish Applique can be found HERE.
The Stroll on the Beach Sand Dollar Applique can be found HERE.
The Stroll on the Beach Conch Shell Applique can be found HERE.