Meghan was due yesterday. We will be going out there on Friday (unless she goes into labor before then ) and I will be staying until the Little Guy is born and then some 🙂 Of course, the Little Guy will be receiving many gifts, and I wanted to make sure the Little Lady felt just as special and loved. So, of course Gammy has been busy making a few special things for her, too.
Little Lady has a very good friend, let's call her Sweet P(al). They've grown up together and love each other dearly. Here is Sweet P (left) and Little Lady (right). (Photo was taken by Andrea, Sweet P's mom. Thanks, Andrea!)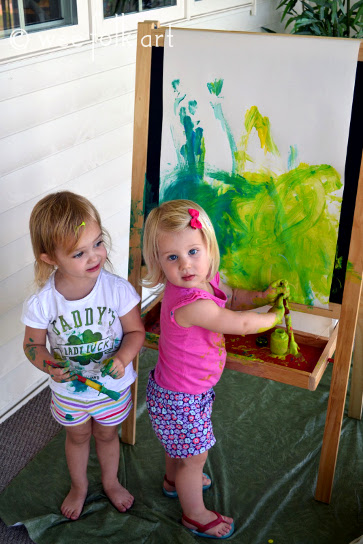 I'm hoping I get a chance to meet Sweet P on this trip, and decided that I wanted to make something for her, too. I decided on a B(est)F(riends)F(orever) gift that both girls could share. The other day I was reminded of a project I've wanted to do for some time now. I saw these lovely Painted Medallion Pendants on Prairie Mouse's Flickr Photo Stream. Every time Tim takes down a branch in the yard, I save many of the pieces, and have him cut up many of the branches into round slices for coasters, buttons, checkers, and whatever crafty endeavor pops into my head 🙂 I've been wanting to make pendants for a long time, and was inspired by Prairie Mouse's pendants and hit my wood stash running!
BFF Wooden Medallion Pendants
Materials Needed:
2 wooden medallions from branches, with or without the bark (Mine are 1 3/4″ x 1/4″)
cording, string, yarn, etc
paint
pencil
fine tip permanent black marker
Optional:
copy of pattern or any design
packing tape
wood finish
Cut out your medallions from a wooden branch. My medallions are 1 3/4″ x 1/4″ but you can make them any size you want. The diameter of your branch has an important say in the matter 🙂 Drill a 1/4″ hole near the top. Sand top and edges smooth.
Decide on your design. I used the smallest bird on my Stacking Birdie Applique Block and reduced the pattern to 66%. I then made a mirror image of the bird, because when done, I wanted the birds to "face" one another and "chat" … as BBFs do 🙂 The pattern I used can be found HERE.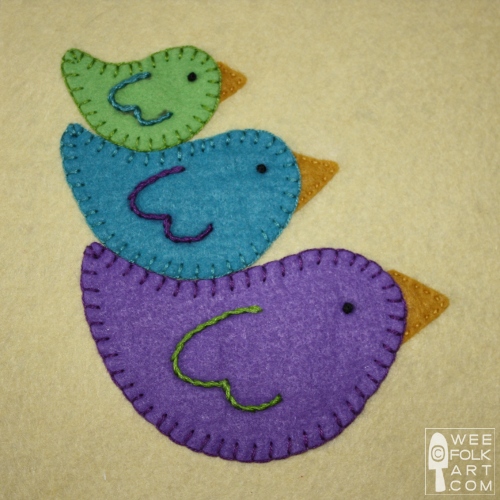 NOTE: Obviously, if you feel comfortable free handing a design, you will not need to work with patterns. Simply lightly draw a design on the face of the medallion and move on to painting.
Cut out your design leaving a little extra paper around the edge.
On the back side of the design, rub a pencil across the back, making sure to cover all the front edges.
Tape the design to the medallion. I like to use packing tape since it is wide. Trace over the design, pushing just hard enough to mark the wood, without denting the surface. (The tape helps prevent your tracing tool from ripping the paper pattern and marking the wood.)
Paint the medallions as desired. Note: I used our Soy Paint. I wanted to be able to see the wood through the paint so I watered down the paint, then went back and used the paint without water to add highlights. After the paint as dried completely, use a fine tip permanent marker to outline your design and add detail.
On the back of the medallions I wrote: Little Lady ((heart)) Sweet P "BFFs"
When your medallion is completely dry, erase any visible pencil markers. Now, you may chose to apply a finish to the wood. I used our Three Bees Lemon/Lavender wood polish. Below is a picture of one medallion with finish and one without. I love how the wood polish gives the wood protection and a rich patina. After the finish sets in the wood for a while, buff. Note: You want to make sure you get rid of any extra polish or oils can stain clothing.
Of course, since I made the Wooden Medallion Pendants for Little Lady and her BBF, it only seemed right that I made a matching set for Pixie and Fairy, since these sisters are definitely BFFs 🙂 (Not to worry, Bug has not be forgotten, I'll share what I did for him later 🙂
Cut cording to desired length. Since it needs to slip over a head, make sure you make it long enough. I like to cut mine extra long so it can be adjusted on a child. I cut my cording 34″ long. Fold cord in half, and slide the cord through the medallion front to back. Slide the 2 ends through the loop and pull.
When you've sized the pendant on the child, make a simple knot on the end, and cut off access cording.
Whether you want to make this for a couple of best friends, or for anyone, they are simple to make, and make a lovely gift. Think how nicely they would slide into a stocking or wooden shoe 🙂
https://www.weefolkart.com
Copyright © Wee Folk Art 2008 – 2012. All rights reserved.
All photos, text and patterns are copyright protected. You may not copy, reproduce or redistribute any material found on WeeFolkArt.com without written permission. Wee Folk Art retains all rights. Read our FAQs found HERE for specifics or contact us at weefolkart@yahoo.com if you have any questions.