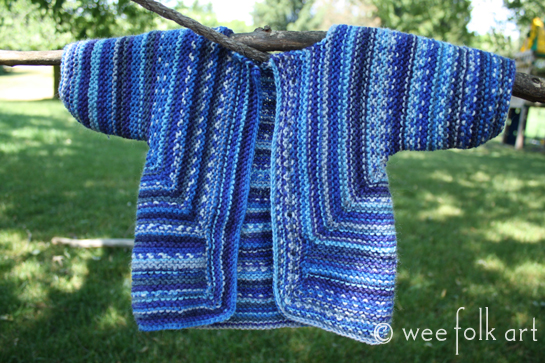 In case you haven't read the news on Facebook yet. We had a false alarm… no baby to report yet. Baby and mom are doing fine… baby is just content to stay put for the moment, so we wait. Gammy (aka Kimara) packed up and headed out of state earlier than she had planned but is of course at this point just staying put as well… visiting, helping, and of course waiting.
It may be a bit quiet around these parts while Kimara is out of town and we get back into the groove of our school activities. Don't worry if there are fewer posts or if it seems eerily quiet. We have plenty of goodies to share with you this fall. You will just have to… well, wait a bit too. 😉
But I do think now is a great time to share a few projects I sent off for baby.
I finally got a chance to make the ever popular "Baby Surprise Jacket" by Elizabeth Zimmerman. I feel that there is some sort of right of passage in making a project that has been made so many times before. I couldn't help but feel a connection with all the other knitters who have made the same stitches before. It was a fun and quick knit. I used a self-striping, wash-able wool and had just enough left over to whip up (at the last minute) one of my Twirl and Tie Caps. It is now ready and waiting for baby.