There are few things that say "home" as much as a candle burning invitingly in a window on a dark winter's night. Stitch up our Candle Applique and give a hardy welcome to kith and kin!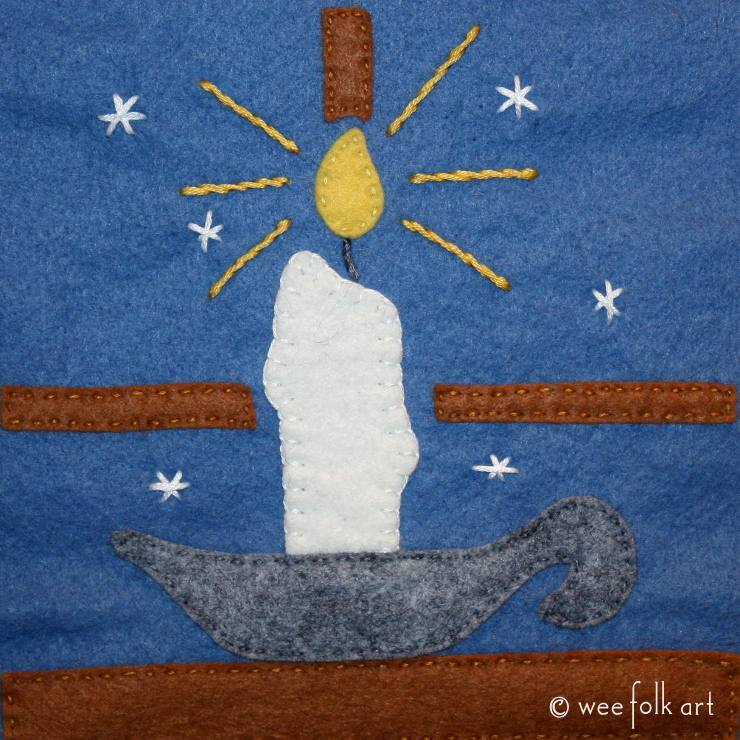 MERRY CHRISTMAS AND SEASONS GREETINGS TO ALL OF OUR FRIENDS AROUND THE GLOBE!
Michelle and Kimara
It's no wonder that candles are used in almost every celebration. It never ceases to amaze me just how much light is given off by a single candle. One light can vanquish the darkness. One light can guide your way. One light can bring us comfort and peace.
We hope this holiday season that everyone has a light to guide them and to share with others.
Michelle and I will be taking the next two weeks off to spend time with our family and friends. We will see you all in the New Year!
Candle Applique
The Candle Applique was made to fit on a 6″ x 6″ block but can be enlarged or reduced to meet your needs. Enjoy!
The Pattern for the Candle Applique can be found HERE.
The tutorial on How to Enlarge and Reduce Patterns can be found HERE.
The Stitching Glossary can be found HERE.
Our Gallery of all our Appliques can be found HERE.
The tutorial on How to Cut Out Felt can be found HERE.
DIRECTIONS for the Candle Applique
Refer to pattern and photo for applique placements, cutting instructions and embroidery stitches.
Make a copy of the pattern.
Cut out felt using the photo and pattern. Transfer any embroidery markings.
Use 2 strands of floss for running stitches.
Use 3 strands of floss for blanket stitches.
Use 6 strands of floss for stem stitches and straight stitches.