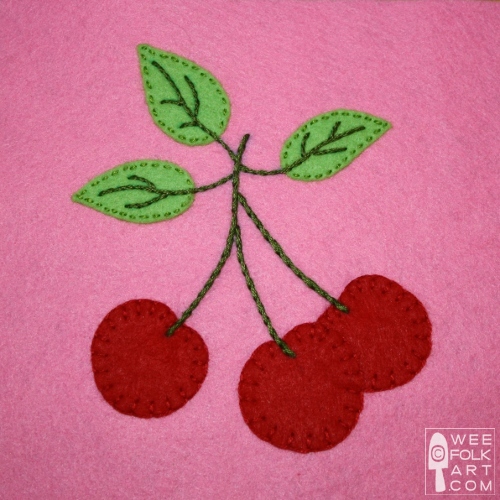 It's cherry picking season in our part of the country. I love to pick cherries. It's no wonder the expression "cherry picking" is given to easy feats. The problem with cherry picking, because it is so easy and fun, it's easy to get carried away and have a ton of cherries that you now need to do something with! With all these cherries on my brain, and because Fairy and Pixie just had outfits made out of material with cherries on them, I decided to make a new Cherry Cluster Applique Block
. Like all our blocks, this one was made 6" x 6" but can be enlarged or reduced to meet your needs. I included a picture of the material I used for inspiration. You can find the pattern HERE or in the FREE Applique Patterns. Enjoy!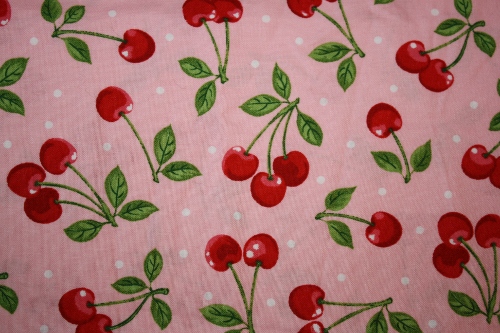 Also, I'm including a recipe for a yummy Cherry Oatmeal Muffin. If you have a good recipe for something made out of cherries, please share! I'm always looking for new recipes for cherries or zucchinis… because we always seem to have a bumper crop of both!
Cherry Oatmeal Muffins
Muffin:
1 cup old-fashioned oats, uncooked
1 cup flour
1/2 cup firmly packed brown sugar
1 1/2 teaspoons baking powder
1/4 teaspoon ground nutmeg
3/4 cup buttermilk (to make a buttermilk substitute add 1 T. vinegar to 1 cup whole milk)
1 egg, slightly beaten
1/4 cup olive oil
1 teaspoon almond or vanilla extract
1 cup fresh or frozen tart cherries, pitted and coarsely chopped (if using frozen make sure to drain them first)
Topping:
2 tablespoons sugar
1 teaspoon cinnamon
Directions:
Combine oats, flour, brown sugar, baking powder and nutmeg in a large mixing bowl. In another bowl combine buttermilk, egg, oil, and almond or vanilla extract. Pour buttermilk mixture into oats mixture and stir just to moisten ingredients. Gently mix in cherries into batter. Use paper cupcake liners or spray muffin pan with non-stick spray. Fill muffin cups 2/3 full. Sprinkle with the granulated sugar and cinnamon mixture. Bake in a preheated 400 degree oven 15 to 20 minutes or until golden brown.
Makes 12 Muffins
EDIT: I just discovered a new blog…A Curious Cupful. It's written by a witty and talented pastry chef who just happens to be the girlfriend of my best friend's son. The blog is worth nosing around in, BUT has luck would have it, when I went there today, she had a new recipe for these absolutely yummy looking Cherry Cakes. If you are a cherry fan, or enjoy cooking blogs, you have to check this out! I am going to make these for our 4th of July celebration!
Note about patterns: We are sharing patterns we have designed and made for our own children, families and friends. Every effort is made to share information in a clear and accurate manner. We offer preemptive apologies for any mistakes that may be made. Please let us know via comments or emails if you stumble upon a mistake or if you encounter directions that leave you scratching your head! We will rectify the situation as soon as humanly possible!
https://www.weefolkart.com
Copyright © Wee Folk Art 2008 – 2009. All rights reserved.
All photos, text and patterns are copyright protected. You may not copy, reproduce or redistribute any material found on WeeFolkArt.com without written permission. Wee Folk Art retains all rights.