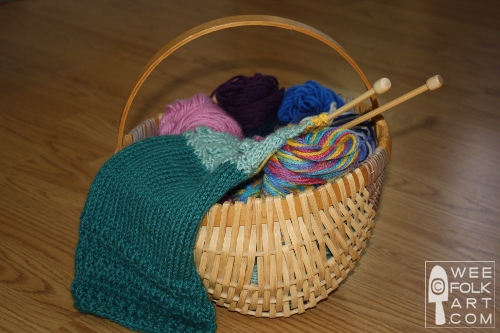 Just about everyone I know knits. If they didn't know how to before meeting me, chances are I'll be teaching them. Although I am a multi-crafter, knitting is often my "go to" craft I use for television watching, chatting with friends, or waiting in doctors' offices. It's neat, easy to pack up, and if you don't have a complex pattern, easy to do while you're doing something else.
Over the holidays many evenings were spent around an open fire, where you could hear lively conversations and the clicking of knitting needles. On one such evening, Michelle found herself without a knitting project. She disappeared into my attic closet, and she returned with a basket full of yarn remnants and a pair of knitting needles. She informed me that this was now the Community Knitting Basket. She cast on 36 stitches, and started a scarf. She had gotten the idea from the book Weekend Knitting. Now, any guest in our house that finds herself without a knitting project, will be invited to pick up the scarf and continue knitting. It doesn't matter whether you're an experienced knitter, adding fancy stitches, or a beginner, turning out row after row of garter stitch, all knitters are welcome. And, if you don't know how to knit, we'll gladly show you!
Weekend Knitting suggested making a narrow ribbon, which could be used as a "memory ribbon" of sorts, reminding us of past projects and lovely friends. We liked that idea, but decided instead to make scarves. Then, next winter, we will donate our scarves of many colors and talents to a local shelter. I'm loving this idea!
EDIT: I'm thinking it might be fun to pack a Community Knitting Bag when I go somewhere that I know there will be a long wait… like a surgery waiting room. You can't imagine how many people have said to me, "Wish I thought to bring some knitting." Then, I could smile and ask if they'd like to add a bit to our community scarf!