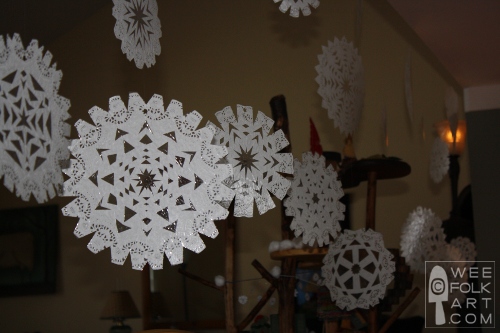 The 2 earliest crafts I remember making are paper chains, held together with a flour paste my mom made, and snowflakes. I can remember folding construction paper into eighths, instead of sixths, because eighths were easier to fold, and cutting through 8 layers of construction paper with those blunt end, dull school scissors. I can still remember the pain and red mark on my thumb! But I also remember how beautiful I thought the snowflakes were.
I still love cutting out snowflakes. Only today I use thin doilies AND super sharp, pointy scissors. Far easier! And, long before the movie Elf came out, we were turning the the interior of our house into our own Winter Wonderland. As soon as the Christmas decorations come down, our snowflakes go up!
Although most of you have been making snowflakes since you were knee high to a grasshopper, for those of you that need a refresher course, the directions for the Traditional Snowflakes can be found HERE or with our FREE Patterns. But be warned… making these can become addictive! BTW… make sure you get the kids involved in this craft! And do them a favor… let them use Fiskars children's scissors!