Yesterday I made Cream Cheese Pound Cake for dessert. It has long been one of our family's favorite. Rich and delicious, you can serve it with a glaze or with fruit, but it is plenty yummy all by itself.
This recipe can be rather finicky and it is time consuming, but trust me, once you've tasted it, I'm sure you'll agree it is well worth the trouble!
INGREDIENTS
1/2 pound butter
8 ounces cream cheese
5 large eggs
2 cup sugar
2 cup flour
1/4 teaspoon salt
1 teaspoon vanilla
DIRECTIONS
1] Take the butter, cheese and eggs out of the refrigerator at least 1 hour before making the cake. This is very important and can make or break the cake. Make sure the ingredients are at room temperature.


2] Grease and flour a 9 inch tube pan, bundt pan or a loaf pan.
3] Beat the butter and cheese in an electric mixer bowl until thoroughly blended.
4] Add eggs one at a time, alternating first with sugar and then with flour mixed with the salt. Beat at high speed at least 5 minutes after each egg is added.


5] Add the vanilla.

6] Pour into prepared pan.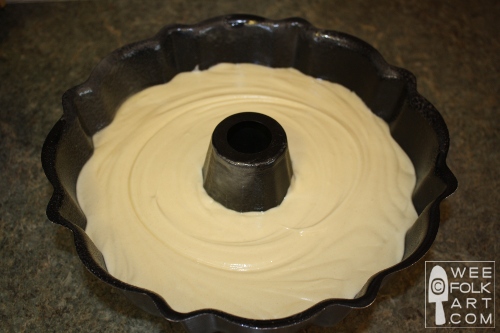 7] Bake in a preheated 350 degree oven for 50-60 minutes.


8] Let cool for 5 minutes in pan, then transfer to wire rack to finish cooling.
Yum!