I don't have much time for crafts right now, the kids activities are in full gear, but I like to work on little things when I get a chance to sit down in the evening. A couple nights ago, I found some plain white tea towels hiding in my craft room that I decided to doodle stitch. I didn't have a plan when I started. Instead, I just started drawing with a disappearing ink marker and ended up with this simple heart design that I filled in with fancy stripes. I am sharing my doodle heart embroidery pattern but would like to encourage everyone to try their own doodle stitching. I haven't decided if I'm going to a different heart in each corner of my tea towel or fill the whole towel with a bunch of different doodles. Since we are in full spring mode around here, maybe some butterflies and flowers are in order.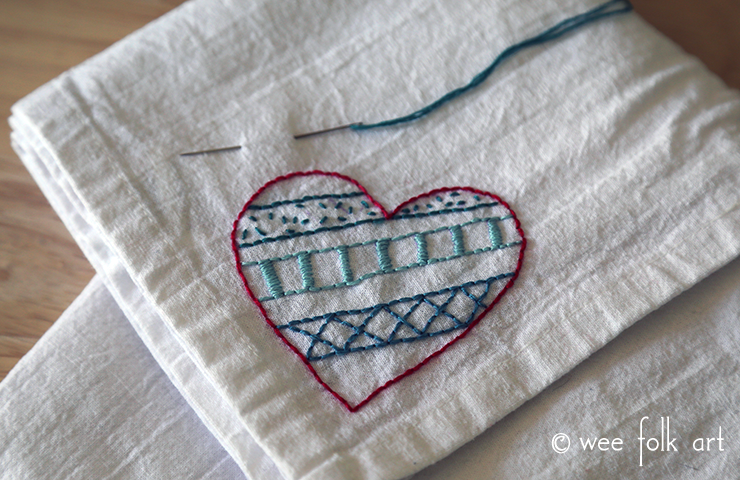 For inspiration try searching for doodle embroidery images or check out the book Doodle-Stitching. Have you worked on a doodle stitch sampler? If so we would love to see your photos. Please leave links in the comments.
Doodle Heart Embroidery Pattern link
Here is the link for the doodle heart embroidery pattern. It was made using a simple back stitch and 3 strands of embroidery floss. I used the same tea towels that I had from my watercolor painted fabric embroidered leaves project.