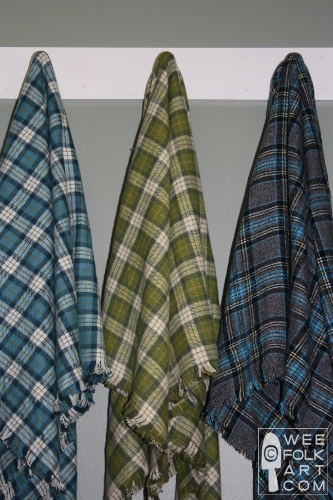 There's a misconception that you have to be highly skilled to make truly beautiful gifts. Not so! Even the "noviest" novice can make lovely gifts, if they chose the right project! Take these beautiful shawls. They are gorgeous enough to be found in the nicest boutiques, yet, with just the tiniest bit of effort, anyone can make the shawls for themselves or as gifts… without sewing… in less than an hour! You couldn't ask for more, right?
Actually, these were an impulsive project. I was at the fabric store buying material for napkins. I saw these lovely wool plaids. I went over and felt them… they were oh so soft. I lust after wool. Being allergic, I sometimes pet them, drool over the lovely colors, and wonder who was the genetic weak link in our family that passed down a wool allergy! Honestly, in the whole survival of the fittest thing, what benefit can there possibly be to being allergic to something that can provide shelter and warmth! Anyway… force of habit had me check the fabric content. 100% cotton. Did I read that right? I checked 2 whole shelves of wool plaids that weren't wool at all… they were cotton. Shades of ecstasy! Cotton plaids that looked like wools!
Well, now to decide what to do with them. There is nothing about my body that suggests wrapping a plaid around my butt would be anything but a fashion faux pas! But I so wanted to make something… to feel its warmth and softness. Well, duh! Shawls. What could be better on a cool fall evening than a shawl thrown over your shoulders? Another nice thing about them is they are a one size fits all. I can throw a shawl over my shoulders or even on my head in moist weather when I have to run down to the mailbox, BUT, if Fairy wants a dewy stroll in the morning, the best time to check for flower fairies BTW, a shawl over the shoulders is a must! (Makes up a bit for bare feet!!!) They are also great to offer a chilled friend when you're snuggling on the couch, looking at vintage Christmas books. And, icing on the cake, they look absolutely beautiful displayed on shaker pegs on your wall!
The way I see it… cotton shawls are a win, win, win, project. Easy to make (very easy to make) beautiful to look at, and useful. (Did I mention they make lovely throws on the couch or as table clothes on small round tables?) And, oh yes, if you are one of the lucky people that can wear wool… you certainly can use wool to make these! If you would like to make a few of your own, check out the directions for our Cotton Shawls HERE or in our FREE Open Patterns. Enjoy!