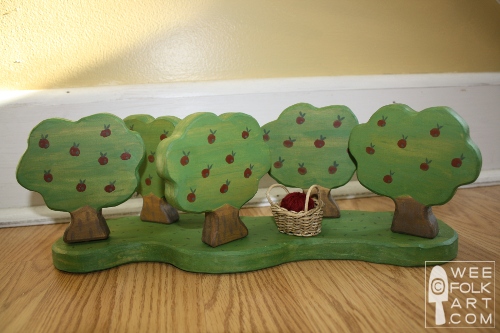 So, here's what happened… Michelle and I were talking about birthday gifts for Pixie… she'll be three next week. We were at a couple of our favorite natural toys sites. Michelle's children have many of the Ostheimer and Holztiger wooden figures but they need some accessory pieces… "We want a shubbery!" (Okay, I'll admit it, I watched Monty Python's Quest for the Holy Grail this past weekend!) Anyway, here's the thing… they are so pricey. And although I believe they are worth every penny, my rather naive nature (which is nicer than thinking about my delusions of grandeur – hmmm, Star Wars reference, do you see a pattern here? But I digress) anyway… my rather naive nature made me think… I could make those!
So, armed with more optimism than common sense, I set out to Lowe's Monday night and purchased a $114.00 Skil scroll saw. Given that wooden figures are $15.00 – $30.00 I figured I could pay off my investment in no time. I went to bed Monday night wearing a flannel nightgown (its gotten cool) and my scroll saw manual. Truly a sexy sight! Anyway, Tuesday morning, I was set to go. Tim, my beloved enabler, had set out a stack of pine scraps and his dremel. (Another power tool, which sells for about $50.00) I realize that Ostherimer and Holztiger use hardwoods like maple and ash, but I thought it prudent to begin with cheaper wood!
I took the saw out to my deck, traced the tree on a piece of pine, and started cutting. I scrapped my first effort, but the second one actually turned out. I cut another. I then sat down with the dremel and softened the sides. At this point, Michelle shows up. She looks down at them, and says the 6 words that make Todd and Tim turn gray… "You know what would be cool?" "An apple ORCHARD. And you could put it on a base. And you could put pegs on the base and drill holes in the trees, so they could come off and be played with independently. And you could make other things that could go on the base. As a matter of fact, you could make several bases. One for an open field, one for a garden, one for the woods. Yeah, that would be cool!"
This, friends, is why I don't sleep! I have to admit, fool that I am, I embraced the idea. And it really can't be that hard, because you are looking at the end results. Yesterday, my first time touching a scroll saw, I made an apple orchard, and I'm darn proud of it! I started by cutting the wood out with a scroll saw, then sanding the edges with a dremel. I then painted them using milk paint, and finished them with my olive oil/beeswax finish. I must admit Tim drilled the holes in the base and the trees, but next time, I'm going to do that, too!
Although I am very far from giving advice on woodworking, sometime in the next couple of weeks I'll write up better directions and include the pattern for the base and trees in case anyone else wants to give it a go. And frankly, I think I already paid off the scroll saw… and had an absolute blast doing it! I see many, many wood projects in my future!