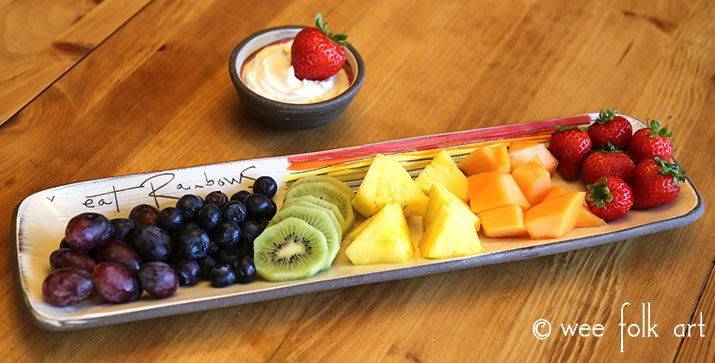 If you "know me" at all, then you know I love to make handmade gifts. It's part of the reason we started Wee Folk Art 🙂 I certainly don't make all my gifts, however, and when I do buy a gift, I like to get something that is as unique as the people I am buying for. I've been purchasing gifts from Uncommon Goods for many years and for many reasons.
First, their gifts are really, well, really uncommon!
Second, Uncommon Goods is a socially conscious company (read more about it here). They are a B Corp which means they use the power of business to solve social and environmental problems. For example, their lowest-paid seasonal worker starts at 50% above minimum wage. Most of their products are made in the United States and about 1/3 of their entire collection incorporates recycled or upcycled materials.
Third, Uncommon Goods provides a venue for artists and designers to showcase their talents. Half of the products sold are handmade. And, in most cases, the artists are spotlighted along with the products they create. Obviously, we love to introduce our readers to a plethora of artists and craft persons. We support companies that do the same.
So, why am I telling you all this? Well, recently we were approached by Uncommon Goods, and they expressed an interest in becoming a sponsor on Wee Folk Art. They thought we would be a good fit. Let's just say we were thrilled.
As a means of introducing our readers to Uncommon Goods, we agreed to do a product review, followed by a give-away. I can tell you that Michelle and I had an incredibly hard time settling on an item to do for a review. Seriously, there are so many things at Uncommon Goods that we love, we kept changing our minds. Finally, we decided since Michelle is using a Rainbow Theme to span Thanksgiving and Christmas, their Eat Rainbows Platter and Bowl, which can be found here, would be perfect!.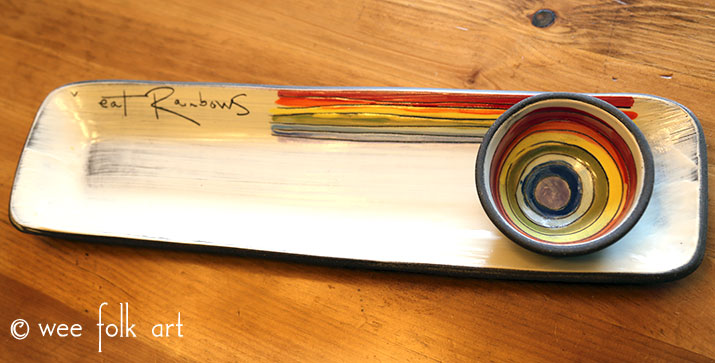 The platter and bowl were pretty in the picture, but they are simply gorgeous in person. I love the color combination of rainbows and browns. There is an earthiness to it that gives a depth and richness to the pottery. Also, the bowl is detached, so the two pieces can be used together or separate. Of course, we immediately began to think of food that could be served on the tray to continue the rainbow theme. Imagine the fun of bringing together a veggie rainbow! Pixie, our little Fruit Monster, instantly thought of pineapples and strawberries. And, thus, the Eat Rainbows Platter and Bowl was broken in with a Fruit Rainbow with Greek Yogurt Dip. www.uncommongoods.com/product/eat-rainbows-platter-and-bowl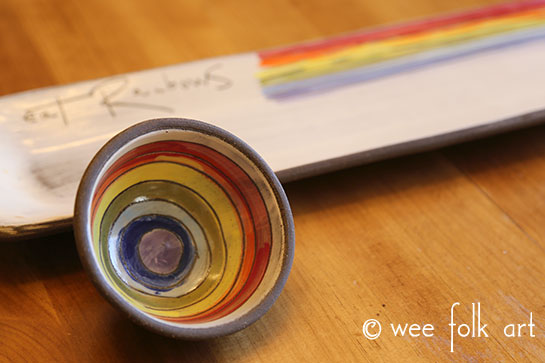 When we received our platter, we also received a note card introducing us to artists Eric Hendrick and Noeele VanHendrick that handmade the pottery pieces. Doing a little more research on the couple, I was surprised to find out I already owned 2 pieces of their work that a friend had given me as a gift. I truly appreciate that Uncommon Goods takes the time to spotlight the artists. It's like going to a street fair!
The platter is 17"L x 4.5"W and the bowl is 1/75"H x 3.75" diameter. Of course, since they are handmade, they can vary slightly. The pieces are also oven, microwave and dishwasher safe although I must admit, I can't imagine putting this beauty in the dishwasher!
If you're not familiar with Uncommon Goods, we highly recommend you get to know them and take some time to check out all their unique handmade gifts by clicking here, their unique gifts for kids by clicking here (we are big fans of the Super Nerdy Blocks http://www.uncommongoods.com/product/super-nerdy-abc-blocks), and their personalized gifts by clicking here.
Make sure you stop by tomorrow because we will be hosting a giveaway with Uncommon Goods that you will not want to miss!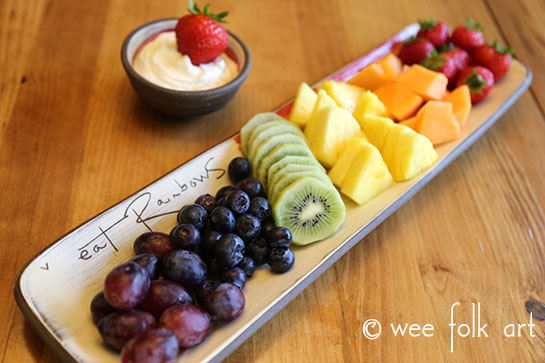 RAINBOW FRUIT PLATTER DIPPING SNACK RECIPE
RAINBOW FRUITS USED ON THE EAT RAINBOWS PLATTER AND BOWL
Purple – Raisin Grapes
Blue – Blueberries
Green – Kiwi
Yellow – Pineapple
Orange – Cantaloupe
Red – Strawberries
GREEK YOGURT DIP
Ingredients:
1 – 8 ounce package cream cheese, softened
1/4 cup of Greek yogurt flavor of your choice (we used coconut… extremely yummy!)
1/4 cup of powdered sugar (or to taste)
1 teaspoon of vanilla
Directions:
In a mixer blend all ingredients together until well combined and fluffy.
Serve on the side of fruit for dipping.
PLEASE NOTE: We received the Eat Rainbows Platter and Bowl from Uncommon Goods at no cost, but the opinions expressed about the company and pottery are wholly our own!