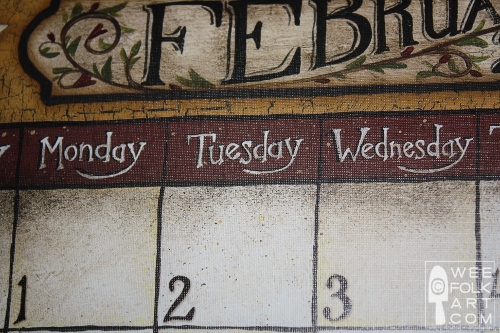 A recycled blog is just the thing for a… gulp… Tuesday! First published at One Generation To Another, February 12, 2008.

I'm not a fan of Tuesdays…never have been…never will be. To me Tuesdays are like having something wedged between two teeth. It serves no purpose and is exceedingly annoying. Tuesdays are too far away from the coming weekend to start getting excited, and they're too far removed from the past weekend to provide comfort. The effects of the "weekend massage" (you know, the restful, change of pace from the work week feeling you get) have worn off and you can feel your muscles tensing. Let's just say I lack motivation on Tuesdays and no where is that more apparent than when I think about cooking dinner. Frankly, I think the world should go out to dinner on Tuesdays…let someone else worry about this often thankless mundane chore! (BTW…this is usually the only day of the week when you'll hear me make a comment like that. For the most part I thoroughly enjoy cooking!) But Tuesdays…well, they suck the life right out of me. Even pleasurable tasks can be overwhelming.
Having said all that, let's make the assumption that logistically speaking, not everyone can go out to dinner on Tuesdays…think of the lines…think of the shortages of chicken fajitas! Then, accept the fact that people still need to eat whether you feel like cooking or not and chances are your family is in the same Tuesday funk you're in, and could benefit from a plate of comfort food. Let's also assume you only order pizza on Friday nights…not sure if it's a local or national ordinance; at the very least I consider it a moral imperative! So, the enigma…how do you get a soothing meal prepared for your family with little effort? Answer…fast foods. I don't mean burgers 'n fries from the golden arches, but rather foods that don't take long to prepare, but are satisfying and become "welcomed friends" to the entire family. These are the foods you can make every week and no one complains!
I think that through divine intervention or sheer happenstance, everyone stumbles upon that one meal they can make with their eyes closed, yet appreciated by the whole family. THESE RECIPES ARE WORTH THEIR WEIGHT IN GOLD! The meals won't win any prizes for the most creative use of an artichoke or couscous, and they certainly won't impress anyone with a sophisticated palate, BUT, for the average family, they are delicious, satisfying and comforting. (Okay, they are not JUST Tuesday meals…good is good anytime…but they are life savers when you're lacking drive and inspiration.)
My mom was, actually still is, a wonderful cook. Her recipes ranged from the painfully simple…like her tuna variation of S.O.S. (A colorful military abbreviation for Sh*t On a Shingle…or for the civilian, chipped beef on toast!) to elaborate gourmet meals. (See my Sweater Flambe blog for her wonderful Beef Bourguignonne recipe.) But, with the exception of Saturday nights, when dinner was usually sandwiches and/or canned soup, she made a warm meal every night. Some dishes took her all day to prepare…like her killer spaghetti sauce…to dinners with prep times of less than half an hour. (BTW…not everyone's idea of "easy" is the same. But that doesn't really matter, does it? We're talking about surviving Tuesdays…so if it works for you and easy means heating up a pot pie…great!) One of my favorite "quick" recipes Mom made was Easy Lasagna. She could throw it together at any time during the day, and pop it in the oven half an hour before dinner. She found the recipe in a magazine around 1956 and it's been a favorite with our family since then!
MOM'S EASY LASAGNA
Ingredients
1 pound ground beef
1 medium onion, chopped (about 1/2 cup)
2 cans (8 ounces each) tomato sauce
1 1/2 tablespoons sugar
1/2 teaspoon salt
1/4 teaspoon garlic salt
1/4 teaspoon pepper
4 cups uncooked medium noodles
1 cup cream style cottage cheese
1 8 ounce package cream cheese, softened
1/4 cup sour cream
1/4 cup shredded parmesan or mozzarella cheese
Directions
In a heavy skillet, brown ground beef along with chopped onions. Stir in the tomato sauce, sugar, salt, garlic salt and pepper. Remove from heat. Meanwhile, cook the noodles. Drain. Combine cottage cheese, cream cheese, and sour cream. Spread half the noodles in an 11 x 7 x 1 1/2" baking dish. Top with a little meat sauce, cover with cheese mixture. Add remaining noodles and remaining meat sauce. Sprinkle with the parmesan cheese. Bake at 350 for 30 minutes or until thoroughly heated. Serves 6.
I stumbled upon my "golden recipe" early in my married life. It came from a Betty Crocker cookbook. It was quick, easy and enjoyed by everyone in the family. Like all easy recipes, if time permits, you can muck about with them to enhance them…I know my daughter has made some changes to this "basic" recipe…but left as is, they stand on their own. While my kids were growing up, we usually had this dinner once a week. I never heard, "Oh no, not again!" I would say that makes it rather priceless!
HAMBURGER STROGANOFF
Ingredients
1 pound ground beef
1 medium onion, chopped (about 1/2 cup)
1/4 cup butter or margarine
2 tablespoons flour
1 teaspoon salt
1 teaspoon garlic salt or 1 clove garlic, minced
1/4 teaspoon pepper
1 can (8 ounces) mushroom stems and pieces, drained
1 can (10 1/2 ounces) condensed cream of mushroom soup
1 cup sour cream
2 cups hot cooked noodles
Snipped parsley (or dried)
Directions
In large skillet, cook and stir ground beef and onion in butter until onion is tender. Stir in flour, salt, garlic salt, pepper and mushrooms; cook 5 minutes, stirring constantly. Remove from heat.
Stir in soup; simmer uncovered 10 minutes. Stir in sour cream; heat through. Serve over noodles. Sprinkle with snipped parsley. Serves 4 – 6.
So, there you have it…my answer to Tuesdays! No, I have no secret formula for abolishing Tuesdays altogether, not sure I'd want that responsibility anyway. Think of the global cost of switching over to a 6 day a week calendar, and I'm sure there would be some serious Biblical implications, too! (Wonder what God actually created on that first Tuesday. I'm guessing it was something simple!) Anyway…Tuesdays are here to stay! So, hunker in, batten down the hatches, circle the wagons, and get ready to take on 52 Tuesdays a year. A tried and true recipe just might make them a little more palatable! (BTW…As Tim was proofing this his comment was, "I thought everyone had trouble with Wednesdays. That's why they're referred to as "The hump." My reply, "One man's Tuesday is another man's Wednesday!" Personally, the optimist in me feels good about Wednesdays…they have a round, cheery feeling…and it is permissible, without being delusional, to start thinking about the weekend. But, hey, it doesn't matter if our challenging day is a Tuesday, Wednesday or Thursday, they're weekly, and survival is the key!)
How do you "culinaryly" cope with Tuesdays? Do you have a "golden" recipe you'd like to share? Let's face it, some weeks feel like every night is Tuesday! Best to be prepared with a collection of "simple" meals! Just one more little note on Tuesdays…I seldom make enough food for one meal. Anything that freezes well, I double. So, when even "Easy Lasagna" seems too draining on a Tuesday, just defrost a meal, and, well, everyone is feed, Easy Peasy!