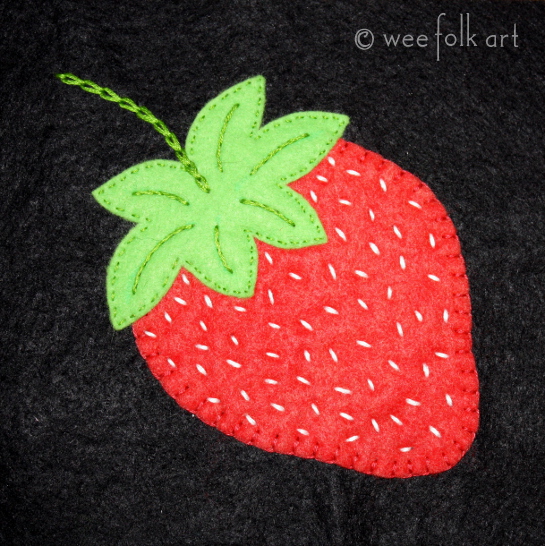 Because of everything that has been going on this summer, I feel like I'm a little behind… Wee Folk Art speaking. There were a few things that we have done that I didn't have time to share at the time but still want to.
So… first up… STRAWBERRIES! Although June is traditionally our strawberry month around here… that's when we go picking and make our jams, we do enjoy strawberries all summer long. Just like apples, it's amazing how different strawberries can taste. They can be small and tart or large and mild. We prefer certain types for preserves and others for juicy eating. But no matter how you slice them, we are huge fans!
Today we are sharing a simple, but versatile Strawberry Block Applique. It was designed to fit a 6″ x 6″ block but can be enlarged or reduced to meet your needs. For tips on cutting out felt, check out our blog post HERE. The pattern for this strawberry can be found HERE. Enjoy!
DIRECTIONS – Refer to pattern and photo for applique placements and cutting instructions.
Make a copy of the pattern.
Cut out felt. Transfer any embroidery markings.
Using a blanket stitch, sew strawberry to block using 3 strands floss.
Using a running stitch, sew leaf to block using 2 strands floss.
Using a stem stitch, add detail to leaves using 3 strands floss.
Using a chain stitch, embroider stem using 6 strands floss.
Using a straight stitch, add seeds using 6 strands #white.
photo 6-27-11

https://www.weefolkart.com
Copyright © Wee Folk Art 2008 – 2012. All rights reserved.
All photos, text and patterns are copyright protected. You may not copy, reproduce or redistribute any material found on WeeFolkArt.com without written permission. Wee Folk Art retains all rights. Read our FAQs found HERE for specifics or contact us at weefolkart@yahoo.com if you have any questions.
Patterns may be used for personal use only. If you are interested in obtaining a Cottage Industry License so you can sell items made from our patterns, information can be found HERE.