Today we are going to learn how to make fabric buttons, using a button kit. This fabric button tutorial is very easy to follow and soon you will have a whole stash of new buttons. We have several projects that we plan to share in the next few weeks that feature fabric covered buttons. We though it would be wise to start with a fabric button tutorial.
We adore fabric buttons. They are a great way to use up scraps of fabric and will add a colorful touch to your handmade projects. They can also be used to dress up a store bought sweater or personalize hand-me-down clothes. Once you learn how to make your own fabric buttons, we are sure that you will find many uses for them.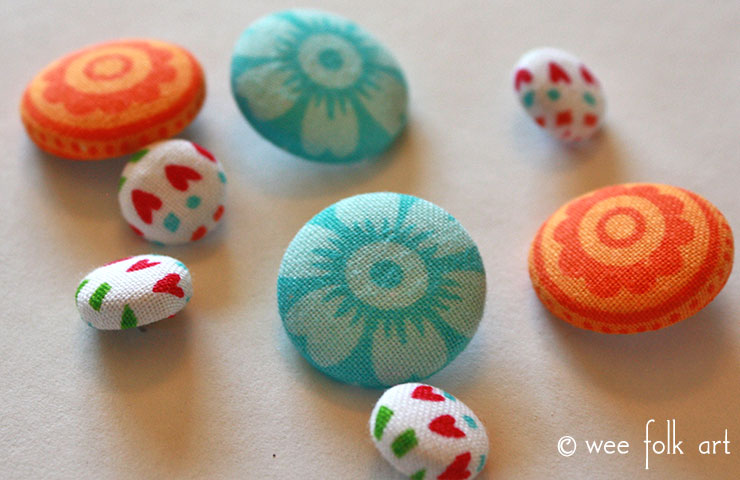 Materials for Making Fabric Buttons: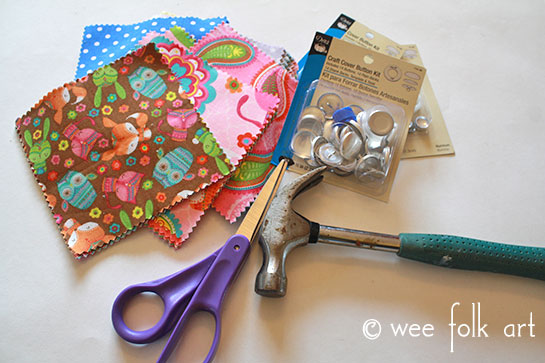 Fabric Button Kit Pieces:
Your fabric button kit should include everything that you need to make your fabric buttons, except for the fabric. You can also buy replacement parts to make more fabric buttons when you run out of pieces. Our kit included a fabric template, a clear rubber mold, a hard plastic pusher, several button shells, and your choice of backs with or without button shanks. Some kits do not include a plastic template but have you instead, cut out a cardboard template from the back of the box.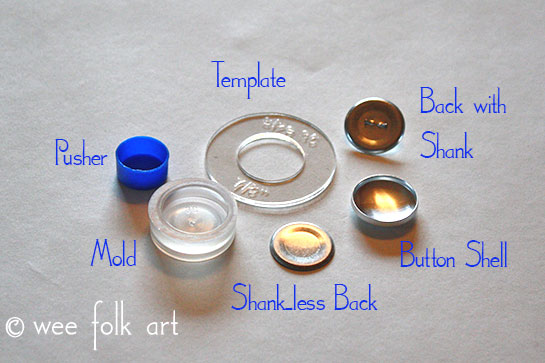 Directions for How to Make Fabric Buttons Using Your Kit: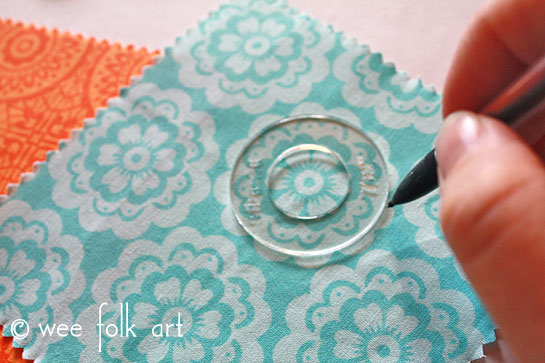 Step 1: Trace your circle template onto the fabric. Be sure to line up the center of the template in the center of the image you would like on your fabric button.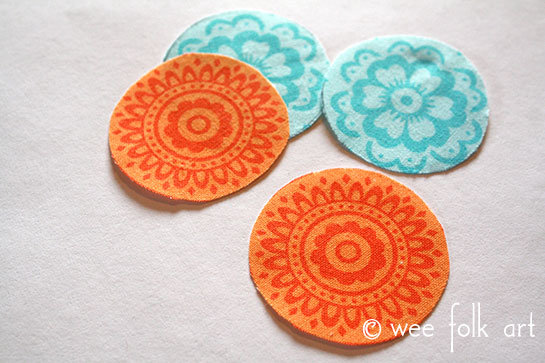 Step 2: Cut out your fabric circles.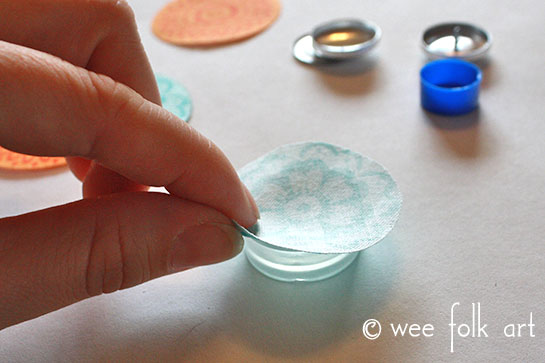 Step 3: Center your fabric circle, wrong side up, on top of the mold.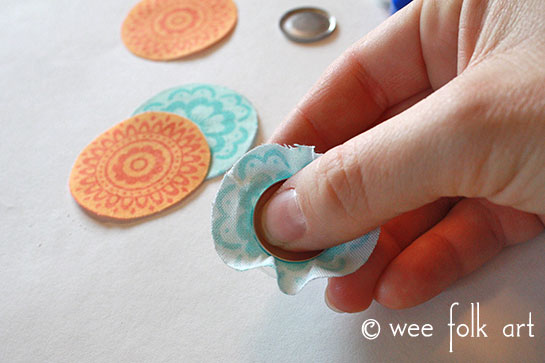 Step 4: Place a button shell in the center of the mold and gently push it into the mold.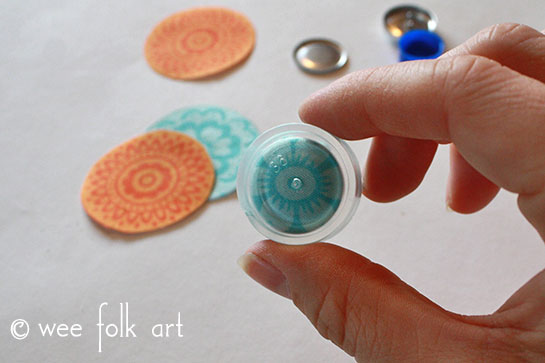 Step 5: Flip your mold over and double check to see that your fabric design is centered correctly, if not make adjustments as necessary.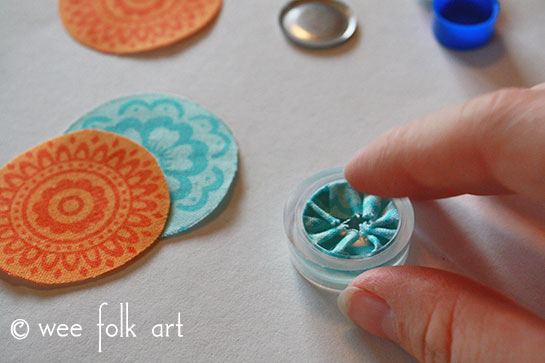 Step 6: Fold over the fabric edges, into the center of your button.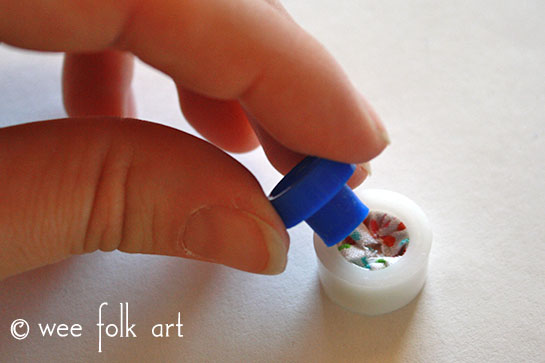 When making a smaller button, you can use the pusher to help fold the edges of your fabric.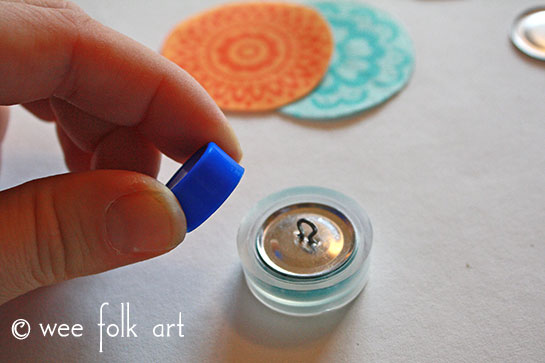 Step 7: Place the backing of your choice into the mold. If you are using a button shank, be sure that the shank is orientated in the right direction for your image.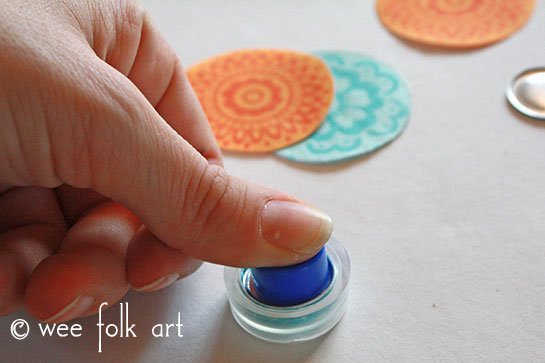 Step 8: Use the pusher tool to snap the fabric button backing into place.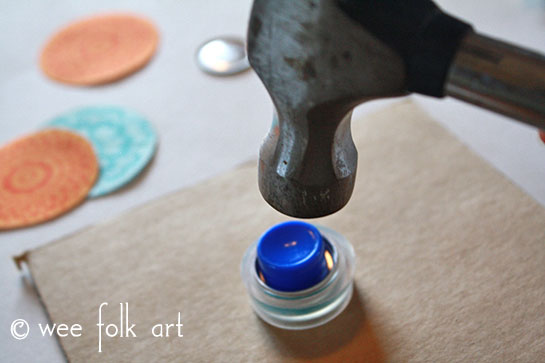 If you are having a hard time pushing the fabric button backing into place with your hands, you can lightly tap it with a hammer.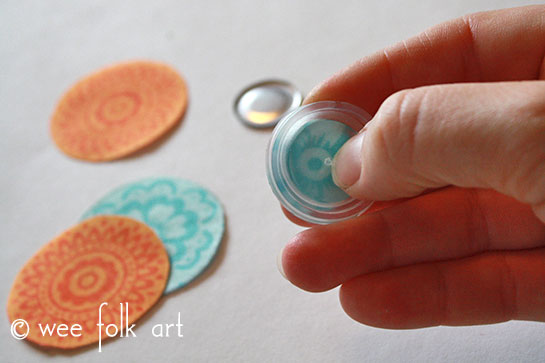 Step 9: Pop your finished fabric button out of the mold by pushing on the button side of the mold.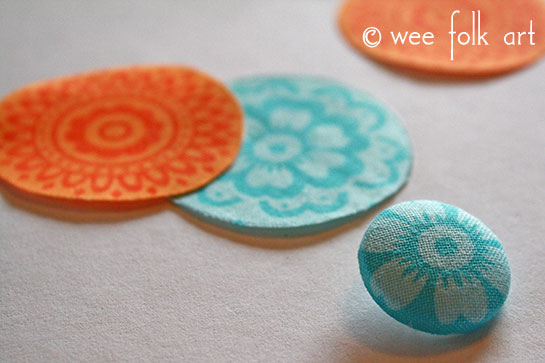 Your fabric covered button is now complete. Make a matching set or a whimsical variety of fun fabric buttons.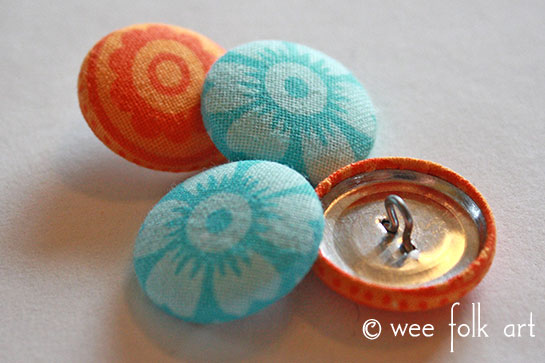 You can now use your fabric covered buttons to embellish all sorts of craft projects.