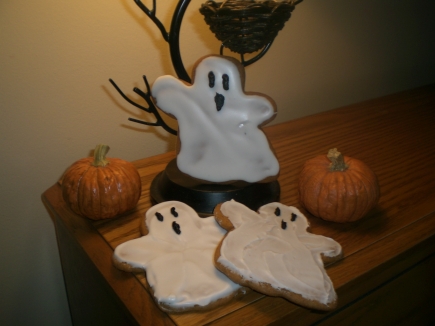 EDIT: Our Gingerbread Ghosts can be found HERE!
Yes, yes, yes. We know. Wee Folk Art IS a crafting blog. We share the projects we do with and for our families… all in an effort to enrich our lives. But cooking, gardening, baking, decorating… are all crafts… creative outlets… when done with spirit. For that reason we decided to try something new.
In our homes, we are driven by the seasons. The clothes we wear, the food we prepare, the music we listen to, heck, even the time we go to bed, are all influenced by the seasons. But no where is this influence more noticeable then in our cooking. Now is the time for our heavy spices… cinnamon, nutmeg, sage, ginger. Fall is the time for our big stock pots… pots that simmer sauces and soups, stews and ciders. And all the delicious fall produce… apples and pumpkins, squashes and cabbages. WE LOVE FALL FOOD!
So… here's the something new part. We are asking our readers… even you quiet ones… to share your favorite fall recipes. You know the ones I'm talking about. That 1 food that triggers the start of fall. The food that makes you think of leaf piles and football games. Cider Mills and Trick-or-Treating. Thanksgiving dinner at Grandmas and lunchbox surprises.
Got 1 or 2 of those? Might be a main dish like your chili that could take the skin off a football, your hot mulled cider-light on the hot-heavy on the mulled, the "never failed yet" dip you take to all get togethers, the bar cookie that you're always asked to share the recipe for or the ants on a log that your mom always packed in your 1st day of school lunchbox.
To participate, email weefolkart@yahoo.com your recipe to us and include:
1] the recipe
2] rate its difficulty to make
3] your name (a user name is just fine)
4] if you have a blog and would like us to share it, include it
5] a pic of the finished dish is you have it… no biggie if you don't
6] and any little anecdotal story you might have about the recipe
If we get enough people to participate, we will be tossing recipes on the blog between our regular crafts.
I'm hoping many of you will take the time to participate. Michelle and I are always looking for our next family favorite!
EMAIL US AT: weefolkart@yahoo.com