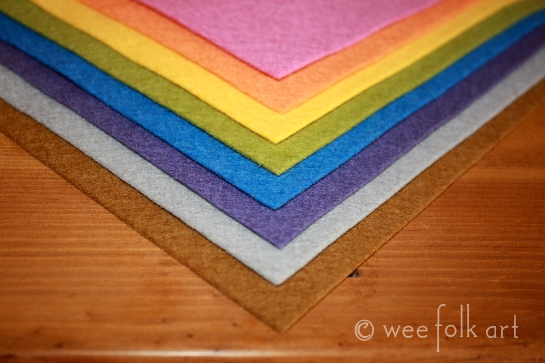 Over the weekend our friends at Prairie Point Junction, home of Wool Felt Central, did a guest blog on adorable Fall and Winter Treat Bags. You can find the tutorial HERE. Although the bags are adorable, I was thrilled that they offered our readers a whopping 20% off all non-sale items until November 1. Just use the coupon code WEEFOLKFANS at check out. Personally, I needed to replenish my stash of Wool Felt Blends and shamelessly purchased yards of felt while it was on sale! I have lots of Christmas projects that I will be using Wool Felt Blends for this holiday season, and Wool Felt Central is second to non in their selection. Make sure you head over there NOW and take advantage of this awesome sale! Here are the colors I bought from Prairie Point Junction for my up and coming projects.
With the tutorial, I was again inundated with the question "What type of felt do I suggest?" Instead of answering this question over and over I decided to repost this article I wrote several years ago on felt. Understand… this is my opinion and my feelings may not be held by everyone. The article is rather long, but if you are curious about felt, you might want to take the time to read it. I hope you find it helpful.
ORIGINALLY PUBLISHED OCTOBER 1, 2012. One of the questions that we get asked the most is "What are the different types of felt and which one do you suggest?" I realized that I was writing the same answer over and over again, so I decided it was high time I just did a post on it! Let me start by saying, this is just a quick overview. Feel free to add additional thoughts and comments. Today, there are many different types of felt, using different fibers. I am only discussing 3: 100% Wool Felt, Wool Felt Blends and Crafting Felt. Also, if you are looking for tips for cutting out felt, make sure you see our post on that, found HERE 🙂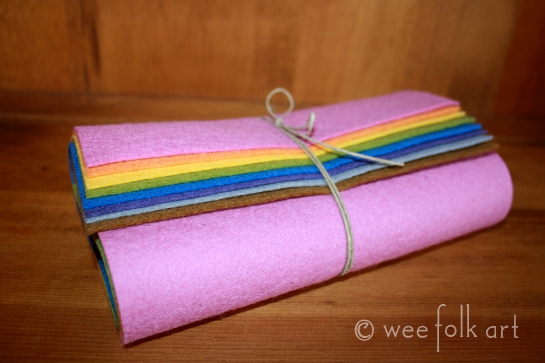 General speaking, when used as a noun, felt refers to a NON WOVEN fabric that is created by pressing, condensing and layering various fibers together. It is thought to be the oldest cloth used by man, second only to animal hides, in producing body coverings. Over the years the process has been refined and a multitude of fibers have been used to create felt. Below is a list of the 3 most common types of felt.
100% Wool Felt – As the name implies, this felt is made from 100% wool. This is generally the nicest felt you can buy. When people make their own felt, they usually use wool roving, making 100% Wool Felt. The most noticeable advantage of 100% Wool Felt is its durability. By nature, wool fibers have scales. When the fibers are heated and agitated, these scales lock together, causing the fibers to shrink and to become denser. So, not only are fibers layered over one another, the fibers themselves lock together. This creates a denser, smoother fabric. 100% Wool Felt has a lovely feel to it and can be dyed any color wool yarn can be.
100% wool felt is not without its own set of disadvantageous. First, it is more expensive than non-wool felts with the price determined by a variety of conditions including the thickness of the fabric, the animal the fibers come from, the dyes used, and whether the felt is handmade or machine made. Although 100% wool felt can be dyed just about any color, often 100% Wool Felt Manufactures sell a limited pallet of colors to keep their own costs down. 100% wool felt will continue to shrink with washing and agitating, so special care must be used in cleaning items made with 100% Wool felt. Also, the colors will often bleed. If you plan on washing items made with 100% Wool felt, you might consider prewashing individual pieces of felt separately to remove access dye. And, if you are allergic to wool as I am, your hands/body can become irritated when working with the wool.
The advantages to 100% Wool Felt are numerous. First, it looks beautiful. The colors can be awesome, especially in handmade 100% Wool Felt. You can find variegated colorways that are breathtaking! The 100% Wool Felt has a softer, suppler feel to it than its synthetic counterparts. Wool Felt can be very durable. (Much has to do with the thickness of felt.) If you are using felt to make things that will receive much wear and tear, like penny rugs or children's toys, 100% Wool Felt is worth the investment because the end product will last longer. Also, 100% Wool Felt usually won't "pill". Pilling are those nasty little balls that can form on fibers.
I've gotten to the point where I use 100% Wool Felt for all toys and heavy duty wear. My absolute favorite place to buy 100% Wool Felt is A Child's Dream. There selection is incredible, including organic and plant dyed 100% wool felt. To visit A Child's Dream click HERE.
Wool Felt Blends – Be careful when buying felt that is simply called "Wool Felt" as opposed to 100% Wool Felt. Not that there is anything wrong with the Wool Blends, but often sellers will refer to their felt as Wool Felt, when it is in fact, a Wool Felt Blend. Although the percentage of wool will vary from manufacture to manufacture, most Wool Blends use 15% – 20% wool, mixed with rayon. Before buying any wool felt, make sure to read the fiber content so you know what you are getting. When working with Wool Felt Blends, treat them as if they were 100% Wool Felt.
Wool Blends have many of the same disadvantageous as 100% Wool Felt. The wool in the blend will continue to felt and you must use care when cleaning. Also, the colors can bleed just like 100% Wool Felt. They are not as durable as 100% Wool Felt and I've noticed that the toys I made for the wee ones using are showing signs of wear, and there has definitely been pilling.
The most noticeable advantage is cost. Understandably, Wool Blends, having less wool in them, make them more inexpensive than 100% Wool Felt. There is often a wonderful selection of colors, although you won't usually find the unique colors that handmade 100% Wool Felt can offer. Personally, I've never seen a handmade wool blend.
Because of the cost, I tend to use the Wool Felt Blends when making my prototypes. I can change things many times before I am satisfied with the end results, so it is more economical to use the wool blends. Also, I use a wool blends if the project will not experience wear and tear, like in a picture, wall hanging, and ornaments. I do have a soft spot for Wool Felt Blends because they were my intro into the world of felt. They will always have a place in my crafting cupboards. Visit Prairie Point Junction's Wool Felt Central for the best selection around! Click HERE to visit Wool Felt Central.
Crafting Felt – Crafting Felt contains no wool. It is usually acrylic. Often, when you are in large chain crafting shops, this is the wool you find cut into squares and displayed on metal racks. It is often found with the children's crafting supplies. The felt can often have a hard feel, like it was starched, and is often thin. You can also find 100% acrylic felt on bolts, which are wide and you can buy yardage. Often, this crafting felt is thicker than the little pieces of felt, and have a more diverse usage.
The most troublesome disadvantage to Crafting Felt is it is not durable, especially the small squares you can buy. Not knowing any better, I made my first gnome using Crafting Felt, and in a very short time, his hat had worn through, and his robe started stretching. Another disadvantage is that the colors are often limited, with manufactures choosing basic primary and secondary colors.
The primary advantage to Crafting Felt is the price. Most Crafting Felt is very inexpensive. Another advantage is it can be washed without fear of it shrinking, and in most cases, it is colorfast. I have a denim shirt that I use when gardening. As I've developed little holes here and there, I've used Crafting Felt to make little appliques that I embroider to the shirt. (I used woven fabric on the elbows.) I can throw the shirt through the laundry, with no fear of shrinkage. Yes, the crafting wool is wearing BUT so is the rest of the shirt. It would have been very impractical to use wool felt on a shirt that gets washed daily.
Although my stash of Crafting Felt is limited, there are times I will use it. If I want to add felt to a handmade card, I have no problem using Crafting Felt. If I want to add felt to a piece of clothing that will be washed frequently, I might use the higher end (denser) Crafting Felt. Also, although I believe in using high quality crafting supplies with children, if I am going after process instead of end product with children, I will let them use Crafting Felt. (i.e. cutting up pieces of felt to glue to a piece of paper.) Also, if you have a child that is allergic to wool, Crafting Felt is an alternative, but there are other felts, like Bamboo Felt, that might be a better choice.
If you had questions about the various types of felt, I hope you find this helpful. As always, if you have any other questions, feel free to ask. We will try to answer them 🙂