Back when Michelle was in high school, her and a group of her friends decided to have a "formal" girls night out. Most of the girls had boyfriends, but they decided it would be fun to get all dressed up, go to a lovely restaurant, and party WITHOUT boys. And, just 'cause, they decided to MAKE each other corsages or wrist corsages. The creations ranged from gaudy and outrageous, to tasteful and lovely. But it didn't matter, they all had a wonderful time, enjoyed wearing their corsages, and had an evening of memories they would never forget.
As I was making this Felt Flower Bracelet, I couldn't help remembering that night, and thinking how lovely one of these bracelets would have looked on the girls. Wouldn't it be different, lovely, and a permanent keepsake, to make a Felt Flower Bracelet for a special event? Of course, they would look just lovely too with a sundress or a tee and flip flops!
Using The Basic Felt Bracelet, these can be made for adults or children. The one in this tutorial was made to fit my wrist. When Pixie came over, she immediately made it her own, having us tie it on her upper arm, and calling it her Fairy Armband. Yep… it worked out great! Below are the directions on how I made this Felt Flower Bracelet BUT this is just a suggestion, and hopefully a starting point for your own personal creations.
Materials:
wool felt
embroidery floss
Basic Felt Bracelet pattern
Flower Applique Block pattern – reduced 50%
Directions:
Follow the directions for The Basic Felt Bracelet. When the two pieces and holes have been stitched together, you are ready to apply flowers.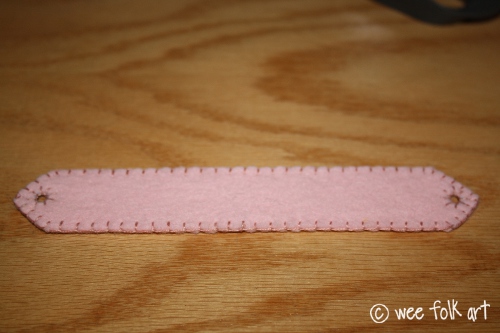 IMPORTANT: Remember to reduce the Flower Applique Block 50%.
Cut out 3 petals, 3 flower centers and 6 leaves.
Position the flower petals on the bracelet, slightly overlapping the petals, leaving room for a leaf on either end. Place a flower center on top of each petal, and pin in place. Blanket stitch to flower centers to the petals AND the bracelet using 3 strands of floss. Note: You do not need to go all the way through the bracelet with each stitch, but you need to 3 or 4 times to insure the flower is securely fastened to the bracelet.


Using 6 strands of floss, stitch a French knot in the center of each flower.
For the 4 center leaves, tuck them in behind the leaf petals and stitch to the bracelet along the base of the leaf.


For the 2 end leaves, tuck the base under a petal, then using a running stitch, sew to the bracelet using 2 strands of floss.


Following the instructions on The Basic Felt Bracelet, add the ties.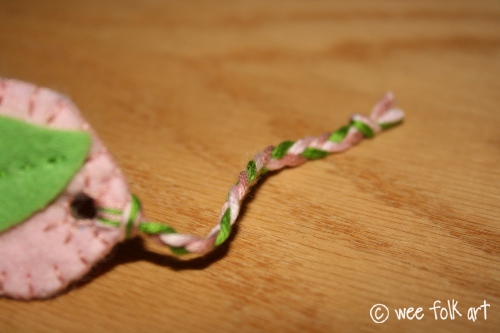 Have fun wearing your new Felt Flower Bracelet!

https://www.weefolkart.com
Copyright © Wee Folk Art 2008 – 2011. All rights reserved.

All photos, text and patterns are copyright protected. You may not copy, reproduce or redistribute any material found on WeeFolkArt.com without written permission. Wee Folk Art retains all rights.