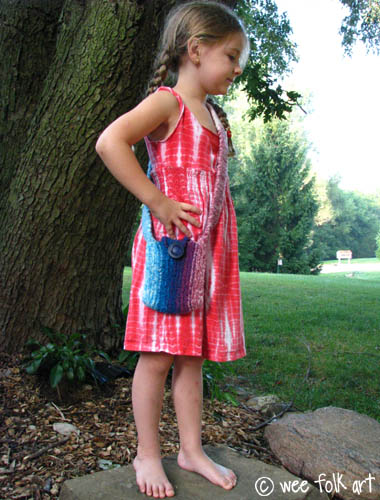 This project started off on a whim. I was at my mom's and had forgotten my knitting bag at home. What to do while enjoying a cup of coffee while the kids played? I raided my mom's stash of felt-able wool and came up with this cute little pouch.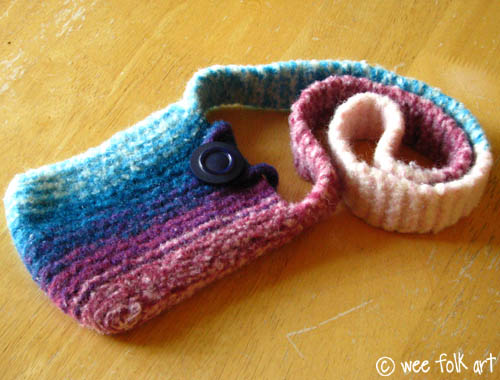 I was originally intending it to work for me as a cell phone/wallet carrier. My hubby harps on me because I never have my cell phone on me… I always leave it in my purse in the car. The pouch size turned out perfect for my cell phone and wallet… but the strap wasn't quite long enough to work as a messenger style strap… which is what I wanted. BUT it makes the cutest purse for my girls! Fairy inherited this one and I will be making another one for Pixie… and yes probably a third for me with double the length in strap.
Needed:
Worsted Weight Felting Wool (don't know how much… I was stash busting scraps)
Size 11 needles
Large button
Gauge is 6 sts = 2″
Cast on 41 sts with two strands of worsted weight 100% wool. Work with double strands of yarn throughout the piece.
All rows: Slip 1, Knit to end until piece measures 6″ x 13″.
Fold in half and stitch up the sides.
Cast on 7 sts. Work in garter stitch for 3 feet (for child), 5-6 feet (for adult). NOTE: I like the 7 sts width for the child pouch but I will probably only use 5 sts when I make one for myself. Stitch the strap in place.
Braid 6 strands of yarn into a 4 inch long cord (or make an i-cord). Sew it in a U shape to the top edge of one side of the pouch.
Wash and dry on hot along with a towel to felt. Sew on a large button on the opposite side of the opening for your closure.
https://www.weefolkart.com
Copyright © Wee Folk Art 2008 – 2010. All rights reserved.

All photos, text and patterns are copyright protected. You may not copy, reproduce or redistribute any material found on WeeFolkArt.com without written permission. Wee Folk Art retains all rights.