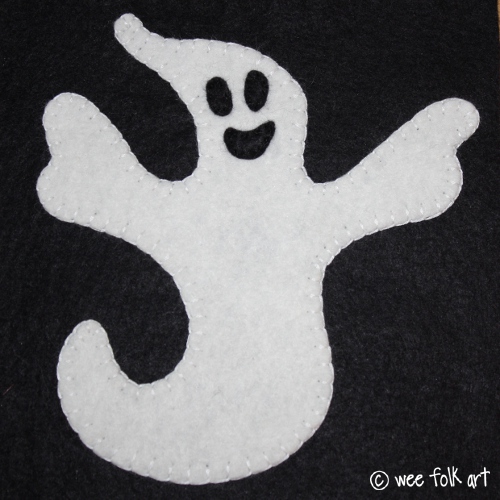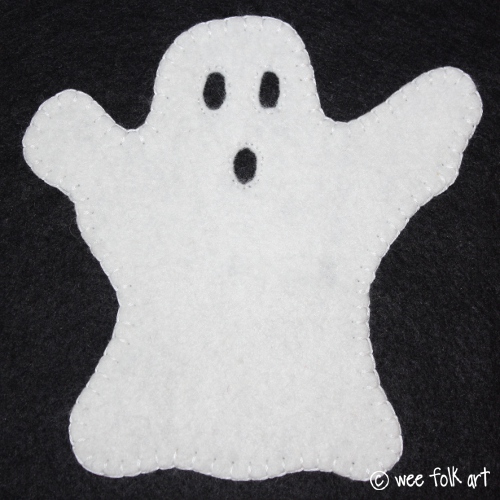 It's Halloween time, and what's more fun than some friendly Ghosties? But don't be fooled by these seemingly simple patterns. Through these 2 applique blocks, we are going to be sharing some techniques this week to help you think "outside the box" or as Michelle likes to say "outside the blocks".
First off, today we are sharing 2 different techniques that can be used to make these ghosties. The first smiling ghost, uses the traditional technique of sewing layers of felt together. The eyes and mouth detail are sewn on top of the solid white ghost body. In the "O" mouthed ghost, I "cut away" the mouth and eyes, allowing the black background to show through. Either method can be used on either ghost.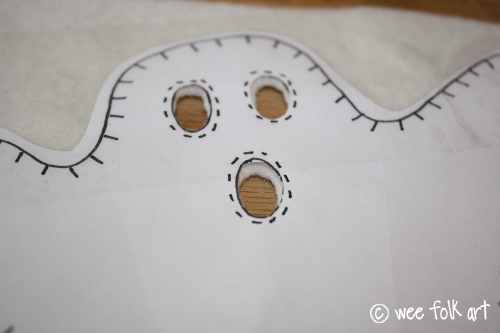 As always, the appliques were designed to fit on a 6″ block. The patterns can be enlarged or reduced to meet your needs. We always say that, don't we? Well, this week we are actually going to show you how to do just that. So, you can expect to see our little ghosties throughout the week, used in a couple different projects, that involve enlarging and reducing!
The patterns for the Applique Block Ghosties can be found: HERE and HERE. Enjoy!
https://www.weefolkart.com
Copyright © Wee Folk Art 2008 – 2010. All rights reserved.
All photos, text and patterns are copyright protected. You may not copy, reproduce or redistribute any material found on WeeFolkArt.com without written permission. Wee Folk Art retains all rights.