A few weeks ago Sonya, from A Toy Garden, sent along a few goodies for us to review. As it turns out, two of the items made there way into Pixie's Rainbow Birthday Bowl, and now that she's had time to play with them, we can give a kid's perspective review.

Juggling Balls – Assorted Rainbow Patterns

Let me start by saying they are beautiful. The colors are so vibrant and exciting, plus the patterns are so fun. Pixie, and the rest of the brood, love them! As far as play value goes… at four years old Pixie may be too young to juggle 3 balls, but she loves trying! In the end she wound up throwing 1 up at a time, but it's a start! Fortunately, Michelle can juggle quite well so she'll have lots of help. And, Michelle says they are perfect juggling balls… nice weight and perfect size. But even if you don't want to juggle with them, they make an all around great little ball, easy to hold on to, and perfect for a riveting game of "put and take" for the youngest jugglers! According to the website's description:
"A set of 3 hand-crocheted Juggling balls in Assorted Rainbow Patterns. Great for beginning jugglers or just to throw and catch and play and count. Fair Trade, made in Guatemala."
And, at a price of $9.95 for the set of three, I think they are a good value. Here's Pixie giving juggling a try. Notice, no frustration here! Losing and retrieving the balls proved to be silly good fun!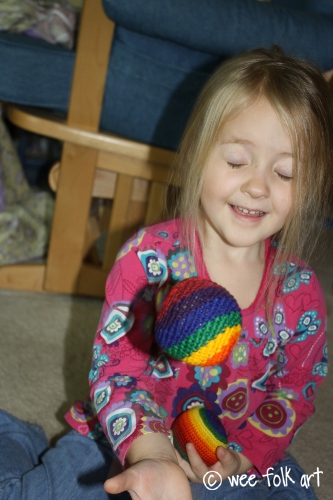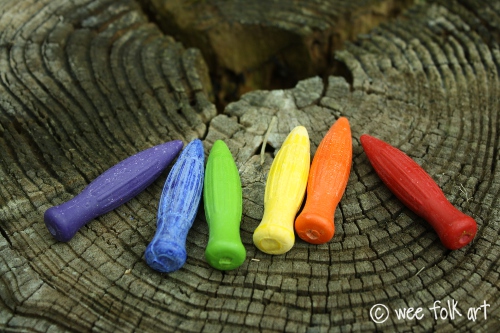 Pixie LOVES her new Natural Soy Crayons. They have become her crayons of choice, and she has lots to choose from! She is using great care with them, always putting them back in the box they came with, and she keeps them packed in her take-along craft bag.
Why does she like them so much? First, they are shaped for little kids' hands. They are easy to grasp and to hold on to. Because of their shape, Michelle found them rather awkward to hold, but they weren't bought for an adult to use 🙂 Next, the colors are beautiful. They are brilliant rainbow colors, that are deep and rich. Very satisfying! Finally, because they are soy, they are a softer crayon, meaning you do not need to press hard to achieve your colors. The flip side to that, if looking for the negative, the tips are not suitable for fine work, but for broad, expressive coloring, they are wonderful, however, Pixie did not mind one bit! Here is the description from A Toy Garden:
Our Natural Soy Crayons are lovely, natural, made in the USA alternative. Our expert testers found that these crayons have an equal brilliance to the Stockmar crayons we carry. We could not see a difference in the picture!
This set comes with 6 Crystal Shaped crayons in red, orange, yellow, bright green, blue and purple. Crayons are 2 1/2 inches long.
Ingredients: Kosher soy wax, Mayan mineral pigments, stearic acid, palmitic acid, and natural Brazilian rosin.
There are no chemical dyes or additives. Not recommended for children under 3 years due to their small size. Washable with soap and water. Notice: This product contains soy.
Made in the USA!
Speaking from experience, having made both soy and beeswax candles, I think a price tag of $5.50 is very reasonable. We will definitely get these again. Below are a few photos of Pixie working with them. She had just gotten a new coloring book at the Renaissance Festival and wanted to use her new crayons, although I think she'll enjoy them most with a big piece of white paper!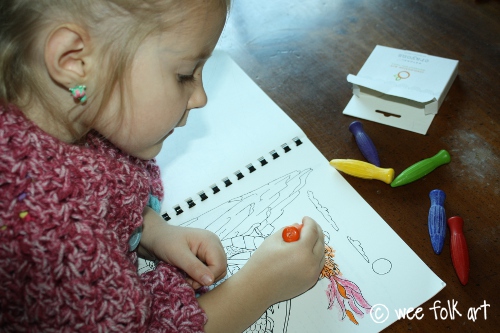 We want to thank Sonya, at A Toy Garden, for sharing these products with us. As always, we love her shop and have always been delighted with the products she carries.
EDIT: We've already gotten 2 comments and an email asking about Pixie's capelet. Neither Michelle nor I made it, but it was made by her Aunt Tina. She got the pattern HERE.