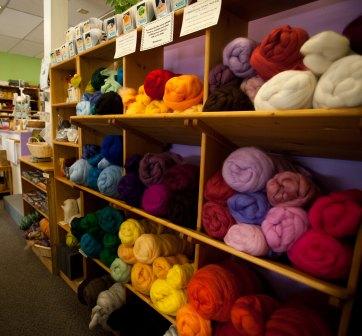 As always, first we would like, no LOVE, to thank Debbie, from A Child's Dream Come True, for sponsoring this wonderful giveaway. Of course, the hardest part was trying to decide between her incredible gifts!



And now, there winners are…
kristin c on Sun, 05/08/2011 – 08:44.
All of these materials are so beautiful! I would have to choose the summer spark wool felt. Many gnomes to be made of this.
rachel on Wed, 05/04/2011 – 09:08.
That was tough choice to make, but I think the Lamb's Pride in Grassy Noll, Strawberry Smoothie, Orange Cremesicle and Prairie Goldenrod. I'm thinking fun stripey goodies for the kiddos
Tiffany on Wed, 05/04/2011 – 09:30.
I just adore this store. I discovered the store last year when I started needle felting. I have many items on a wish list. I love the wool products I have purchased and the service is wonderful. This is a lovely giveaway. I need to stock up on my felting fibers. Thank you for the discount. If I was lucky enough to win, I would select the a stash of Felting Fibers in color set 3 for summer.
Winners will be notified by email and they will have 1 week to contact us or a new winner will be selected. I want to remind everyone, as a special offer from A Child's Dream Come True for Wee Folk Art readers, to redeem a coupon on all orders $40 or more online, use the code: WeeFolk in your shopping cart and 15% will be deducted from your order! Good through May 31, 2011. Don't miss this great opportunity. I know I won't!
Again, thank you so much Debbie. It was a wonderful giveaway, and we are delighted we were able to share your awesome shop with our readers 🙂
BTW… there will be 2 new projects up this week. Watch for them!