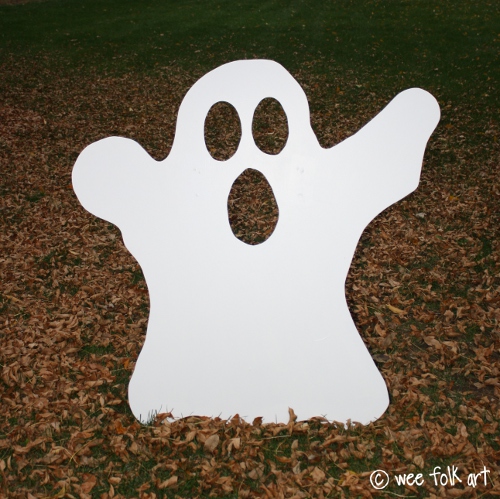 Are you having a gathering at your house for Halloween? Why not take one of our Ghostie Applique Blocks and practice enlarging a pattern? We took one of our 6 inch ghost applique blocks and turned it into a 4 foot tall ghost, with cut out eyes and mouth to toss bean bags through. Using the Graphing/Gridding technique explained in our post on Enlarging and Reducing Patterns, we easily transformed the small pattern into a large facsimile. Next week we will share a pattern for yet another set of bean bags especially for Halloween! Most importantly, using this technique, you can take any small image you have and turn it into any size you want. Instead of a ghost, perhaps you would like to turn our Pumpkin Applique Block into a bean bag toss game. Anything is possible!
Materials:
ghost pattern
pencil
ruler and metal tape measure
1 – 4′ x 4′ (1/2″) mdf or plywood for ghost
1 – 14″ x 32″ scrap of mdf or playwood for leg
2 – 2″ strap hinges with screws
2 – 1/2″ eye hooks
20″ of 1/2″ rope
Zinser 123 Primer or white outdoor paint
tools:
saber saw
drill
sander or sandpaper block
Make a copy of the pattern and create a 6×6 grid using 1″ blocks.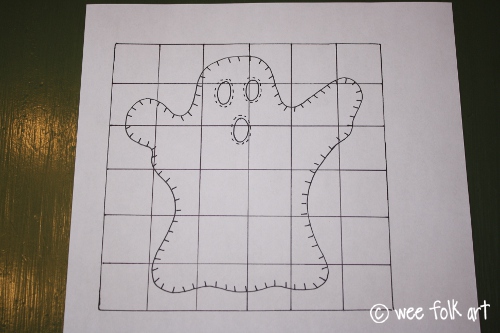 Create a 6 x 6 grid on your piece of mdf. Each square will be 8″ x 8″. NOTE: We drew our lines with permanent marker so it would show up in the photos. Drawing the lines with pencil will be fine and it will be easier to cover with paint.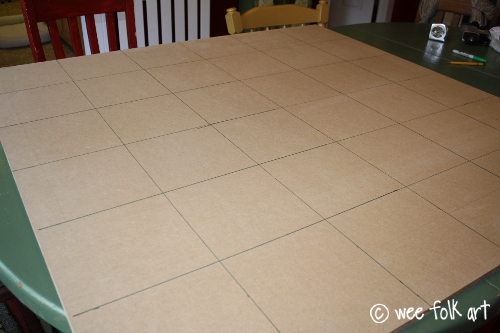 Now you need to freehand copy what appears in each block of your pattern to the corresponding block on the wood. Breaking up the image into these smaller blocks and then focusing on drawing one block at a time makes it easier to draw the pattern and keep it in proportion… even if you think you can't draw 🙂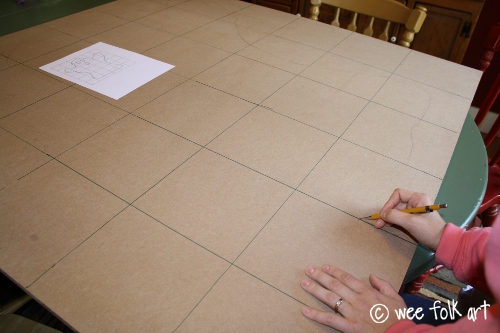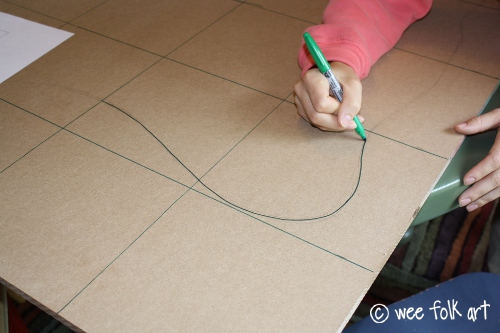 Since we are using this for a bean bag toss, enlarge the eyes and mouth to accommodate bean bags. We made the mouth larger than the eyes.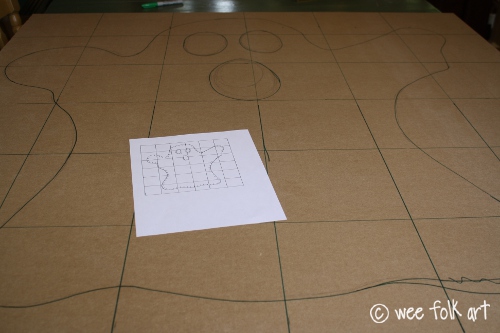 Using a saber saw, cut out the outside of the ghost. Drill a hole in the eyes and mouth large enough to fit the saber saw blade in the hole, and cut out the eyes and mouth.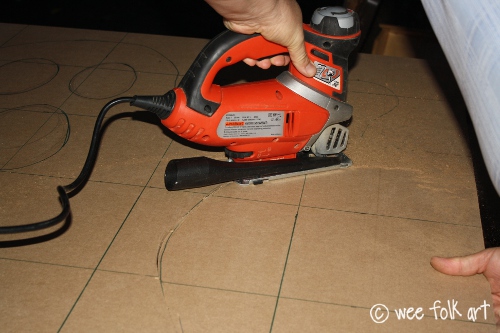 Cut out the support legs. We cut out a "U" shape 14″ x 32″, with the "legs" 2 1/2″ wide by 27″, creating a 5″ base. Obviously, you can use any design you want, just make sure that the supports do not interfere with the holes for the mouth and eyes.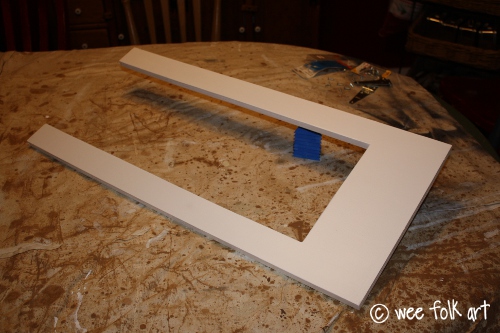 Sand all the edges.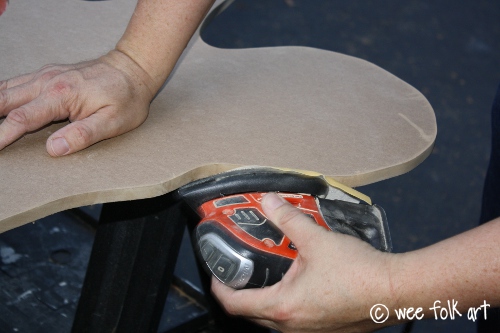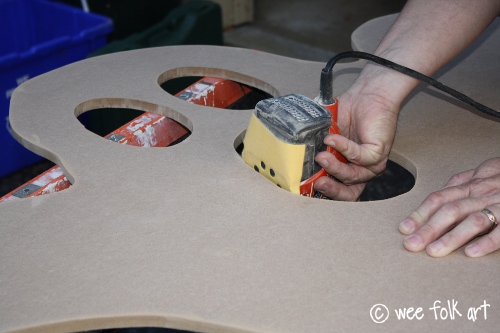 Paint the ghost and the support legs. NOTE: We used the Zinser 123 Primer because it covers EVERYTHING and it creates a barrier that weathers well. We are using this ghost outside and although it will not be stored outside, we do not want it warping because moisture reaches the wood.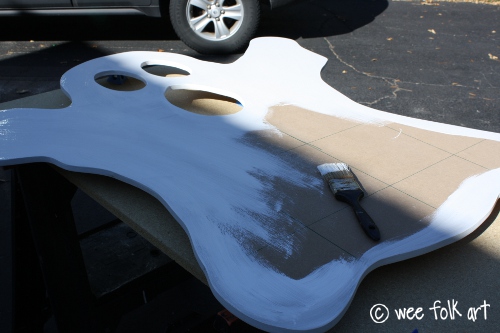 Mount the 2 hinges to the support legs. Drill pilot holes first, then screw the hinges to the legs.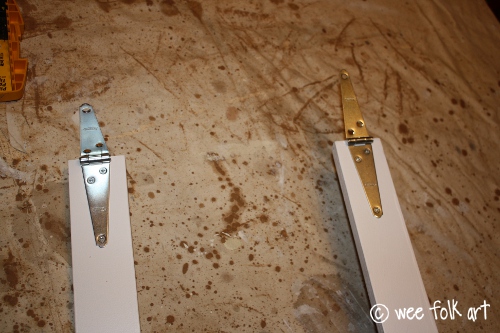 Position the support legs on the back of the ghost. Drill pilot holes, then screw the hinges to the ghost.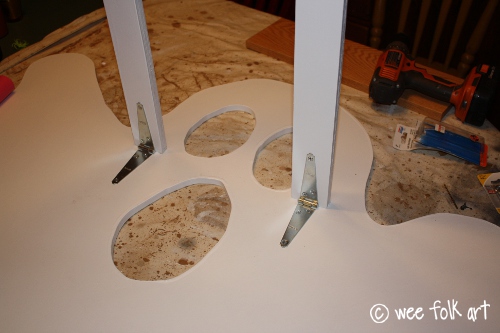 REALITY CHECK: Our crafting life isn't always as perfect or easy as it may seem in our tutorials. Below is a photo of what happens IF your screws are too long. I was in the other room when Tim was screwing in the hinge. I heard sounds that I assumed were the result of a drill penetrating a thumb nail. Nope… but this IS what happened! After backing out the screws, filling the holes, and repainting the front, he was able to move on to the next step 🙂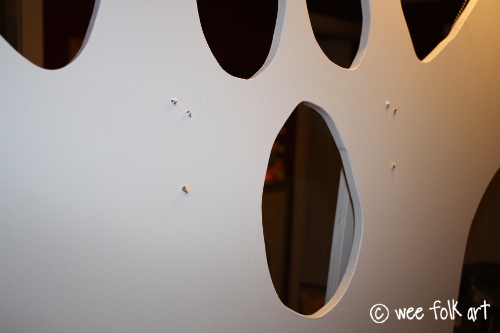 To prevent the hinges from opening too far, screw in 2 eye hooks on the back of the ghost; one on the ghost and one on the legs.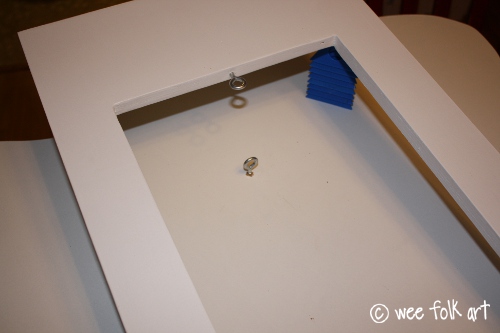 Determine a sturdy angle for the support legs, and tie the rope to the eye hooks. This will prevent the support legs from opening too far.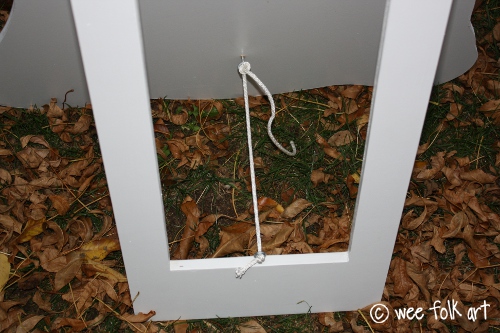 Your ghost is now ready to be pelleted with bean bags. Have fun!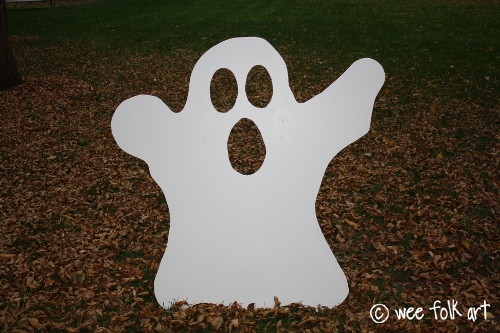 https://www.weefolkart.com
Copyright © Wee Folk Art 2008 – 2010. All rights reserved.
All photos, text and patterns are copyright protected. You may not copy, reproduce or redistribute any material found on WeeFolkArt.com without written permission. Wee Folk Art retains all rights.