Today we are sharing our family's favorite Butterscotch Gingerbread Cookie Recipe. Although it is pictured here as ghosts, it makes a wonderful traditional Gingerbread man cookie at Christmas.
This year is our family's 18th Annual Pumpkin Carving Party. Although there are lots of things to do at the last minute, I've developed a working list over the years that makes the actually planning a snap. Our family provides the hot dogs, desserts and hot and cold cider. Everyone else brings a dish to pass. Always great fun! My son and daughter in law are even coming in from Wisconsin for the event. Tim's youngest son will be home from college. Only my son down in South Carolina won't be able to make it…and he will be missed.
Although I have a pretty standard menu, I usually make a couple of new desserts each year. This year I'm recycling our Christmas Gingerbread Men recipe to make Gingerbread Ghosts. Michelle and I came upon this recipe a few years ago, and we decided it was our family's favorite gingerbread. We use a decorative frosting that dries hard, so once they are thoroughly dried, they can be stacked. Hope you enjoy them!
Butterscotch Gingerbread Cookie Recipe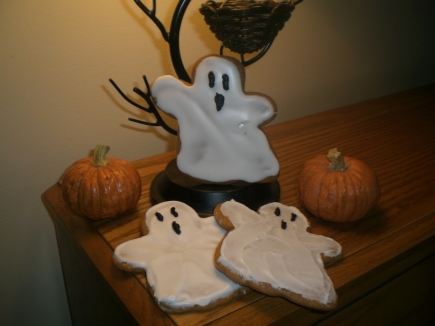 Butterscotch Gingerbread Cookie Recipe Ingredients
2 (3.5 ounce) packages cook and serve butterscotch pudding mix
1 cup butter, softened
1 cup packed brown sugar
2 eggs
3 cups all-purpose flour
1 teaspoon baking soda
1 tablespoon ground ginger
2 teaspoons ground cinnamon
Butterscotch Gingerbread Cookie Recipe Directions
In a medium bowl, cream together the dry butterscotch pudding mix, butter, and brown sugar until smooth. Stir in the egg. Combine the flour, baking soda, ginger, and cinnamon; stir into the pudding mixture. Cover and chill dough until firm, about 1 hour.
Preheat the oven to 350 degrees F (175 degrees C). Grease baking sheets. On a floured board, roll dough out to about 1/8 inch thickness, and cut into shapes using a cookie cutter. Place cookies 2 inches apart on the prepared baking sheets.
Bake for 10 to 12 minutes in the preheated oven, until cookies are golden at the edges. Cool on wire racks completely before frosting.
Ingredients for Ornamental Frosting
2 1/2 cups powdered sugar
1/4 teaspoon cream of tartar
2 egg whites
Ornamental Frosting Directions
Into small bowl, sift sugar and cream of tartar through a very fine sieve; add 1 egg white. With mixer at high speed, beat mixture so stiff that a knife drawn through leaves clean path. (On humid days you may need to beat in more powdered sugar.)