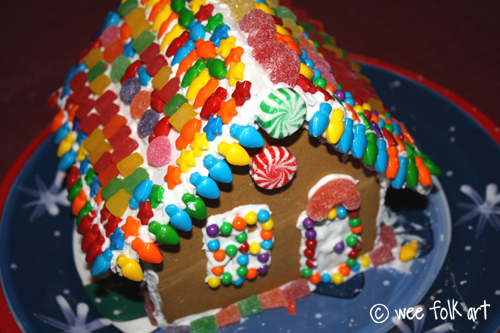 This week's project was building a gingerbread house. My kids were very excited to get started on this one. We braved the bitter cold and went out to buy a gingerbread form kit (ie the cookie cutters shaped to make perfect sides), but inadvertently I ended up with a pre-baked kit. What can I say, I was dragging three very bouncy children through the craft store, with check-out lines that wrapped around the store. I was preoccupied with containment of my wee ones (there were ohh so many fun things to wander off to look at)… and grabbed the wrong kit without giving it a second look. I was momentarily disappointed when I discovered my error at home… but in the end it speed up the process (for which I was actually thankful) and the kids had a blast with the decorating. BTW… Our Wilson Gingerbread House kit was packed nicely and there wasn't so much as a crumb out of place.
We did make our favorite gingerbread recipe (you can find here) for our little gingerbread men. They taste great with red hots for eyes and buttons.
Here is what came in our kit: gingerbread house pieces, icing mix, piping bag and tip, and a variety of candies. We added some extra candy too.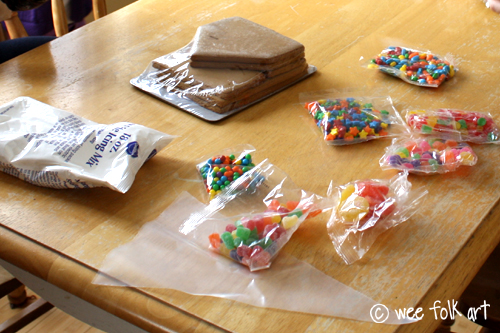 While I was getting the basics of the house together, the kids opened up all of the candies and sorted them into little bowls. I think there was some sampling of the candies going on too. 🙂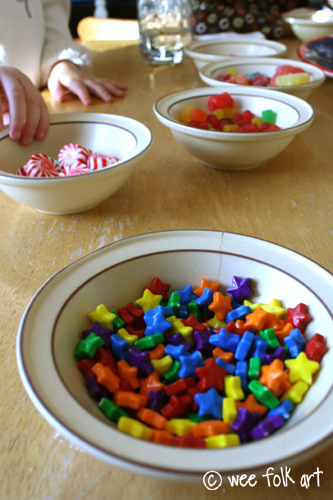 There are no photos of the build process… I was up to elbows in icing and of course was trying to hold the whole thing together… with the help of a few extra little hands here and there. There was much giggling as the sides kept shifting and tumbling. Once we got everything to hold together the kids went to town decorating the house. They worked very nicely together, dividing up the tasks and occasionally switching places.
To assemble your house, fill a piping bag with royal icing (recipe below). Pipe icing onto the edges of your house base. Hold the edges of your house together until the icing sets. You many want to ice the house directly to the plate so it doesn't slide around.
Using the royal icing, carefully attach your roof.
Once the house is set, decorate it with colorful candies.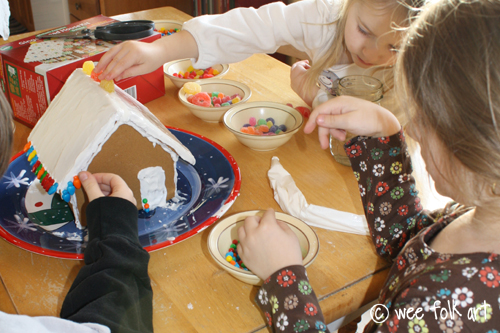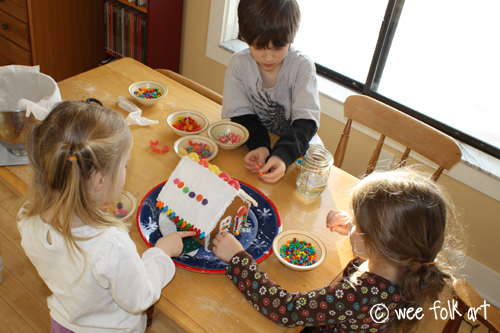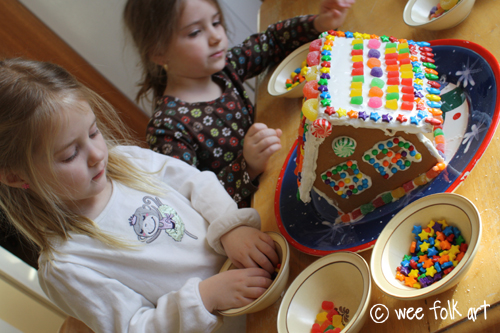 Long after the other two had cleaned up and moved on, Pixie girl was still at it, determined to cover every inch of the icing with candy. I think she got it all!