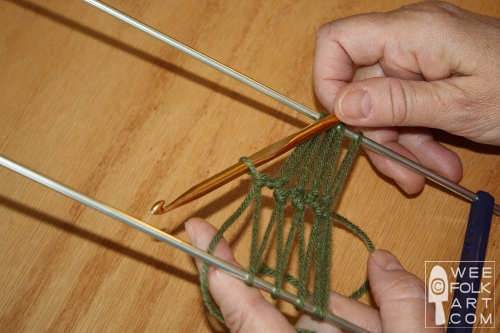 Before you begin any hairpin lace project, you needle the hairpin lace needles, more appropriatiately called the Hairpin Lace Loom. You can either make your own, or purchase one. My mother first learned on a homemade loom my father made for her. I've always used the "store bought" version. Both will get the job done.
If you decide to purchase a loom, you can usually find them in the large craft stores or order them on line.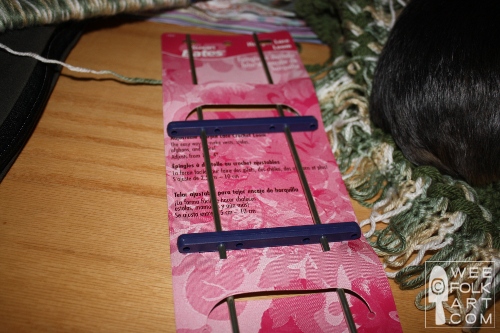 The stores in our area did not sell them so I ordered them through Amazon. These looms are adjustable. There are 4 parts to them; the 2 metal needles and the 2 cross bars.


The cross bars have mulitple holes in them allowing you to create lace strips 1 1/2″ to 4″ wide.


For the afghan I am making I have the loom set at 4″. If you want a denser afghan, you simple move the needles to the holes that give you the desired width.


To make your own you will need 2 pieces of dowel rod 3/8″ – 1/2″ diameter, 4 1/2″ long, a set of #5 or #6 knitting needles at least 12″ long, and 4 rubberbands.


To make, cut 2 pieces of dowel rod 4 1/2″. Using a drill bit the size of the needles, drill holes through the dowel rod. Use the illustration above for hole placement suggestions. MAKE SURE THE DOWEL DOES NOT TURN WHILE DRILLING. All holes must be drilled perpendicular to the same surface or the needles will not lay flat when inserted. Lightly sand the edges and holes so the wood is smooth.
When you insert your needles into the desired holes, the cross bars will begin to loosen and slide down your needles. Simply use rubberbands to secure the cross bars at the top and bottom of the needles.
Given the fact that the purchased looms only cost $4.50, it's probably not worth the hassel of making your own. Also, the plastic crossbars stay in place without rubberbands. But, if you are in a hurry to get started, and have the materials on hand, this is how my grandparent's generation made their own Hairpin Lace Looms.
Next time I will show you how to get started and how to make the strips.
Part 2 – Crocheting the Strips
Part 4 – Finishing the Project
https://www.weefolkart.com
Copyright © Wee Folk Art 2008 – 2010. All rights reserved.
All photos, text and patterns are copyright protected. You may not copy, reproduce or redistribute any material found on WeeFolkArt.com without written permission. Wee Folk Art retains all rights.