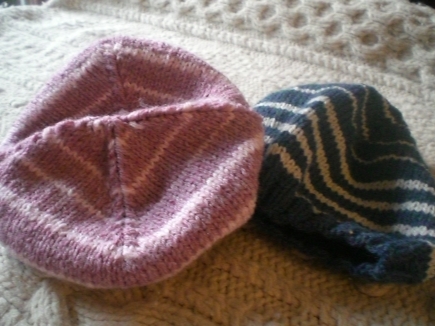 About this time each year, I begin to fill a basket with homemade Christmas gift items. While making them, I don't have a particular recipient in mind. They are usually things I can make in an evening or two, and ultimately they find their way into stockings or as a last minute gift for an unexpected visitor. There are hats and mittens, socks and small toys. I am always thrilled when I find a new gift basket contender.
Last week I was checking out the brooklyntweed blog and came upon one of Jared's creations, a wonderfully shaped, quick knit cap. I'm in love with this pattern! I've already given a couple as gifts, but am starting to stockpile them. The hat's called Turn A Square and it is a totally fun design to knit…also pretty much a no brainer. After getting it started, I can easily let my thoughts run amuck! I would rate its difficulty at intermediate only because you need to use double pointed needles. I'm having fun dinking with colors and patterns. I will undoubtly play with the pattern a bit to scale down the size for my smallest gift receipents!
This weekend I'm going to help Tim's daughter learn to sew. She wants to make a messenger's bag. Ambitious lady! Have a great weekend all!