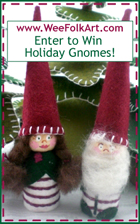 We have been working on something special to share with all of our readers for this holiday season. We have an adorable pair of Holiday Gnomes who will be celebrating the holidays with one of you. Enter to win Holly and Noel.
There are three ways to earn entries.
Option One: Just place a comment on this blog entry no latter than 12pm (EST) on November 30th. It is as easy as that. We hope to get our many lurkers and quiet registered users to join in the fun! Option One will earn you one chance at winning.
Option Two: Blog about the Wee Folk Art Holiday Gnome Giveaway on your blog with a link back to us. Make sure you tell us in your comment here if you will blogging about the contest (so I know to check for it). Also, be sure to include your blog link in your comment. Option Two will earn you 5 more chances at winning.
Option Three: Copy and post the Wee Folk Art Holiday Gnome Giveaway banner with link back to us in your side bar on your blog or website. Again be sure to leave your website address in your comment. Option Three will also earn you 5 more chances at winning. You can just copy and paste the text below.
If you complete all three entry options you can earn a total of 11 chances to win. We will close the contest on Sunday November 30th, 2008 at 12pm EST. We will post the winner that following Monday. You do need to be a registered user to comment. Registration is free and allows you access to all FREE patterns on our site. We do not email our registered user or share user information in anyway… this just helps us prevent spam. We are happy to ship these cute Gnomes anywhere… you do not need to be in the USA to play.
GOOD LUCK EVERYONE!