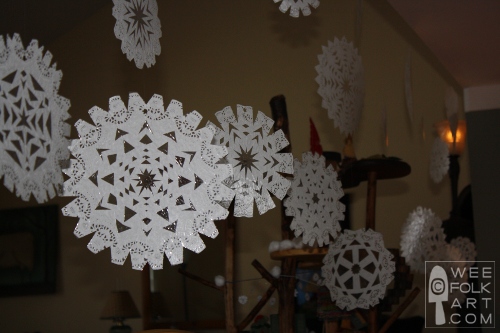 You don't need to wait for a blizzard to play in a Winter Wonderland… not if you make your own indoor snowstorm! Grab a sharp pair of scissors and doilies, and before it know it, it will be snowing inside!
Materials:
Doilies – different sizes
Transparent Nylon thread
Laminating film or clear glossy contact paper (optional)
Paper punch
1] Begin by taking a round paper doily and fold it in half. Then, fold it in thirds, making sure each third is the same size. (It is easier to fold the doilies in eighths by folding the doilies in half 2 more times BUT snowflakes have 6 points, not 8, so the purest in me want 6 sided snowflakes 🙂 If you aren't as silly as me, 8 sided snowflakes would be just fine!)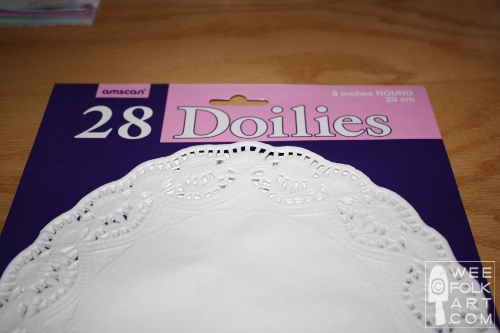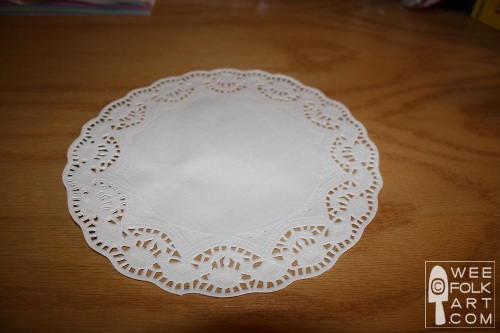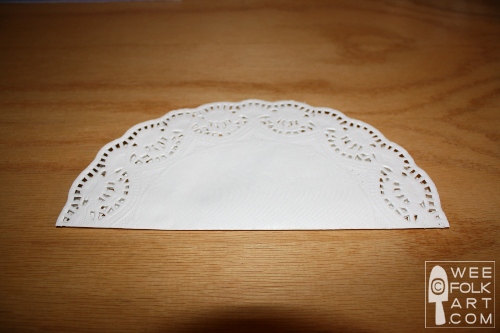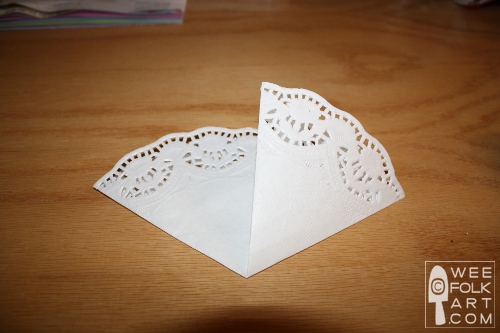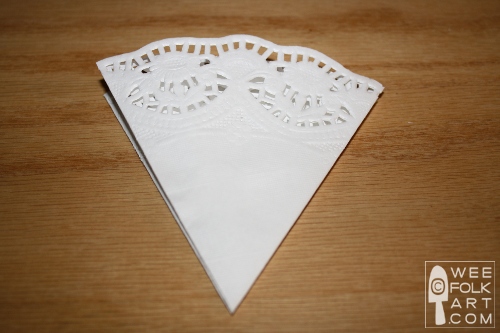 2] Using sharp scissor, cut designs in the snowflake by removing little snips, being careful not to cut the folds apart completely. Feel free to unfold the snowflake to assess your progress.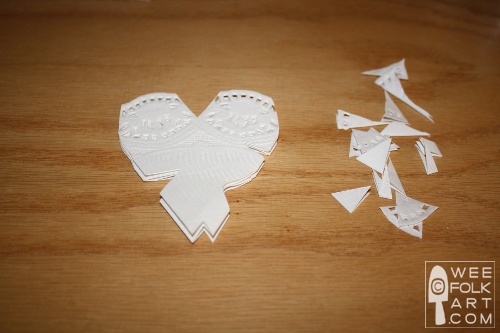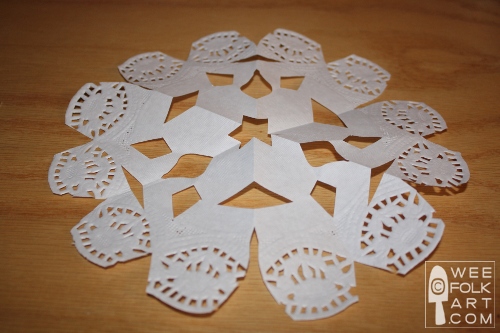 3] You now have a couple choices. You can iron your snowflake and leave it "naked" OR you can cover both sides of the snowflake with either clear glossy contact paper or laminating film. Note: Laminating film can be bought in rolls from office and school equipment suppliers. They are meant to be used in laminating machines. I bought a roll many, many years ago, and use it for many laminating projects. I do not have a machine so I cut off a piece large enough to cover the front and back of my project. Then, using a dry iron, set on low, I simply iron the laminate on.


4] When you are satisfied with your snowflake, punch a single hole about 1 inch in.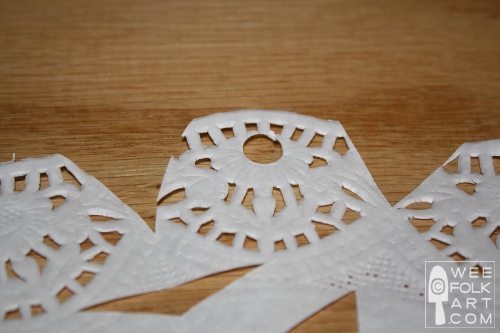 5] Using transparent nylon thread, thread the nylon thread, through the hole, and cut off the length you desire. Tie off the other end and hang.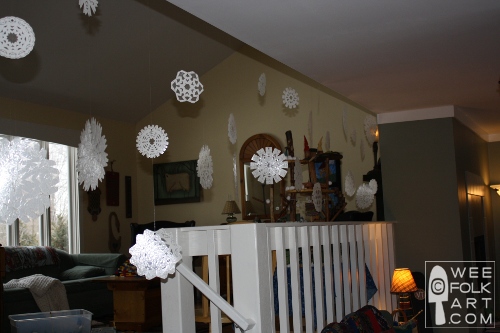 Use different sized doilies, cut different designs, and hang at different lengths.
Note about patterns: We are sharing patterns we have designed and made for our own children, families and friends. Every effort is made to share information in a clear and accurate manner. We offer preemptive apologies for any mistakes that may be made. Please let us know via comments or emails if you stumble upon a mistake or if you encounter directions that leave you scratching your head! We will rectify the situation as soon as humanly possible!
Our "DISCLAIMER"! We make every effort to share patterns and directions as accurately as possible. DUH, right? But we are human, although I often long for superhuman powers, and as humans, mistakes will be made. Before beginning any of our patterns, think of yourself as a Beta Tester. We do not have a staff, editors or even volunteers that are crafting our projects before we share them. YOU are the first to have a go at them. As such, other than a heartfelt apology, we accept no responsibility for mistakes made, or in an extreme circumstance, for time or supplies wasted. Please tackle our projects in the same manner that we are sharing them, with a spirit of goodwill and global friendship!
https://www.weefolkart.com
Copyright © Wee Folk Art 2008 – 2010. All rights reserved.
All photos, text and patterns are copyright protected. You may not copy, reproduce or redistribute any material found on WeeFolkArt.com without written permission. Wee Folk Art retains all rights.