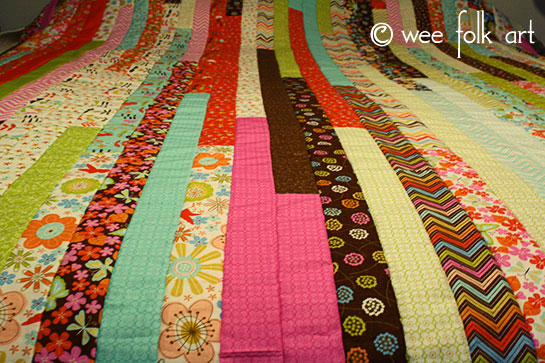 Ok, so I was more than mildly intrigued when I heard about these Jelly Roll Race quilts. Really, a quilt you can make in an hour or less?! As a busy, homeschooling mom of three, quilting has been a hobby of mine that has more or less sat on the back burner for years. Sure, I've made baby blankets for friends and family (mostly using my favorite pinwheel pattern which you can read about here) but a queen sized quilt for my own bed. HA! I just don't have the time or space.
As my kiddos have grown, I lost the basement as my craft room. It was never the ideal space, too dark (photos were impossible down there), too cold for me, too many humidity issues, but at least it was a space where I could leave out my projects where they would sit untouched until I could sneak away again. I didn't have to pack it all up every couple of hours to serve a meal or spread out the homeschooling books. And I have to admit that space was a mess! But it was my mess. But now that space is serving another purpose. It is the kids' game room and that is great. They can disappear for hours down their with their friends and I hardly know that they are in the house but I have lost my dedicated craft space. Although we are in the process repurposing another room… it will be awhile before it is useable.
So yeah, a quilt that you can make in less than an hour hooked me and I picked out some fun fabric. I give more specific directions, if you want to make your own, in the Jelly Roll Race Quilt part 2. The only catch, I wanted to make my quilt bigger than the standard Jelly Roll Race Quilt. I did some research, played with some numbers, and came up with a formula for changing the size. I will share more about that in the Jelly Roll Race Quilt part 3 Changing the Size.
Saturday morning I was ready to take it on. We had no plans and it was snowing again. But really a quilt in an hour. I decided to track my progress to see how long it would take in REALITY. Not in a confined, kid free classroom somewhere, but at home… how long would it take?
Jelly Roll Race Quilt Time Log
8:15 am: Coffee in hand, I go over my notes.
The standard Jelly Roll Race Quilt is too small for my queen size bed. So I have two options, I can make the quilt run vertically and add a border – this will take about 60 strips… or I can make the quilt run horizontally without a border but this will take more like 100 strips meaning I would have to cut some additional fabric into strips since I have only two Moda Fabric Wren & Friends Jelly Rolls totaling 80 strips.
I decide on the vertical strips plus border option. Of course I realize that sizing up my quilt will make it take longer but since I'm not actually doubling the number of strips I figure that my Jelly Roll Race quilt should take less than 2 hours.
8:30 am: I clear off the dining room table and set up my sewing machine. I decide to fill two bobbins to save time once I get going. I unwrap my jelly rolls, sort the fabric into color piles, and count out the right number of strips.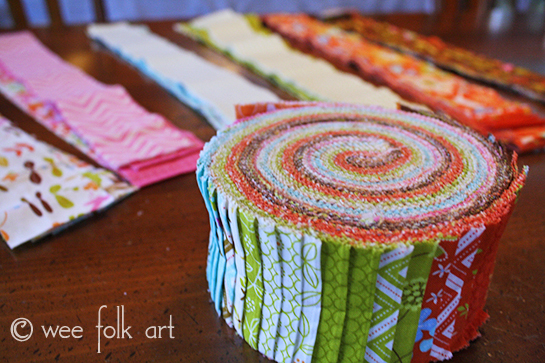 9:00 am: This is when I decided that I should blog about the jelly roll race quilt by keeping track of the time… so I grab a pen and jot down my first notes… and grab a second cup of coffee.
9:05 am: I am ready to start. I decided to do straight seams instead of the 45 degree angle ones that I saw online. I prefer the patchwork feeling it gives. I get going on make the super long strip. I tried not to be too picky about which color I grab next. The only thing I did was not use the same two fabric or pattern (even in different colors) directly next to each other. In the end that hardly mattered. I ended up with several fabrics directly next to each other in the finished top. So really don't stress about which one goes next. Having one of your kids hand you the strips might be good way to go if you are over thinking it.
9:27 am: The mega strip is done. I'm now an hour into this project… but in all fairness the jelly roll quilt race doesn't really start until everyone has their strip done so I guess this has all been considered the setup phase. I cut the threads and leave it for the moment.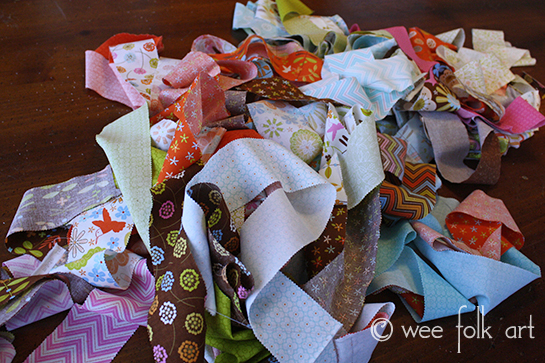 9:30 am: Protein break, time for a Hole in the Wall. I also round up and feed the kids who disappear on the weekends and hardly remember to eat (although they hound me for food nonstop during school hours). Before sitting down at my machine again, I changed from the sweat pants I sleep in into jeans making me… well able to answer the door if I must. The kids were given their morning chore list, so one had kitchen duty, the other two were folding laundry, and I was free to get back to sewing. It's nice to have helpers.
9:55 am: Ready to start the timer. Well almost. I needed tunes on. Funny how when I knit I tend to think of each completed project as the activity that was going on when I knitted it… the car trip hat, the Nutcracker rehearsal sweater, the Vermont shrug, the Lord of the Rings Marathon blanket, etc. But when quilting you are stuck at the table with a noisy machine. You can't take it with you, you can't really watch a movie, what you can do though is turn up the music… so each of my quilts tends to remind me of whatever tunes I was digging at the time I made it. Today… Hunter Hayes, I'm not really a country music gal but Encore is at the top of my play list right now. So I'm fed, the kids are doing their morning chores, the table is cleared just for my quilting. I realize that I need to sort out this tangled mass of one incredibly long strip so I accordion folded it. Good thing too, since I noticed that one light strip had gotten sewn in upside down. Doh! Seam ripper and fixed. Had to pause too to sing "I Want Crazy" at the top of my lungs with my girls.

"I don't want good and I don't want good enough. I want can't sleep, can't breathe, without your love. Front porch and one more kiss…"
This quilt is officially dubbed the "I Want Crazy" Quilt.
10:18 am: Ok now I'm ready. I almost forgot to cut 18″ off one side to offset the seams.
10:42 am: Had to pause for a few minutes and help my hubby wrestled his new BBQ Smoker out of the box. He wanted to get it set up and seasoned today to make BBQ for tomorrow.
11:28 am: I finally finished the first row… seriously… over an hour for 1 row! Granted that first row was like a MILE long… but still. Ack! In theory every row should take half the time of the previous. We'll see. I got up to take a stretching break. My back wasn't happy.
11:34 am: Started the 2nd row.
11:41 am: My bobbin thread ran out and that 2nd one, that I had all ready to go wasn't cooperating with my sewing machine. I gave up with the second bobbin and just reloaded the first bobbin.
11:51 am: Finally back to sewing.
12:14 pm: Started third row.
12:30 pm: Started 4th row.
12:37 pm: Ran out of thread and had to reload.
12:45 pm: Started last row.
12:47 pm: Done-ish. I needed to get lunch out asap since hubby left to run errands. Fed the kids (who I had to go find again… seriously I'm not sure they would eat at all on the weekend if I didn't hunt them down) and helped hubby put away groceries when he got back.
1:35 pm: I spread my jelly roll race quilt out on the bed for the first time. It was super fun to open it up and see the surprise of colors. After looking it over for a bit I felt that I should add a few more rows for a little more width so that the border would start where the quilt folded over the edge of the bed… not on the bed top. I also noticed some serious color pooling in two patches.
1:45 pm: I quickly added two rows to each side by sewing two 5 strip sections, and then doubling them. I cut off the excess after I sewed them to the sides of the jelly roll race quilt top.
2:00 pm: After coming in and out of the dining room all morning to watch me, the girls decided that they wanted to sew too. I helped Fairy set up her machine and find her project.
2:12 pm: I spread my Jelly Roll Race Quilt top out once again and couldn't get past the pooling that was happening. In one corner there was a large patch of orange, directly across from it was a huge blob of green. So even though I know it goes against the whole fun, random, surprise of this style of quilt… I decided that I would be much happier in the long run if I took out two sections and flipped them.
From here on out my progress was very slow. Seam ripping is slow enough, add two girls in the midst of their own sewing projects and although I was more than happy to help them I wasn't getting anywhere fast on my project.
3:22 pm: Both seams are now out and I played with placement. I started stressing over the clock since I had to be ready to leave for church in less than an hour.
3:38 pm: Done. I spread it out again on the bed and I am much happier now. I'm super glad that I took the time to flip those sections around. I briefly debated what color border I wanted to add… but that will have to wait for another day.
Now I raced to shower and get dressed in 22 minutes. And that folks, is how long it took ME to piece the Make in an Hour, Jelly Roll Race Quilt.
Read more about making your own Jelly Roll Race Quilt here..
Part 2 Jelly Roll Race Quilt :: Directions & Notes
Part 3 Jelly Roll Race Quilt :: Changing the Quilt Size & Determine Number of Strips.